September is harvest time, which makes it also the season of Schiacciata con l'uva, a delicious sweet Tuscan snack of the olden days.
From the end of August through the beginning of October, you'll see a fantastic seasonal treat appear in Tuscan bars and bakeries. It's called schiacciata, but let's not confuse this with the high, oily bread you get year round, nor the kind filled with ham and cheese. The schiacciata of Fall is schiacciata con l'uva, a semi-sweet bread made with red grapes "stolen" from the vendemmia, or grape harvest.

The tradition of schiacciata con l'uva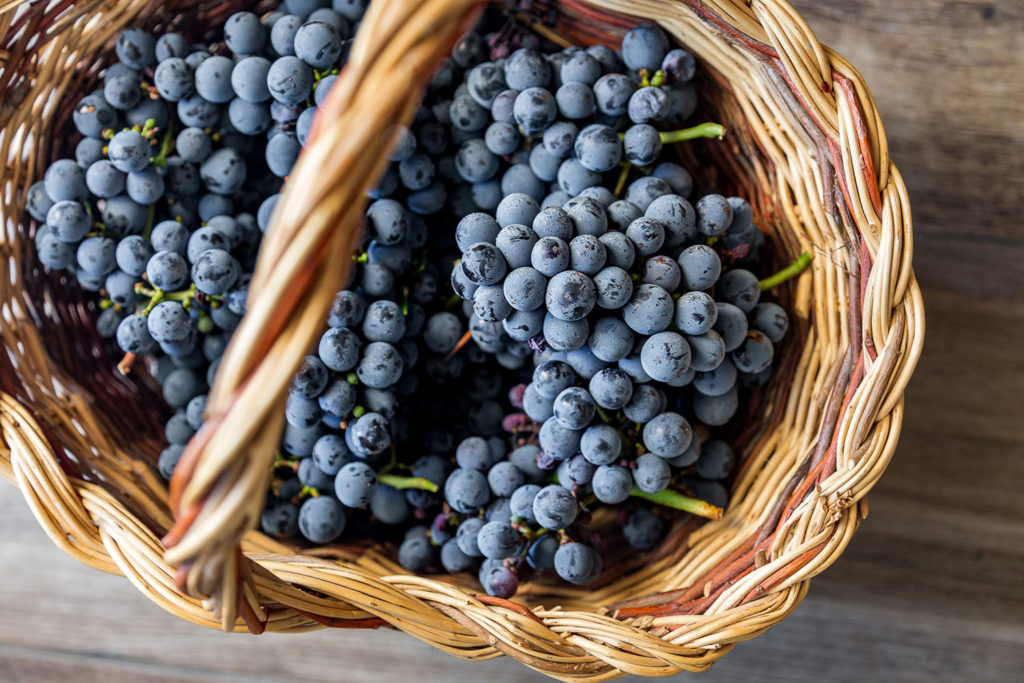 My grandma always tells me about how, when she was young, her mother made bread every day for the whole family, using our large wood-burning oven. During the grape harvest, part of the bread dough was rolled out and dressed with grapes and sugar. Often the type of grape was "uva fragola" that grew on a pergola over the door of her house.
Schiacciata is a deeply felt tradition in the Tuscany countryside. The flat bread was part of the bread baking process: it was used to test the temperature of the oven, and depending on the season it would be dressed with different topings like grapes, dried fruits and nuts, or pork in wintertime.
When I was little, sometimes my grandma would make me this sweet bread for snack. I will always associate the grape juice and the crunch of the seeds, a surprise within the soft dough, with these moments, and seek it out whenever I go to a bakery. Some make schiacciata con l'uva that is tall and soft, almost like a brioche, some use just grapes alone while others add rosemary, or aniseed or chopped walnuts.
Schiacciata con l'uva: the recipe
But let's get to my recipe: mine is for a soft and high schiacciata with abundant grapes. While it cooks, it releases its grapey goodness that mixes with the sugar and creates a sweet and sticky, almost jam-like effect.
To make this schiacciata you need to start a day in advance so that it rises for a long time, making it soft and also easy to digest.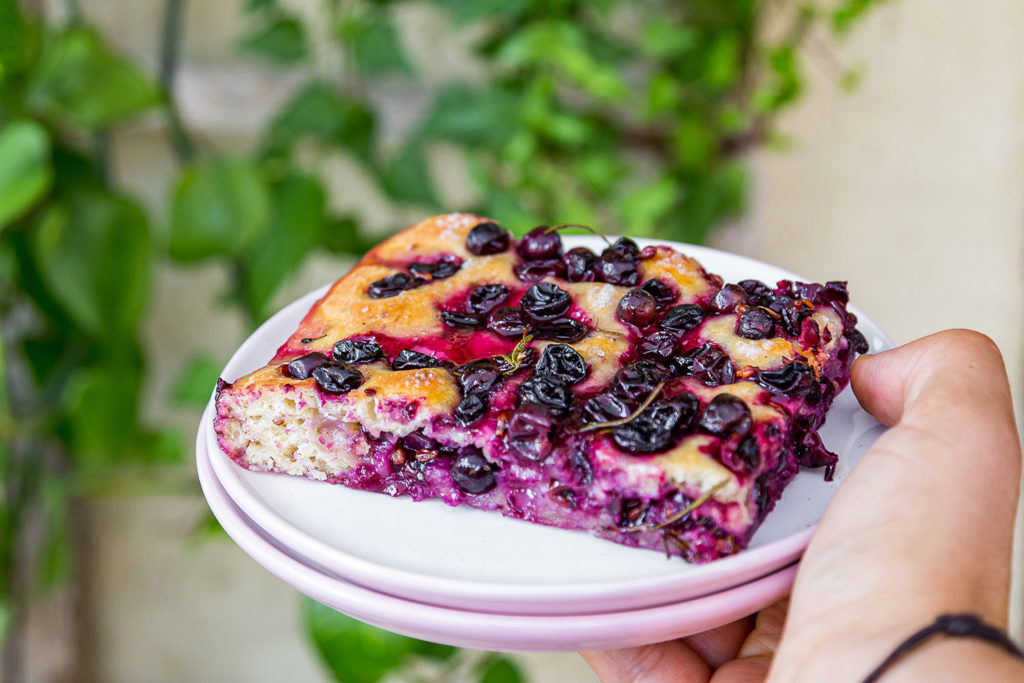 First dough – ingredients
1 g di fresh beer yeast
125 g type 0 strong flour
125 g cold water
Second dough – ingredients
The dough made the day before
250 g type 0 weak flour
5 g salt
2 tbs extra-virgin olive oil + a bit extra to grease the dish
1 tsp honey
125 g slightly warm water
600 g grapes of the type used for wine
200 g white sugar
a few sprigs of rosemary
In the afternoon of the day before you will cook the sweet bread, make the first dough, which needs to rise for at least 12 hours. Dissolve the beer yeast in a large bowl containing the cold water, then add the flour and mix with a mixer until smooth. Cover with plastic wrap and leave at room temperature until the next day.
12 hours later this dough is ready. In a large bowl, add the flour, salt, honey and olive oil. Begin to knead this dough, adding the water bit by bit to let it absorb. This should take about 10 minutes to produce a firm and smooth dough.
With oiled hands, form the dough into a ball and oil a bowl into which to put it to rise. Cover with plastic wrap and let rise at room temperature until it doubles, at least 3 hours.
Punch down the dough with oiled hands and divide it into two equal balls.
Oil a baking sheet and press one of the portions of dough into it. As it relaxes, push it back to spread into the pan.
On a floured surface, spread the other dough out to approximately the same size as your baking sheet and put aside.
Cover the schiacchiata in the baking pan with half the sugar and half the grapes.
Lay the other portion of dough on top and pinch the edges to seal it.
Let rise at room temperature for 2 hours, then cover with the remaining sugar and drizzle the olive oil on top. Push the remaining grapes into the dough. Add rosemary.
Heat oven to 190°C, then bake for 20-30 minutes until it is puffy and golden.
Other seasonal schiacciate
If you can't find the kind of grapes used for wine, do not despair. There are other delicious ways to prepare this recipe with seasonal fruits. If you like berries, you can substitute in blueberries (with a bit of lemon) or blackberries (in this case with sage).
Another delicious way to make schiacchiata is with figs, a classic of the late summer season, delicious when topped with a handful of chopped walnuts.