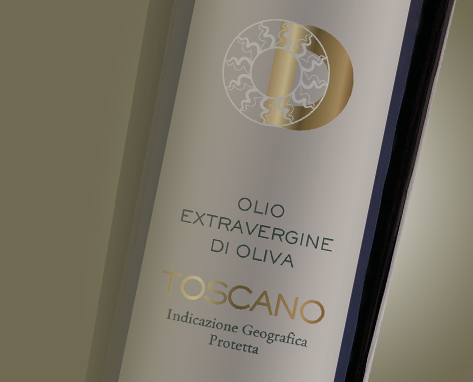 IGP Toscano
Extra Virgin Olive Oil
Virtue: Responsibility
San Bernardino da Siena
The road marks our path, lined with cypresses and torrents that flow fast in search of the sea. The Maremma opens itself up to the observer, radiant, generous and alive. From the sea breeze and the intense sun, the olive tree gains power, elegance and a strong personality, instilling soul to the Tuscan Extra Virgin Olive Oil.
Characteristics
We monitor the mechanical extraction to maintain a constant processing temperature so that the pressed olives and the must oil obtained spend just moments in contact with or are exposed to oxygen. The just-extracted oil is filtered in line, and then proceeding to the careful separation of the day's batches.
The oil is stored in stainless steel protected from light at a temperature below 22°C to prolong the shelf-life; it is then vacuum-bottled (just before the product leaves for markets) using a bottle that reduces the impact of UV-ray penetration by 97%.
Production Characteristics
Olive Origin:

Maremma

Oil Production Area:

Frantoio di Dievole (Dievole Oil Mill)

Olive Variety:

Leccino, Moraiolo, Frantoio, Maurino

Altitude:

Sea level

Harvesting Method:

Mechanical and manual

Bottle Size:

500 ml
Food Pairing
Perfect with vegetable bruschette, barley salad, marinated amberjack, tomatoes with rice, bean soup, artichoke risotto, grilled fish, salmon tartare, goat's cheese and medium mature and firm-textured cheeses.