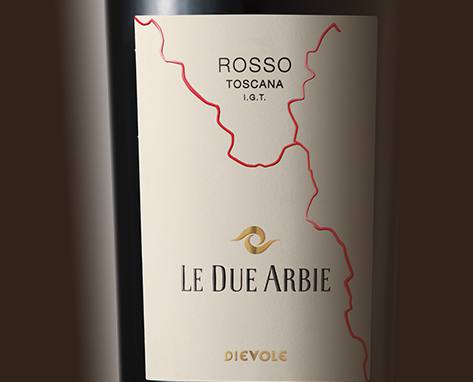 Rosso Le Due Arbie
IGT Toscana 2016

Creativity is not enough to redefine a classic; neither is courage. You need solid roots, planted firmly in a strong land. You need the experience and knowledge of the generations who have worked the soil. You need pride in your past. These are the only ways for Tuscany to produce a new red wine, young and fresh, taking the best of myriad traditions and learning how to express its authentic, very personal character.
Discover our D'Wine Club
Technical Information
Position:

Sud, sud-west

Soil type:

Marl, limestone

Training system:

Cordone speronato

Vine density:

5.000 plants / ha

Vine age:

10-15 years

Hectare yield:

70 q.li

Plant yield:

1,4 kg

Alcohol:

13 %

Acidity:

5,7 g/l

Dry Extract:

28 g/l

Bottle Size:

750 ml
Winemaking Process
Spontaneous fermentation and vinification in natural cement vats for 14 days at 27-28°C. Malolactic fermentation in the same 80hl vats. Refinement in 150hl cement vats for 9 months. Bottle ageing for 3 months.
Tasting Notes
Color:

Bright, intense, ruby red.

Bouquet:

Ripe red fruit with hints of spice.

Taste:

Juicy and fruity flavoured and well bodied. Soft, pleasing tannins. Lingering aftertaste.

Pairing:

Excellent with traditional Tuscan dishes such as ribollita, pasta or grilled meat.