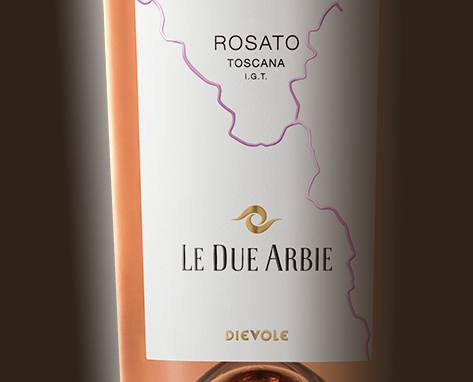 Rosato Le Due Arbie
IGT Toscana 2017

Not only a wine: it's the breeze of a summer's night, the freshness that rises up from the land and puts a shiver into the air. Producing it requires passion and demands knowledge. Made entirely from Sangiovese grapes, this rosé surprises with its delightful color and balanced nuances of grapefruit and white peach. Its silky refinement makes this wine the perfect accompaniment at lunch and dinner. Simple yet important, it enhances both spicy food and healthy Mediterranean dishes.
Discover our D'Wine Club
Technical Information
Bodentyp:

Silty clay soils with marl and limestone

Sistema di allevamento:

Cordone speronato converting to Guyot

Densità d'impianto:

About 5,000 vines yer hectare

Età delle viti:

15 years

Hectare yield:

80 q.li

Pflanzenertrag:

About 1,6 kg

Harvest Period:

Early September

Alcohol:

13%

Acidità:

6 g/l

Dry Extract:

5 g/l

Bottle Size:

750 ml
Winemaking Process
Cold white vinification methods. The grapes are gently destalked and pressed, immediately cooled to 5°C and delicately pressed again. The resulting must is cooled to 5°C and left to decant for 2 days. As the temperature rises naturally (on the third or fourth day), the must is injected with a native pied de cuve. The slow and constant fermentation lasts for about 35 days at 17-18°C. Refinement: in steel vats for 3 months.
Tasting Notes
Color:

Intense salmon rosé.

Bouquet:

Fruity, with distinct white peach and grapefruit nuances.

Geschmack:

Refreshing and highly pleasant on the palate. The acidity balances well with the minerality.