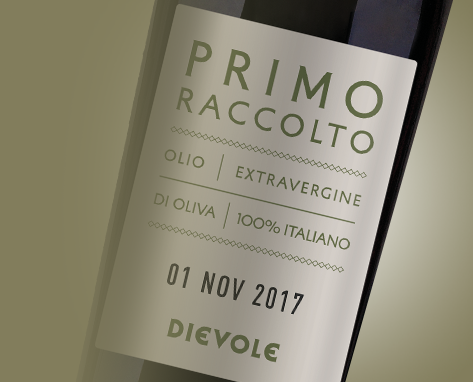 Primo Raccolto Olio Nuovo di Dievole
SEIZE THE DAY with PRIMO RACCOLTO Carpe Diem
You can purchase our LIMITED EDITION EVOO – PRIMO RACCOLTO 2017 0,5 lt. made from olives harvested every day from November 1 until November 15. Choose the harvest date that you prefer, and we will guarantee its production in our olive mill, hand-stamping the date on the label and shipping it immediately afterwards.
Product available for sale only from November 1 until November 15, 2017.
Discover our D'Wine Club
Primo Raccolto by Dievole
Dievole's profound respect for the earth and our work in harmony with the elements is what brings us the Primo Raccolto project, a story of quality, transparency, innovation and passion. This is the latest innovation from Olio di Dievole, which, since 2014, has been producing international award-winning monocultivar and blended extra virgin olive oil that is recognized by chefs and consumers worldwide. Primo Raccolto, makes that quality personal: is our way of bringing your choice of the fruits of our territory straight to your door, with an express delivery of specially dated olio nuovo.

But Primo Raccolto is much more than a bottle of fresh extra virgin olive oil. Olio nuovo represents the passage of earth through time, the moment that the nights begin to get longer and cooler; it's when the olives start to concentrate energy within themselves, ready to pass into a new dimension. Olio nuovo is the essence of this moment of change, from the end of a fruitful summer to the start of a season of rest and renewal.

We'll be picking our olives from November 1 to November 15, 2017. Every day, we'll pick a different part of the olive groves based on nature rhythm. Each bottle of Primo Raccolto is unique, its differences depending the variety of olive, the temperature and because of so many other factors.

During this time, you can pick which day you'll want to be virtually with us in our olive groves and at our olive mill. On your chosen day, we will pick the olives and bottle some of the fresh golden liquid for you. In this way you will be part of a process that has been taking place not for decades or centuries but for millennia.

Each bottle is stamped with the day you chose, the precise and unique instant in which the earth has yielded this precious gift, with all of the variations that this process generates. Each day from November 1 to November 15 will provide a new and unique sensorial experience – so carpe diem – seize the day.



What is Olio Nuovo
Olio Nuovo literally means "new oil" in Italian, and refers to extra virgin olive oil that has just been harvested and pressed. Considered a special seasonal treat, olio nuovo is a symbol of Fall and its harvest festivities in Italy, when it is traditionally poured liberally on salt-free bread that is toasted over an open fire and enjoyed in good company.

Olives are picked starting in the beginning of November. This harvest follows the universal astronomical rhythms that has always guided us, through the Summer and Winter solstices, and we like to think that it is still Voltumna, the Etruscan goddess of the earth, who dictates change in the seasons and tells us when the olives are ready to pick.

After picking from early in the morning, olives are brought to the mill for pressing as soon as possible to ensure the highest quality. Olio nuovo is available during the Fall season.

The very first pressing of these olives makes a tangy extra virgin olive oil that we call olio nuovo. Usually quite green in colour, this fresh olive oil is the result of the harvest of the day being pressed, double filtered and bottled without being blended with other parts of the harvest. Its flavour will mellow with time, but for now it is spicier and more bitter, likely due to a higher concentration of polyphenols. With Dievole's olio nuovo, Primo Raccolto, every day yields a new and different olive oil, a taste experience like no other – hence the need to "seize the day".
The use of Olio Nuovo
Dievole's Primo Raccolto, a tangy, fresh extra virgin olive oil, is only available for a short period of time, during the fall harvest months, and it should be consumed as soon as possible in order to maximize the flavour and the emotion.

In Olio Nuovo your taste buds will encounter an unprecedented intensity, the sensory expression of freshly pressed olives. By bottling it straight out of the press and after filtering, this extra virgin olive oil is a unique representation of a moment in time and space. Its taste is one you'll only experience in Italy, from November until December, the short period of time when Olio Nuovo is made.

Olio nuovo is superb used as a fresh topping, but is also exceptional in cooking. Traditionally, in Tuscany, our first taste of the green oil as the romans used to call it, is on fettunta, a piece of salt-free Tuscan bread, usually toasted over an open fire, that is "unta" or essentially dripping with oil! This bread is sometimes rubbed with a raw clove of garlic first, and some also mash fresh tomato into it or top it with crisp kale. This "dish" is essentially a vehicle for the oil, and is a symbol of the Olio Nuovo festival! Being unable to eat only that, another excellent and traditional farmhand use of the oil is drizzled on top of a hearty soup, such as a ribollita or bean soup. The heat of the soup exalts the flavour and smell of the oil, to the delight of your palate.

In addition to its excellent taste, the health benefits of the fresh olio nuovo are as numerous as those of extra virgin olive oil, which is recognized for its high level of antioxidants that help eliminate free radicals. Amongst the advantages noted by scientists, studies show that pure olive oil may help fight off depression, neurodegenerative diseases, and prolong life expectancy.