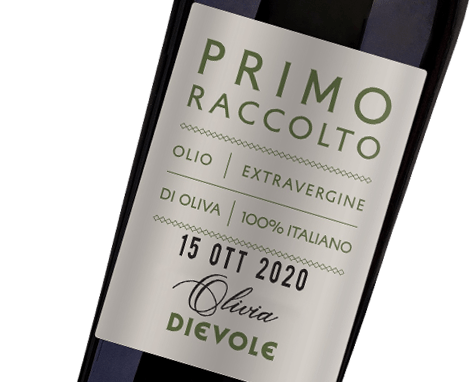 Primo Raccolto: Olio Nuovo by Dievole
PRIMO RACCOLTO 2020 is made daily with the olives harvested starting October 15. Personalize your Primo Raccolto with the name and date of your choice: we'll etch them on the label of Olio Nuovo bottle by Dievole. We ship our olive oils immediately after pressing.
Primo Raccolto is reserved to D'Wine Club members.
Shop online in our D'Wine Club
Primo Raccolto by Dievole
The Primo Raccolto project is founded on a history of quality, transparency, innovation and passion. It comes from the profound respect that Dievole has for the land and from the work carried out in harmony with the territory and its elements, first of all the olive groves. Since 2014, our company has been producing monocultivar and blended extra virgin olive oils beloved by chefs and consumers worldwide. Primo Raccolto offers the unique opportunity to choose the production date of its Olio Nuovo.

But let's take a step back: the concept of Primo Raccolto can't simply be summed up in a bottle of freshly-pressed extra virgin olive oil. Italian fresh olive oil encloses the magic of a changing land, the passage of time. In this special oil, you can almost taste the nights beginning to get longer, the air getting cooler, the moment when the olives generate and reproduce the energy of this transformation. Olio Nuovo is the very essence of these natural changes, of the transition from a fertile summer to a season of rest and regeneration.

We'll be picking our olives from October 1st, 2019, following the rhythms of nature, mainly the olive groves. Each bottle of Primo Raccolto is unique thanks to the constant change in cultivar, temperatures and many other factors.

The bottles are delivered with the name and date of your choice stamped on the labels so you can always remember the precise and unparalleled moment when the earth yielded this precious gift, with all the priceless variations that enrich the production process. Every bottle will be a precious, unique gift. After all, carpe diem is the project's motto.
What is Olio Nuovo
Olio Nuovo literally means "new oil" in Italian, and refers to extra virgin olive oil that has just been harvested and pressed. Considered by many a symbol of Fall and its festivities, it is traditionally poured liberally on toasted bread and enjoyed in good company.

Olives are picked starting in the beginning of October, following the universal astronomical rhythms that have always guided us. We like to think that it is still Voltumna, the Etruscan goddess of the earth, who dictates change in the seasons and tells us when the olives are ready to pick.

After picking from early in the morning, the olives are brought to the mill for cold pressing as soon as possible to ensure the highest quality.

The very first pressing of these olives makes an extra virgin olive oil with a tangy flavour and bright green colour, characteristics that come from the high concentration of polyphenols. With Dievole's Primo Raccolto, every day yields a different olive oil, each one unique and out of the ordinary.
The use of Olio Nuovo
The Primo Raccolto Olio Nuovo is only available for a short period of time, and it should be consumed as soon as possible in order to maximize its flavour and the joy of tasting it.
Olio Nuovo stands out for its particular intensity on the palate, an authentic expression of the freshly-pressed olives. You can enjoy the unique flavour of this olive oil, bottled immediately after filtering, especially in November and December.
Olio Nuovo boasts an inebriating aroma and flavour, expressing its best characteristics both by on its own and in cooking. And the Tuscan tradition does them justice: just think of a fettunta, a simple slice of bread topped with oil, sometimes flavoured with garlic or fresh tomatoes and kale. It's also an excellent condiment for soups and minestrones, like the classic ribollita, its heat emphasizing the flavours and aromas of this precious ingredient used as far back as Antiquity.
Primo Raccolto, just like all our oils, are also recommended for their health benefits. Rich in antioxidants, it helps combat free radicals and signs of early aging. According to some scientific studies, it would seem that fresh oil is also able to ward off depression and slow the advancement of neurodegenerative diseases.
Join and order