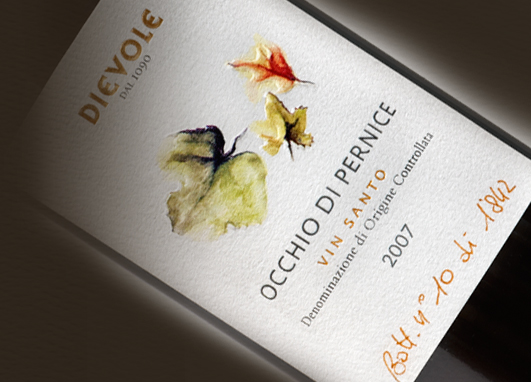 Occhio di Pernice
Vin Santo DOC 2007
Made in a 100% artisanal way, Vin Santo Occhio di Pernice is the crowning jewel of our winemaking. Produced using only the finest Sangiovese grapes (comprising 80%), it is aged in oak casks that lend an unmistakable colour and flavour to the wine. The deep amber colour immediately conveys an idea of how it will taste: bold, bodied and perfect for meditation. A vin santo that could only ever be at home in Tuscany and which is numbered by hand, given its prestige, to emphasize its unique traits and personality.
Shop online in our D'Wine Club
Technical Information
Position:

South, south-west

Soil type:

Marl, limestone

Training system:

Cordone speronato (cordon spur)

Vine density:

3.500 plants/ha

Vine age:

15/10 years

Hectare yield:

52 q.li

Plant yield:

1.5 kg

Alcohol:

15.5%vol

Acidity:

6.5 gr/lt

Bottle Size:

375 ml
Winemaking Process
Grapes are dried on reed mats placed in a well-ventilated place. Afterwards, the juice is placed in chestnut 50 lt sealed casks containing the "mother" wine obtained by drawing off the previous vintage of Occhio di Pernice, where it ferments spontaneously. The wine remains in the cask, without ever being opened, for 60 months during which undergoes a long and slow oxidation giving the wine its typical aromas. When finished aging, it is lightly filtered and bottled.
Final aging is made in the bottle for 9 months.
Tasting Notes
Color:

Deep amber color.

Bouquet:

Ethereal, intense, with notes of sweet toasted wood.

Taste:

Harmonious deep with aromas of almond, walnut and vanilla.

Pairing:

Meditation wine.