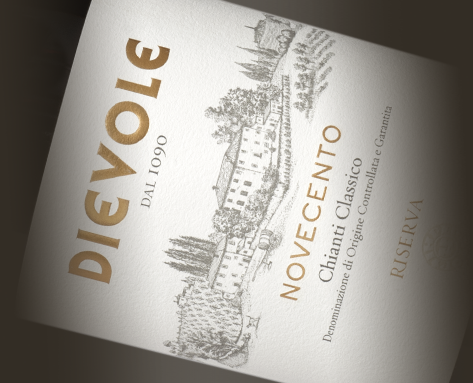 Novecento
Chianti Classico
Riserva DOCG 2015
Novecento Chianti Classico Riserva was made to celebrate 900 years of history at Dievole. The story began all the way back in 1090, when, according to the contract conserved in the State Archives in Siena, "two capons, 3 loaves of bread and 6 lucchesi coins forged from good silver" were paid as the annual rent for a vineyard in the "divine valley", Dievole.
Discover our D'Wine Club
Technical Information
Esposizione:

South, southwest

Bodentyp:

Silty clay soils with marl, limestone and an abundance of stones

Sistema di allevamento:

Cordon spur converting to Guyot

Densità d'impianto:

5.000 vines per hectare

Età delle viti:

18 years

Hectare yield:

About 70 q.li

Pflanzenertrag:

About 1.4 kg

Harvest Period:

Early October

Alcohol:

14 % Vol.

Acidità:

5.8 g/l

Bottle Size:

750 ml
Winemaking Process
Fermentation: 14-15 days in 75 Hl unrefined cement vats at a maximum temperature of 26-28°C.
Aging: in 41 Hl untoasted French oak barrels for about 17 months.
Refinement: minimum of 6 months in bottle.
Tasting Notes
Color:

Intense ruby red with garnet highlights.

Bouquet:

Intense bouquet of ripe red fruit and spiced notes.

Geschmack:

Bodied and balanced wine, with elegant, pleasant tannins. Good acidity and a distinct minerality. Long, elegant finish.