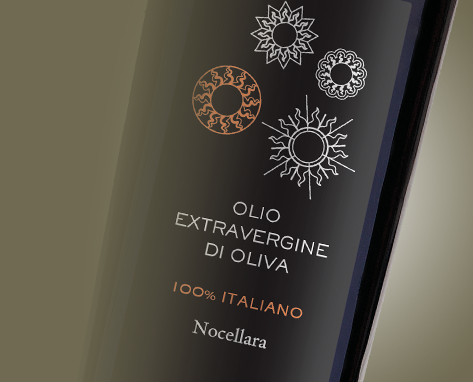 100% Italiano
Monocultivar Nocellara
Extra Virgin Olive Oil
Virtue: Integrity
San Bernardino da Siena
The story behind our extra virgin Italian olive oil can only be fully understood by taking a turn through that strait that, drifting inland from the sea, brings us the exceptional aromas of the Nocellara. For the first time this cultivar is presented in its Messinese and Belice expressions, together from this moment on.
Characteristics
Controlliamo l'estrazione meccanica mantenendo costanti le temperature ideali di processo dove sia le olive frante che l'olio mosto ottenuto hanno pochi momenti di contatto o esposizione all'ossigeno. Realizziamo la filtrazione in linea dell'olio appena estratto e procediamo all'attenta separazione dei lotti di giornata.
L'Olio viene stoccato in acciaio inox al riparo dalla luce con temperature inferiori ai 22°C per prolungare la shelf-life e poi imbottigliato sottovuoto (appena prima della partenza del prodotto per i mercati), utilizzando una bottiglia che riduce del 97% l'effetto di penetrazione dei raggi UV.
Production Characteristics
Olive Origin:

Basilicata

Oil Production Area:

Frantoio di Dievole (Dievole Oil Mill)

Olive Variety:

Nocellara

Altitude:

400 sml

Harvesting Method:

Mechanical and manual

Bottle Size:

500 ml
Food Pairing
Barley starters, boiled lobster, sea bass carpaccio, marinated gurnard, cream of vegetables, ovule mushroom pasta dishes, fried shrimp, steamed seafood, young, soft cheeses, biscuits.