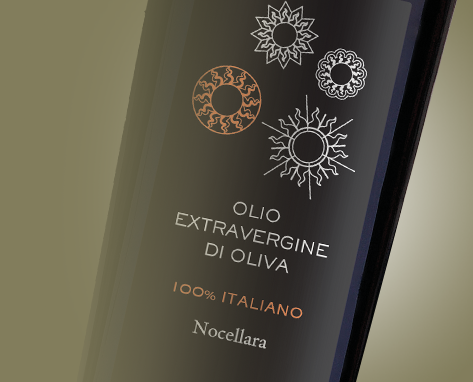 100% Italiano
Monocultivar Nocellara
Extra Virgin Olive Oil
The story of our Italian Extravirgin Olive Oil simply cannot be told without taking the necessary passage over the narrow strait that brings us to Sicily and the extraordinary aromas of Nocellara in the Belice Valley.
Shop online in our D'Wine Club
Characteristics
The production line consists of a low-oxygen impact system that maintains the maximum oil contained in the just-picked olives. The team adjusts all the parameters according to the olive varieties and their health, temperature, ripening, water concentration and the aromas and flavours desired in the end result. Once extracted, the oil is filtered immediately through cellulose panels to remove 99% of the water. It is stored in stainless steel vats, away from the light, at temperatures ranging between 14 and 20°C to extend the shelf life. Bottling takes place in an inert atmosphere using bottles that reduce UV penetration to 97%.
Production Characteristics
Olive Origin:

Sicily

Olive Variety:

Nocellara

Harvesting Method:

Mechanical and by hand

Bottle Size:

500 ml
Tasting Notes
Color:

Green with golden undertones

Bouquet:

Medium fruity, tomato leaf, floral nuances

Taste:

Very delicate with slight bitterness and persistent piquancy
Food Pairing
Barley starters, boiled lobster, sea bass carpaccio, marinated gurnard, cream of vegetables, ovule mushroom pasta dishes, fried shrimp, steamed seafood, young, soft cheeses, biscuits.