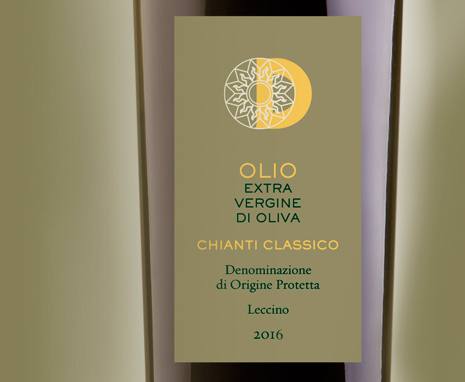 DOP Chianti Classico Monocultivar Leccino
Extra Virgin Olive Oil
Virtue: Honesty
San Bernardino da Siena
You are surrounded by centuries-old Tuscan olives (Prima omnium), verdant, vivacious leaves unfurled towards the sun. Like Chianti Classico dwellers you're a hardy species, frost resistant, pugnacious and rebellious. Then, to the taste buds, you reveal yourself as a well-balanced, elegant, floral extra virgin oil, surprisingly Leccino.
Characteristics
We monitor the mechanical extraction to maintain a constant processing temperature so that the pressed olives and the must oil obtained spend just moments in contact with or are exposed to oxygen. The just-extracted oil is filtered in line, and then proceeding to the careful separation of the day's batches.
The oil is stored in stainless steel protected from light at a temperature below 22°C to prolong the shelf-life; it is then vacuum-bottled (just before the product leaves for markets) using a bottle that reduces the impact of UV-ray penetration by 97%.
Production Characteristics
Olive Origin:

Chianti Classico

Oil Production Area:

Frantoio di Dievole (Dievole Oil Mill)

Olive Variety:

Leccino

Altitude:

250 - 450 sml

Harvesting Method:

Manual

Bottle Size:

500 ml