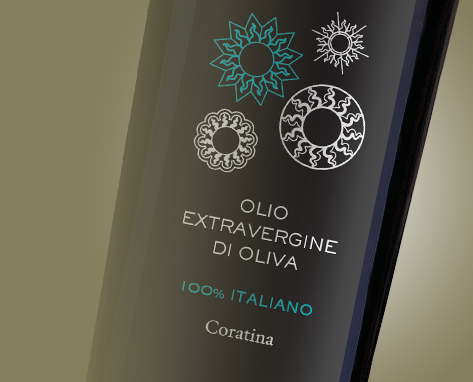 100% Italiano
Monocultivar Coratina
Extra Virgin Olive Oil
Our tribute to the most famous cultivar in the world: Coratina, in its fullest varietal expression. At Canosa di Puglia centuries-old plants grow tall and majestic, generating a potent Extravirgin Olive Oil both fragrant and pleasing to the palate.
Shop online in our D'Wine Club
Characteristics
The production line consists of a low-oxygen impact system that maintains the maximum oil contained in the just-picked olives. The team adjusts all the parameters according to the olive varieties and their health, temperature, ripening, water concentration and the aromas and flavours desired in the end result. Once extracted, the oil is filtered immediately through cellulose panels to remove 99% of the water. It is stored in stainless steel vats, away from the light, at temperatures ranging between 14 and 20°C to extend the shelf life. Bottling takes place in an inert atmosphere using bottles that reduce UV penetration to 97%.
Production Characteristics
Olive Origin:

Basilicata and Puglia

Olive Variety:

Coratina

Harvesting Method:

Mechanical and by hand

Bottle Size:

500 ml
Tasting Notes
Color:

Green with golden undertones

Bouquet:

Medium fruity, olives, with almond and artichoke nuances

Taste:

Well-structured and medium intense bitterness and persistent piquancy
Food Pairing
Ideal with tomato bruschetta, chargrilled porcini mushrooms, artichoke, grilled radicchio, asparagus soup, meat first courses, oven-baked mackerel, roast poultry and lamb, Florentine steak, and hard mature cheese.