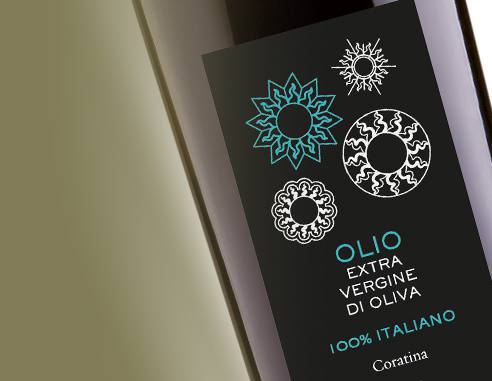 100% Italiano
Monocultivar Coratina
Extra Virgin Olive Oil
Virtue: Efficiency
San Bernardino da Siena
Our tribute to one of the world's most important cultivars: Coratina, at the height of its varietal expression. On the San Giorgio Lucano estate, the trees stand tall and majestic above sea level, giving rise to a powerful extra virgin olive oil, aromatic and palatable.
Characteristics
We monitor the mechanical extraction to maintain a constant processing temperature so that the pressed olives and the must oil obtained spend just moments in contact with or are exposed to oxygen. The just-extracted oil is filtered in line, and then proceeding to the careful separation of the day's batches.
The oil is stored in stainless steel protected from light at a temperature below 22°C to prolong the shelf-life; it is then vacuum-bottled (just before the product leaves for markets) using a bottle that reduces the impact of UV-ray penetration by 97%.
Production Characteristics
Olive Origin:

Basilicata and Puglia

Oil Production Area:

Frantoio di Dievole (Dievole Oil Mill)

Olive Variety:

Coratina

Altitude:

400 sml

Harvesting Method:

Mechanical and manual

Bottle Size:

500 ml
Food Pairing
Perfect with tomato bruschette, grilled porcini mushrooms, artichoke salad, grilled radicchio, asparagus soup, sausage pasta dishes, baked oily fish, roasted poultry and lamb, Florentine T-bone steak, mature and firm-textured cheeses