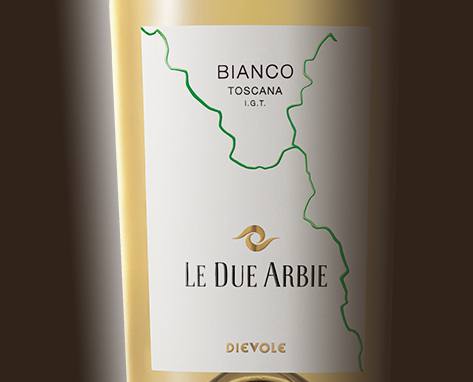 Bianco Le Due Arbie
IGT Toscana 2017

Tuscany is its birthplace but this wine looks into the distance, with the exuberance and enthusiasm of youth, but without ever losing sight of its limits. Having received the best of the past, the wine is driven forward, toward a new balance of floral and fruity overtones. Not made to age, this white does not know how to wait: its time is now. For everyone who appreciates freshness and the here and now, for every occasion, from happy hour to after dinner.
Discover our D'Wine Club
Technical Information
Bodentyp:

Sandy and graveled, rich in organic substances

Sistema di allevamento:

Guyot

Densità d'impianto:

5.000 vines per hectare

Età delle viti:

14 years

Hectare yield:

80 q.li

Pflanzenertrag:

About 1.6 kg

Harvest Period:

Early September

Alcohol:

12,5%

Acidità:

5,8 g/l

Bottle Size:

750 ml
Winemaking Process
Cold white vinification methods. The grapes are gently destalked and pressed, immediately cooled to 5°C and delicately pressed again. The resulting must is cooled to 5°C and left to decant for 2 days. As the temperature rises naturally (on the third or fourth day), the must is injected with a native pied de cuve. The slow and constant fermentation lasts for about 35 days at 17-18°C. Refinement in steel vats for 3 months.
Tasting Notes
Color:

Bright straw yellow.

Bouquet:

Floral and fruity nuances, with clean aromas of peach, apple and pineapple.

Geschmack:

Freshness and minerality stand out on the palate.