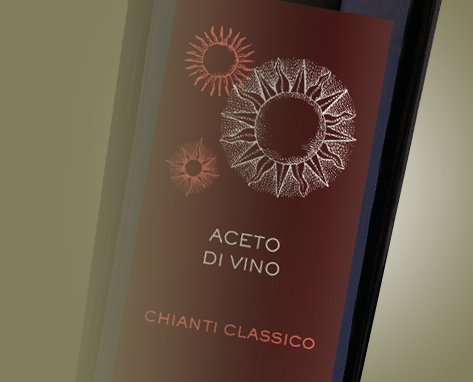 Vinegar Chianti Classico Millesimato
So pungent that you fuel the taste buds and the mind. With every drop you emulsify and add flavor to the oil, which, now lively, refines the food and makes the spirit of Chianti Classic wine more acute, as sharp as a sword edge and in line with your thoughts.
Shop online in our D'Wine Club
Technical Data
Acidità:

8.50 %

Alcool residuo:

0.40 % in vol

Dry Extract:

0.80 g/l

pH:

3.20

Aging:

8 months in oak casks

Max. Haltbarkeit:

36 months from the packaging date

Bottle Size:

500 ml
Note Organolettiche
Clear, brilliant and ruby red in appearance.
The aroma is vinegary and moderately pungent.
The flavor is noticeably intense and vivid, however with balanced acidity.
Food Pairing
Serve generously with all fresh and cooked vegetables in according to your preference. Superb when cooked with offal and game.