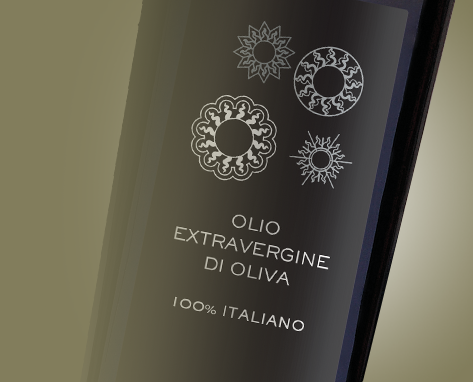 100% Italiano
Extra Virgin Olive Oil
Our 100% Italiano is born where the olive tree's splendid and magnanimous nature is expressed by the quality and quantity of its yield. More than 1000 hectares between Puglia, Basilicata and Sicily are cultivated with love and passion: here individual experiences are lost amongst the memories of ancient olive trees, which generate a rich and intensely perfumed Extravirgin Olive Oil in harmony and equilibrium.
Discover our D'Wine Club
Characteristics
We closely monitor the extraction process, maintaining a constant ideal temperature in which both the olives pressed and the first oil extracted have minimal exposure to oxygen. We filter the oil as soon as it is extracted, consistent with extra-virgin olive oil procedures, and carefully separate it into daily batches. Our ExtraVirgin Olive Oil is stored in stainless steel away from light at a temperature of less than 22°C in order to prolong its shelf life. It is bottled and vacuum-sealed immediately before being released to market, using a bottle that reduces 97% of the effect of UV rays.
Production Characteristics
Olive Origin:

Puglia, Sicily and Basilicata

Oil Production Area:

Dievole Oil Mill

Olive Variety:

Carolea, Coratina, Peranzana, Ogliarola and Nocellara

Altitude:

0–400 masl

Harvesting Method:

Mechanical and manual

Bottle Size:

500 ml
Tasting Notes
Color:

Green

Bouquet:

Medium-intense fruitiness, reminiscent of green olives, with artichoke notes

Taste:

Harmonious fresh almond notes, medium-strength bitterness and an intense peppery bite
Food Pairing
Ideal with bean antipasti, fish carpaccio, chicken salad, pureed vegetable soup, asparagus first courses, shellfish, lamb and poultry dishes, young soft cheese.