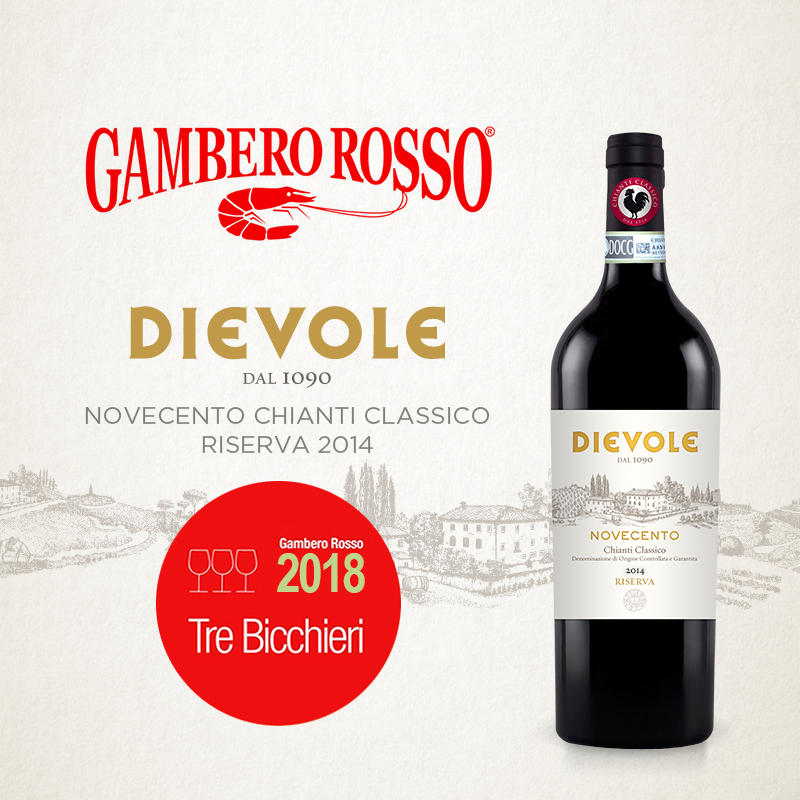 Dievole's wines continue to receive top accolades, rewarding the company's commitment to quality.
Dievole has always strived to guarantee top-quality products, paving the way to a revolution in 2012 based on an understanding of terroir and using the very best technology to make authenticity-driven wines.
Proof of the top-notch work done in the vineyard and in the cellar is evident in the unanimous consensus for the 2015 Chianti Classico DOCG and Chianti Classico Riserva "Novecento" 2014, the company's two flagship wines, leading ambassadors for the wine region and a hallmark of Dievole's respect for the land.
Vaunting a selection process that recognizes only the finest labels, Gambero Rosso awarded Dievole's Chianti Classico DOCG 2015 with "Due Bicchieri" (two glasses), while the Chianti Classico Riserva "Novecento" 2014 received the coveted "Tre Bicchieri" (three glasses), the Italian food and wine magazine's highest accolade. These awards are all the more important at this pivotal moment in the winery's history. This recognition by Gambero Rosso validates the decisions made by the company, choices that distinguish the Dievole philosophy: from 100% organic winemaking to the move away from barriques toward concrete tanks, as well as cellaring techniques that do not alter but rather enhance the natural characteristics of wine.
Yet another important honor has been bestowed on Dievole in the form of a DoctorWine "face". Only the best wines receive this recognition, which is given to wines that boast more than 95/100 in the Guida Essenziale ai Vini d'Italia edited by Daniele Cernilli. Daniele Cernilli is an expert, one of the 50 most influential people in the world of wine, as well as a holder of the prestigious Targa d'Oro dell'Associazione Enotecnici.
Furthermore, Dievole's Chianti Classico DOCG 2015 received a Gold Medal from Merano Wine Festival, a benchmark of Italian and international excellence.
Stefano Capurso, Corporate Managing Director of Dievole: "We are thrilled about the awards Dievole has received and view them as confirmation of the quality of our work to date. The "revolution", which began in 2012, has yielded results and it is exciting to see how our choices have been understood and appreciated year after year by critics. Now, as in the future, the aim will always be to enhance the deepest identity of our land, upholding its authenticity."