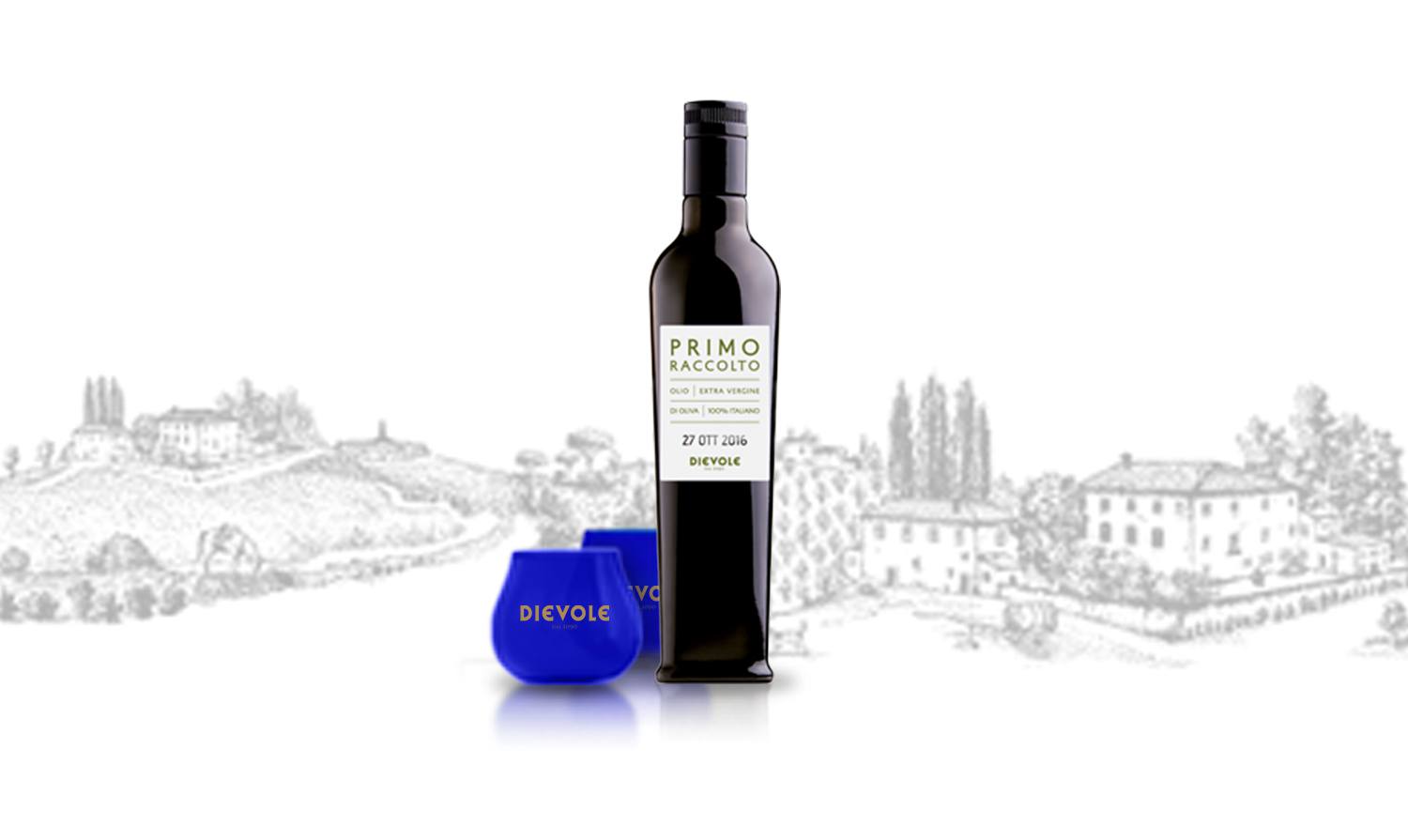 AN INNOVATIVE IDEA FROM THE HEART OF CHIANTI CLASSICO: PURCHASE DIEVOLE OLIVE OIL LABELED WITH ITS "DATE OF BIRTH"
CONSUMERS CAN CHOOSE WHEN THEY WANT THEIR EVOO TO BE HARVESTED
THE TUSCAN COMPANY'S NEW LABEL GOES BY THE NAME OF PRIMO RACCOLTO AND OFFERS THE UNIQUE OPPORTUNITY TO RECEIVE DIEVOLE'S OLIO NUOVO MARKED WITH ITS DATE OF HARVEST AND PRESSING.
Founded in the 11th century, Dievole's estate rises amidst a green expanse of centuries-old olive groves. Other than being a point of reference for the Chianti Classico wine region, this one-of-a-kind structure's fame as an extra virgin olive oil producer is rapidly on the rise. Boasting over 40 awards garnered on both national and international soil, it owes its growing success to the close-knit Olio di Dievole team led by world-renowned oil expert Marco Scanu.
Now, the award-winning DOP Chianti Classico, IGP Toscano and 100% Italian are ready to welcome a new addition to their range, but this novelty comes with a surprise: the label will display the day when the olives were harvested and pressed. This unprecedented project is called Primo Raccolto and offers consumers the unique opportunity to choose the "date of birth" of their extra virgin olive oil. It is therefore no coincidence that the product's claim, "Carpe Diem", underlines the importance of "time", which in the olive oil sector constitutes a factor of primary importance.
"Olio nuovo – Dievole's oil expert explains – has always exerted a certain charm on olive oil connoisseurs. Dievole offers the unique opportunity to purchase extra virgin olive oil on demand, choosing a specific date during the harvest time to have their olives picked, pressed and bottled. So, for example, the customer can base their choice on a birthday, anniversary or special event. Just imagine what an original gift this could be for a friend, the joy of receiving a bottle of olive oil specifically prepared for you on your date of birth. But this project is not only about the so-called "temporal coincidences" – the true pleasure lies in tasting an olive oil whose origins are known – indelibly engraved on the bottle – and savoring the exact specificity of its flavor."
So whether you are Scorpio or Libra, or your friends or family members were born under these signs, do not miss out on this exclusive opportunity – for this is a very limited offer. Bottles will in fact be "dated" between October 15 and November 15, the actual days of the harvest. By pre-ordering PRIMO RACCOLTO from September 15 to October 15, you will also receive an extra-special gift: each purchase will include a complimentary set of three professional olive oil tasting glasses. The product will be delivered directly to the chosen address by express courier.
Normal sales will take place from October 15 to November 15 via Dievole's official distribution channels.
"The Primo Raccolto project" – affirms the oleologue – promises the undeniable delight of savoring fresh extra virgin olive oil straight from the press, provided with a sort of "identity card" stating the date of the product. Dievole's every move is founded on the respect for tradition, a story made of quality, passion and transparence. We apply meticulous care to each detail – as demonstrated by the advanced technology we use in our olive mill in Pianella, located in the municipality of Gaiole in Chianti".
So, save the date: presales start Thursday September 15. It's easy to purchase: all you have to do is visit the company's website (www.dievole.it) and follow the instructions.