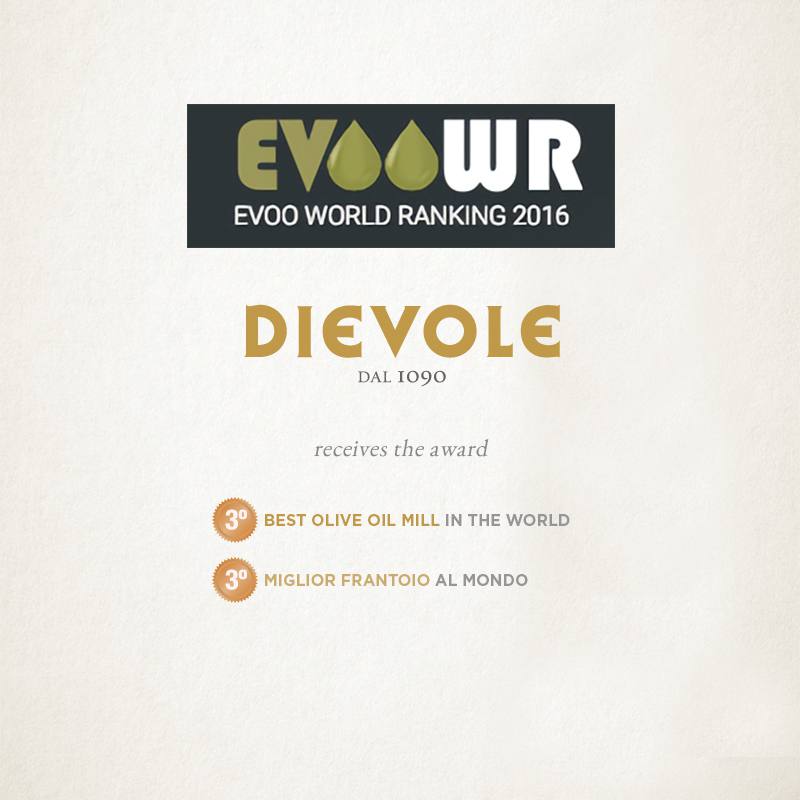 The award-winning Tuscan olive producers and their quality olive oils continue to gain international recognition.
Evoo World Ranking is the worldwide Extra Virgin Olive Oil competition based on a selection of the best EVOO and most internationally renowned companies. Dievole won third place during the 2016 edition, while its Olio Extravergine DOP Chianti Classico came in 19th in the top 20 chart.
For classification purposes, non-international prizes issued by magazines or books do not count, while international awards are classified by continent and nation with the International Olive Council's Mario Solinas Quality Award, which is the most important in its category. This ranking allows the board to see which EVOOs and companies are more prize-worthy as well as establish the best olive oil variety.
In 2016 and 2017 the Olio Dievole DOP Chianti Classico 2016 earned the following awards:
Premio Armonia concorso oleario internazionale DOP Chianti Classico 2016 – 3rd Trophy
International Olive Oil Competition China – Silver Medal
Olive Japan – Gold Medal
New York EVOO Competition – Gold Medal
Los Angeles International Competition – Silver Medal
Maestro d'Olio – Corona Maestro d'Olio
ORGANOLEPTIC PROPERTIES
Intense hues of green with streaks of golden nuances, the scent speaks of fruity, ripe olives with aromatic hints of spices and medicinal herbs. Its robust flavor presents mid-to-intense bitterness and persistent spiciness.
Even Dievole's 100% Italiano Monocultivar Coratina came in 18th among the top 100 World's best Olive Oils, a chart that is also based on the results obtained in major international competitions.
In 2016 and 2017 our Dievole 100% Italiano Coratina received the following awards:
Japan Olive Oil Prize – Special Prize
Biol International Prize – Gold Medal
Los Angeles International – Best of Class Gold Medal – Best of Show – Marco Mugelli Award
China International Olive Oil Competition Gold World – Third Place in the Intense category
Montiferru – Premio Montiferru e Premio Speciale Frantoiani sezione Monocultivar
New York EVOO Competition – Gold Medal
Olive Japan International Extra Virgin Olive Oil Competition – Gold Medal
Il Magnifico Extra Virgin Olive Oil Awards Firenze – Il Magnifico 2016 for World's Best Olive Oil
ORGANOLEPTIC PROPERTIES
Deep green, fruity scent of unripe olives with a hint of green artichoke. Medium intensity bitterness and persistent spiciness distinguish its "solid" structure.
Dievole's oil mill produces seven different types of oil. The DOP Chianti Classico line features the Extra virgin Olive Oil and the Monocultivar Leccino Extra virgin Olive Oil. Our 100% Italian EVOOs are: Extra virgin Olive Oil, Monocultivar Coratina Extra Virgin Olive OIl and the Monocultivar Nocellara Extra virgin Olive Oil. We also produce a IGP toscano Extra Virgin Olive Oil and every year we make available our Primo Raccolto Olio Nuovo di Dievole.