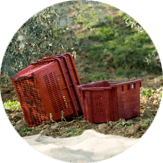 Dievole has olive trees in Tuscany and throughout Italy. This priceless heritage of genetically unique plants, often handed down throughout the centuries, is the starting point for developing a product line of high-quality extra virgin olive oil with a strong identity.
Everything comes from the raw material: without quality olives, an excellent extra virgin oil cannot be produced. For this reason, at Dievole, each olive grove follows precise processing schedules. The goal is to bring to light oils that would otherwise be lost, and to enhance the aromas and flavors of unique oils of extraordinary sensory worth.
At harvest time, each production batch has its own ID card, guaranteeing absolute traceability to ensure the full expression of a given territory, whether related to DOP Chianti Classico, the Tuscan IGP or a 100% Italian oil.
The Olive Mill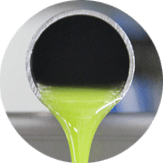 Pianella, where the Arbia River marks the boundary between Gaiole in Chianti, Castelnuovo Berardenga and Siena, along the famous "Chianti 408" road, is home to our olive mill, a state-of-the art technological plant with a low-oxidizing impact that preserves the quality of extra-virgin olive oil. Here all the selected olives are pressed within a few hours of harvest, with absolute traceability and no added water, and low dispersal of vitamins and antioxidants. It is filtered immediately after extraction.
Every step is meticulous: the pressing speed and technology are adjusted for each cultivar and each batch, the crushing and exposure times of the pastes during the oxidation processes are calibrated, and the extraction temperatures are constant and controlled.
This combination of technologies – both extraction and filtration – is intended to keep Dievole's extra virgin olive oils as fragrant, fresh and exciting for as long as possible.
At the end of the process, the extra virgin olive oil is stored in stainless steel vats, sheltered from light at temperatures below 22°C. Afterwards, it is vacuum-bottled. The bottle used reduces the impact of UV-ray penetration by 97%.
Year after year Dievole remains faithful to its philosophy based on constant innovation by investing in research and development with institutional partners such as research institutions, universities, public and private organizations, chambers of commerce, consortiums, educators and specialized consultants.