Here at Dievole we cherish culture in all its forms and strongly believe that words can be as inebriating as a nice glass of Chianti Classico. Here's a list of must-read wine books that your liquor-loving friends are sure to enjoy – especially if paired with a nice bottle of Tuscan vintage!
The Wine Country Mystery series
Former journalist and budding novelist Ellen Crosby has penned a series of mystery wine books joined by a common denominator: all titles make reference to a specific type of vine. "The Chardonnay Charade", "The Sauvignon Secret", "The Merlot Murders" and so on –  the 7 books are set in the seemingly tranquil Virginia Wine Country, just fifty miles from Washington D.C. Main Character Lucie Montgomery, a local vineyard owner, takes it into her own hands to investigate these happenings, uncovering conspiracies and long-buried truths. If you are a fan of wine and wordplay, this series is well-worth discovering… and you can also pair each book with its very own grape variety! We hope she'll be writing a Sangiovese-themed mystery soon – a christmas combo package with one of our bottles of Chianti Classico would look amazing underneath the tree!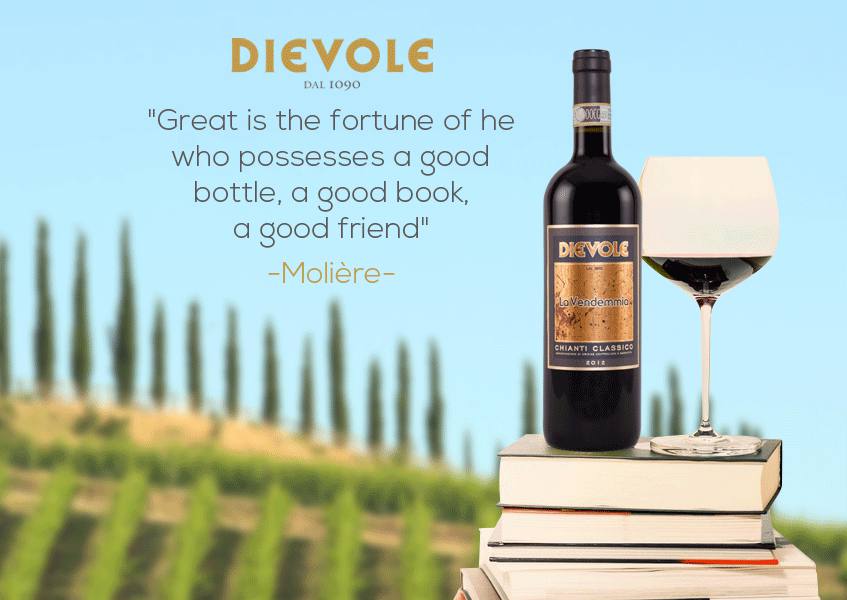 Learning the science behind wine
Your friends might enjoy wine but do they know what it takes to make this divine drink? If you want to offer them some precious insight, try giving them The Wine Anorak blog founder Jamie Goode's recently released "Wine Science: The Application of Science in Winemaking".  This book clearly illustrates the techniques, processes, chemistry and traditional know-how involved in the oh-so-fascinating art of winemaking. Divided into three sections covering the vineyard, the winery and human interaction with wine, the pages are decorated with graphics and illustrations that will clarify all doubts and simplify the learning process. This could be an eye-opening gift – be sure to give it to those who are ready to completely overturn their vision of wine forever, for it is not just a drink: it's a whole philosophy. 
A glassful of history
Science and history go hand in  hand so if you want to further carry on your crusade against shallow wine-drinkers, Hugh Johnson's "The Story of Wine" is one of those must-have wine books that you should wrapping up for someone special. Johnson is considered one of the world's best-selling wine writers and has been active in the field since the 1960s. His passionate writing is contagious, brimming with strong ideas regarding the wine industry (his autobiography "A Life Uncorked" could be another interesting gift for those approaching the more "nerdy" aspects of the wine world. Beginning with what we know of oenology in ancient Egypt and Greece, the text travels up to the 21st century, featuring useful maps, historical documents and illustrations.
A wine primer to raise responsible wine-lovers
Bear with us – this book is meant to be a fun suggestion, not an  obligation. Wine culture is in our blood and Tuscany youth learns about winemaking from a very young age.  It is only natural for us to want to explain such an important part of our culture to our children and if you too feel like raising awareness among your teens, enologist Teresa Severini Zaganelli's book "Grapes in the Glass" is an excellent educational tool. Released in 2011, it was originally published in Italian and subsequently translated in British idiom, and its subtitle is reassuringly reveals its colourful content: "Wine: Know-how, Fun and Responsibility". Here at Dievole, we believe that wine is an Art, and as such it should be taught and shared responsibly. This book is a great way to start – they might not be old enough to drink it, but there's no harm in learning a thing or two about wine!
Reading between the Wines
Acclaimed importer and wine guru Terry Theise had to be included in our list of essential wine books. Forbes described "Reading between the Wines" as "thoughtful of a rumination on wine and the beauty of being human, in all of our fragility, that you are ever likely to find in a wine book or any book for that matter". That definitely sounds convincing to us! His charismatic, direct and illustrious writing style will get you hooked, for Theise is not simply writing about wine: this is a confession of pure love for Bacchus' sacred craft.
The New Wine Rules: A Genuine Helpful Guide to Everything You Need to Know
Concise and with just the right balance of seriousness and humor, Jon Bonne's Pocket sized guide to wine drinking is your first step to forgetting the stresses behind finding and enjoying the great pleasures in your next glass of wine. With colourful and easy to follow illustrations and diagrams for when you or friends have one glass too many and full of tidbits of information for all levels of wine lovers, The New Wine Rules helps to demystify the vast expanse of wine "knowledge" circulating around.
Natural Wine: An introduction to organic and biodynamic wines made naturally
Are you familiar with what is actually in your wine? As the wine-making is growing more and more unnatural, from blanket crop-spraying in vineyards to the over-use of sulphites, the demand for natural wine is rapidly increasing. Drawing you in from the start, Isabelle Legeron's quick, yet powerful read is a rallying call for the natural wine movement and core benefits of agricultural biodiversity. Included in the book is also a section with descriptions of over 100 recommended natural wines that you will not want to miss
Around the World in Eighty Wines: Exploring Wine One Country at a Time
Full of twists and turns, Mike Veseth takes you on a journey through the wine world: As you begin in London, you quickly travel through famous wine regions such as France, Italy, and California, and much more unexpected regions, such as Syria, Georgia, and Lebanon. Explore the stories behind the wines and discover which bottles will make the cut into the author's suitcase along the way. A fun read and exciting read for any level of wine enthusiasts.
Wine, Terroir and Climate Change
In today's society, where Climate Change is irrefutable and ever worsening, Dr, John Gladstones provides a scientific analysis of climatic factors affecting wine grape production, and, ultimately, wine itself. Brian Croser – a perpetual viticulturist of the year – describes Gladstone's "intricately researched understanding of climate mechanisms and history, geology, soil and biology, as a welcome antidote to climate hysteria." A must read for anyone interested in the interaction between wine, it's production, the environment, and the future state of our planet.
Updated with the contribution of Tyler Burnett