Foraging and using wild greens is a tradition dating back hundreds of years and it's not that easy. It takes time to search around narrow streets, under the olive trees and in the vineyards, but also the ability to recognize the edible wild greens and learn how to cook them to enhance their unique flavour.
Foraging Tour at Dievole
Dievole's foraging tour is a great way to explore the natural surroundings and bring the best of nature into your kitchen.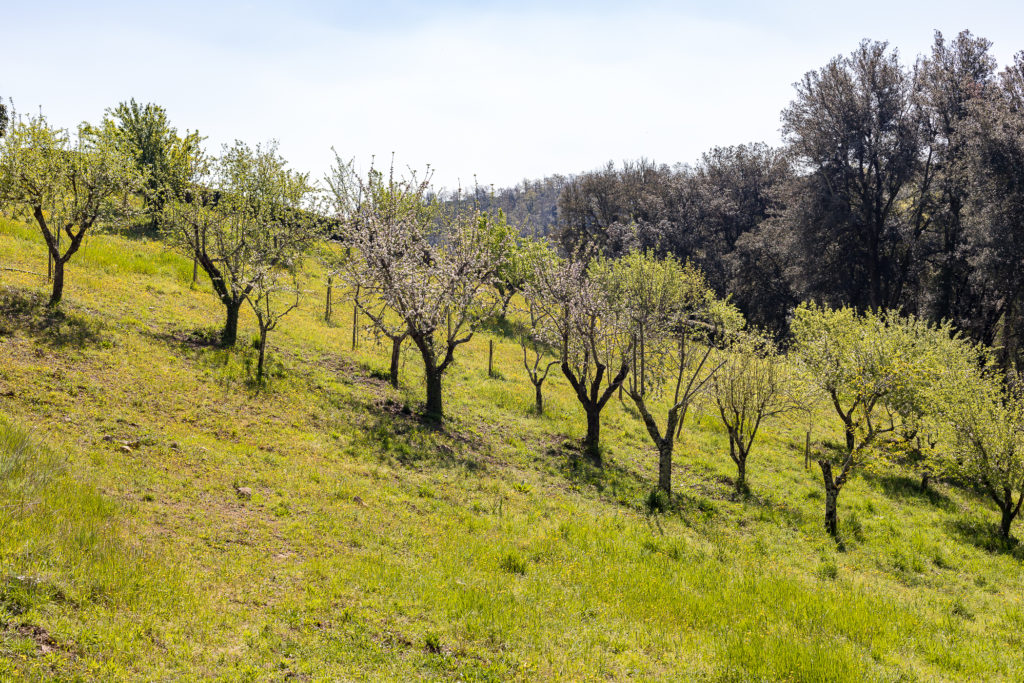 The tour begins with an exciting walk around the pristine natural habitat that surrounds Dievole's estate as a licensed guide tells you everything you need to know about wild herbs picking. At the end of the walk, you will meet chef Monika Filipinska in the kitchen for a wild herbs cooking course where you will learn how to prepare fresh stuffed pasta, tasty sauces, salads and more. Then, a sommelier will guide you through the aromas that the Dievole habitat instills in its red wines and its DOP Chianti Classico Extra Virgin Olive Oil. Once the tasting has finished, the Novecento restaurant welcomes you to its elegant dining room so that you can eat the exquisite dishes made with the chef featuring the wild herbs you collected earlier in the experience.
All your notes, thoughts and memories can be collected in a herbarium that you will receive at the beginning of the tour. An elegant, precious souvenir decorated with dried flowers and leaves from our gardens.
Wild Greens: an experience through vines and olive groves
"That is a radicchio, it is delicious in salads when it has just been collected, otherwise it has to be cooked, perhaps with chards. That is a burnet and it tastes like cucumber, while the other one is lettuce. Collect the dandelion before it blooms, field poppies are delicious in an omelette, and the purslane as a colorful decoration."
Names and definitions that represent an ancient tradition. Farmers gave names, created traditions, recipes and shared their knowledge about wild greens. Popular wisdom that helped people to learn how to recognize what is good and edible from what was poisonous.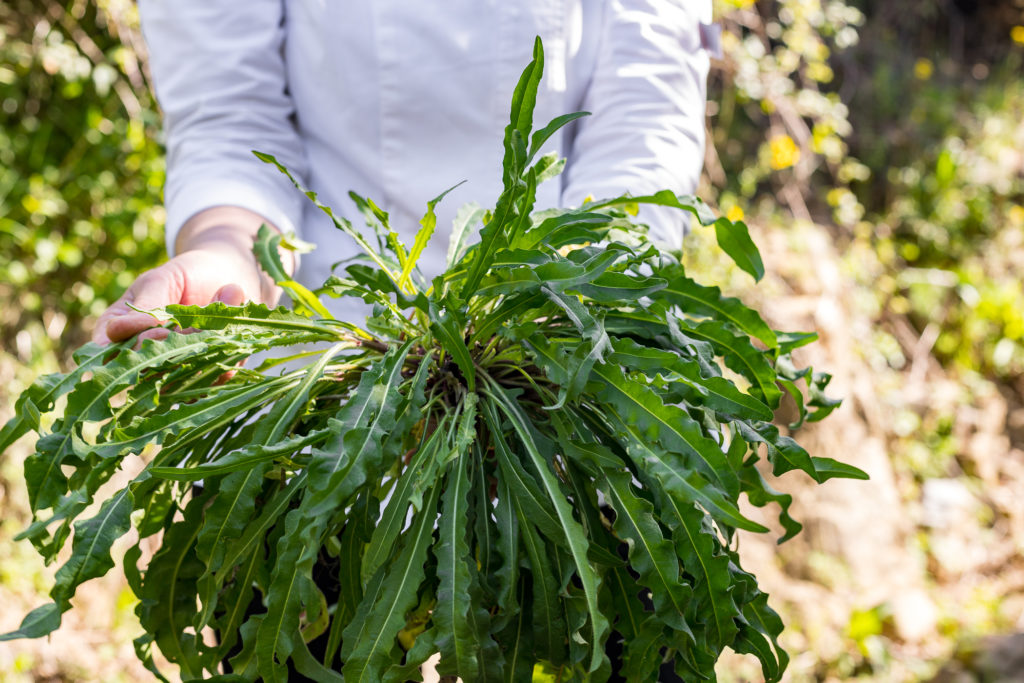 You will learn a lot walking around Dievole's olive groves and vineyards, while the guide will explain all the rules regarding wild herbs picking to ensure personal safety and protecting the environment. You will earn a new sensibility, an awareness of what nature has to offer to a territory that is respected, like the one at Dievole.
How to cook wild greens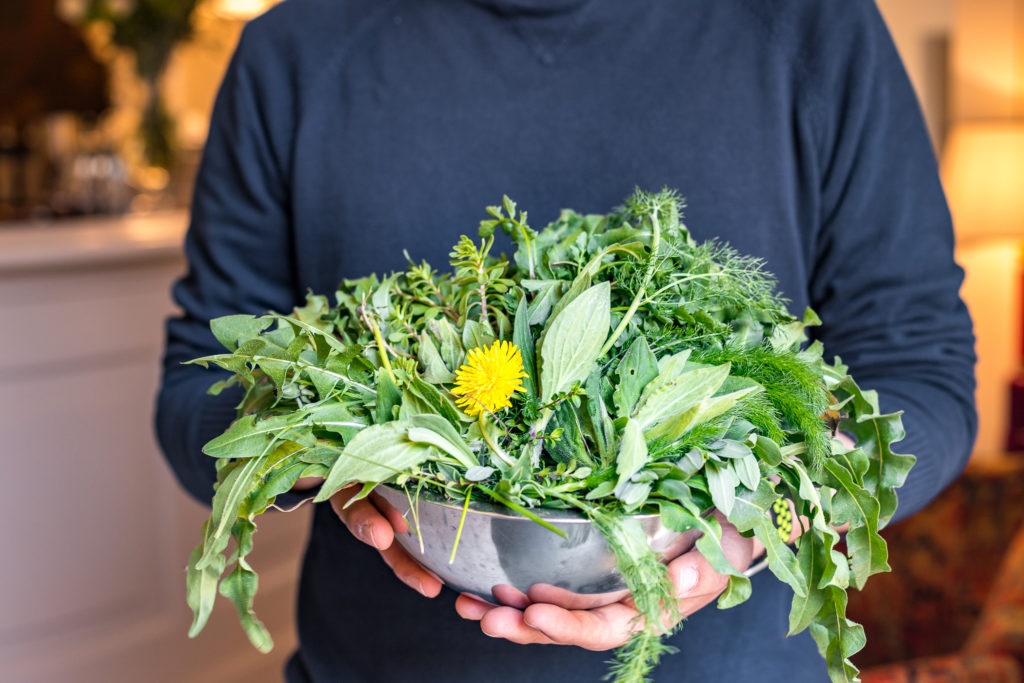 In Monika's kitchen, wild herbs play an important role – especially in Spring and from early September to mid-October – where nettle, radicchio, dandelion and other herbs are used to prepare delicious recepies or to give a touch of color to a dish. Caprese with strigoli seasoned with Dievole's extra virgin olive oil or Pappardelle with wild boar and wild mustard florets are just two examples of her great ability of cooking with wild greens. She also created a pizza seasoned with wild herbs, cinta senese, pecorino cheese and caramellized onion mustard!
Here's one of the recipes you can taste at Ristorante Novecento or learn how to make yourself during the foraging tour at Dievole.
Wild Herb and Buffalo Ricotta Ravioli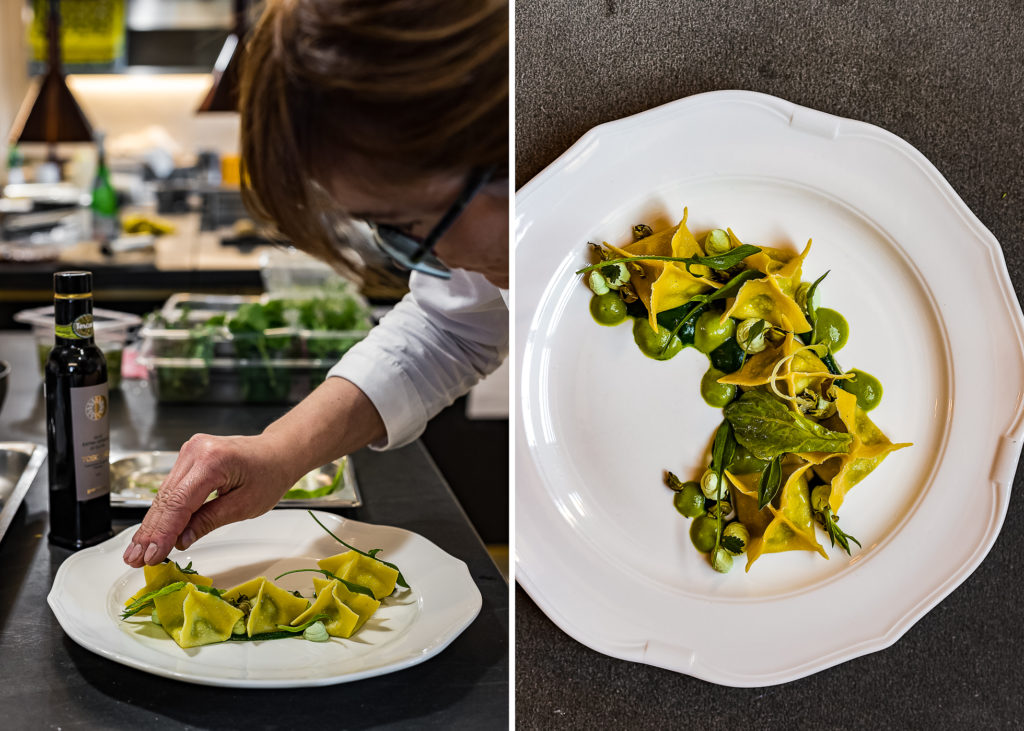 Ingredients for 6-8 people
For the pasta
350 g of durum wheat flour
150 g of flour 220W
180 g of eggs
80 g of yolk
For the filling
500 g of wild herbs
200 g of buffalo ricotta
50 g of egg whites
salt and pepper
Prepare the fresh pasta by mixing the durum wheat flour with the flour, the eggs and the yolks. Wrap in a cloth and let it rest for awhile. In the meantime, make the filling by mixing the buffalo ricotta with the egg whites and the chopped and blended wild herbs. Season with salt and pepper. Roll out the fresh pasta and prepare the ravioli. Cook the ravioli in boiling salted water. Decorate the ravioli with a zucchini cream seasoned with mint, basil, salt and evoo.
Foraging is a passion – one that, once you know how to do, you'll want to head out and enjoy as soon as the ground yields its bounty. And with this recipe, you will become a wild greens and foraging lover!