Tuscany is one of the most visited places in Italy. The demand by tourists is high and there's a very broad selection of accommodations to serve them. There are all kinds of places where to stay in Tuscany from budget options to luxury hotels. In addition, since the region has a very rich architectural heritage, many of these accommodations are found in historically and artistically important buildings.
If you want, you can stay in luxury hotels that were once palaces used by the rich aristocracy. In order to get a full experience of the Tuscan lifestyle, the best pick is to stay at one of the several "agritourism" accommodations. These are rural palaces and houses, where you don't only sleep, but you also get to experience the agricultural production going on nearby. You can learn, and of course you can also taste the wine, olive oil, honey or jam they produce in these places.
As we said, the choice is almost infinite; herein we present you some really great options where to stay in Tuscany.
Dievole Wine Resort, Località Dievole 6, Vagliagli
If you look for a really romantic stay, Dievole Wine Resort, our 4-star agritourism facility is situated at only 12 km from Siena, in an estate of nearly 400 hectares. A historical villa from the 16th century that was a place of the Tuscan nobility, it is situated in a picture perfect location over a valley, from where you can enjoy real fascinating views. The accommodation complex consists of 27 suites, apartments and double rooms in five farmhouses, all restored following the original Tuscan architecture. The food served for the guests is based on local products and is accompanied by the finest wine we produce in the surrounding vineyards. You can book your room now!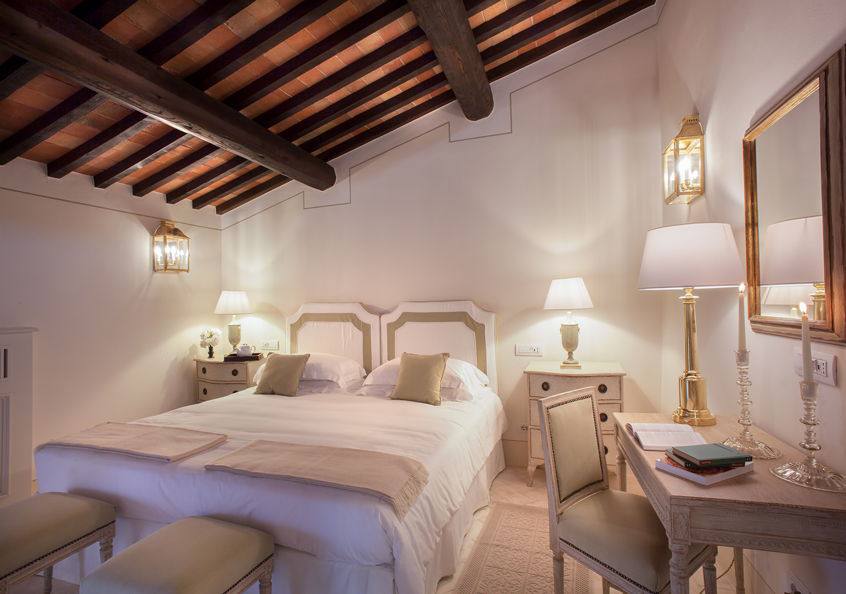 Palazzo di Camugliano Vía del Moro 15, Florence
A wonderful place to feel like a king or a prince at least, this luxury hotel is found in the antique Palazzo Niccolini Bourbon, a renaissance palace belonging to the Florentine aristocracy with a lot of history. The palace was beautifully restored while the original decoration was kept. During you stay in this fascinating palace, you will be able to contemplate an art exhibition of old paintings. There are 11 suites in the hotel, all showing real class and elegance with beautiful decoration. The hotel is found in the heart of Florence city, a perfect luxury option where to spend a few nights in Tuscany.
Grand Hotel Continental Via Banchi di Sopra 85, Siena
Another great option if you are searching for a luxurious place to stay in Tuscany is the Grand Hotel Continental in Siena. This beautiful palace from the 17th century built in Renaissance style became especially famous when Margherita of Savoy, the Queen consort of Italy, chose it as her residence at the beginning of the 20th century. The hotel is beautifully decorated with antiquities and original frescos; and we especially recommend you to spend some time in the bar covered with a giant glass dome. The rooms are provided with all the possible luxury you can desire from bathrooms made of Carrara-marble to Chinese porcelain lamps. The hotel is located at the heart of the city center, which makes it a perfect base to explore the wonders of Siena.