Visiting Umbria is like entering a dimension where spirituality, art, landscape, food and wine permeates every moment. In the calm of the medieval streets or thick forests, every moment will be unforgettable and wherever you may go, you will find flavour and pleasure at table. So here's an essential guide to wine tourism in Umbria, an itinerary for discovering and sampling the best wines and food coupled with exploration and relaxation.
Welcome to Umbria
Often called the "green heart of Italy," Umbria is the only region of central Italy that does not touch the sea. The area is hilly, particularly suitable to the cultivation of grapevines and olive trees. These hills are indeed a characteristic of the entire region, which is a continuous climbing and descending of hills and slopes, mottled with the grey-green colors of the olive trees and interspersed vineyards, rich art towns, history and tradition.
Umbrian wines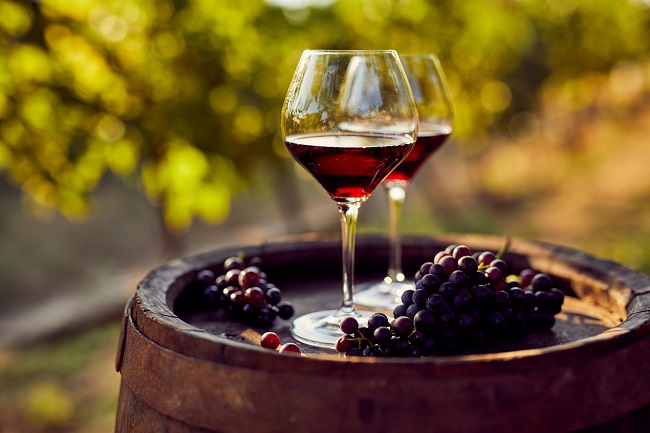 Umbria grows both white and black grapes, with a production of wine divided nearly equally between white and red wines. Two DOCG wines, the Torgiano Rosso Riserva DOCG and the Montefalco Sagrantino DOCG (the former based on Sangiovese min 70%, and the latter based on the native Sagrantino grape variety) both in the area of Perugia, demonstrate the qualitative level achieved by this small region. In the same territory, we find the DOC Montefalco based on Sagrantino grapes, whose production is often connected to the producer Caprai. Perugia, as a wine territory, is in a sense similiar to Siena, with many different DOCs including Colli Perugini, Colli Martani, Colli Del Trasimeno, and Colli Altotiberini. An interesting DOC is also the Assisi with red wines obtained from Sangiovese and Montepulciano, but also with a strong presence of Merlot, Pinot Noir and Gamay, of good quality. It's also worth noting the DOC Orvieto, in the area considered the oldest wine territory in Umbria, best known for its white wines as well as for the famous Muffati Orvietani wines, made with Grechetto, Malvasia , Sauvignon, or Chardonnay.
Wine Tourism in Umbria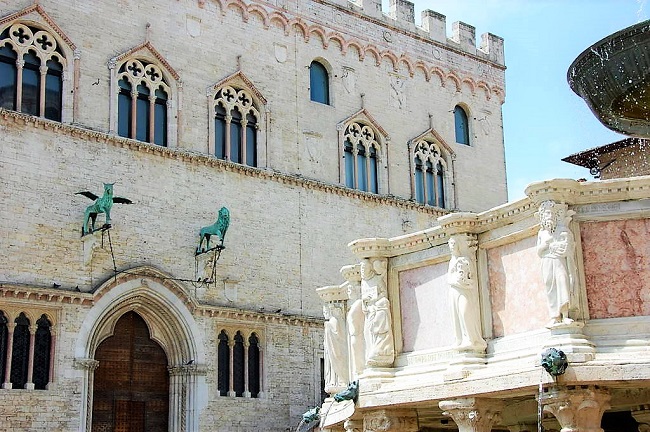 Umbria enchants visitors and offers a long list of places to visit, famous for saints, artists, churches and castles, old villages and cities of art. As we've already seen, the beautiful hills, vineyards and olive groves, woods and cultivated fields make its landscape truly unique. Perugia is the capital and there are so many things to see in this regional cultural heart: the piazza with its sculpted Fontana maggiore, the Palazzo of the Priori and the Duomo of Saint Lorenzo are unmissable monuments, as well as the museums that recount the Etruscan and Medieval past of the city.
Another thing to see in Umbria is the beautiful village of Assisi, where you can retrace the steps of Saint Francis in this destination rich with art and masterpieces, basilicas and treasures.
Wine lovers may also want to visit Torgiano, a village near Perugia that also has a wine museum. While you're there, see also the olive oil museum, the Torre di Giano and the Palazzo Graziani Baglioni.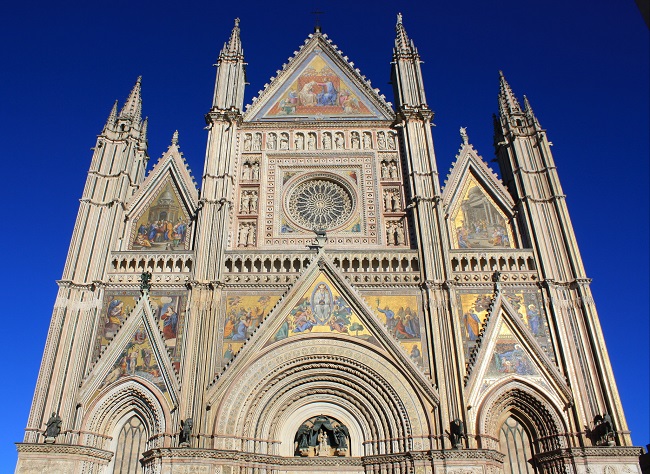 Don't miss the small city of Orvieto, distinctive for being perched on the peak of a big tuff cliff. It certainly deserves a visit not only for its atmosphere, with its numerous streets full of medievel palaces, but also for the splendid Duomo, one of the greater masterpieces of Gothic architecture in Italy.
Foligno, a city with an illustrious past, may be another place to add to your list. Pass by here to head to Montefalco, the homeland of its precious wine: the Sagrantino. Montefalco has a view onto classic Umbrian landscapes and its hills, but also a very interesting center, with the church-museum of Saint Francis and a beautiful circular piazza.
Wineries to visit in Umbria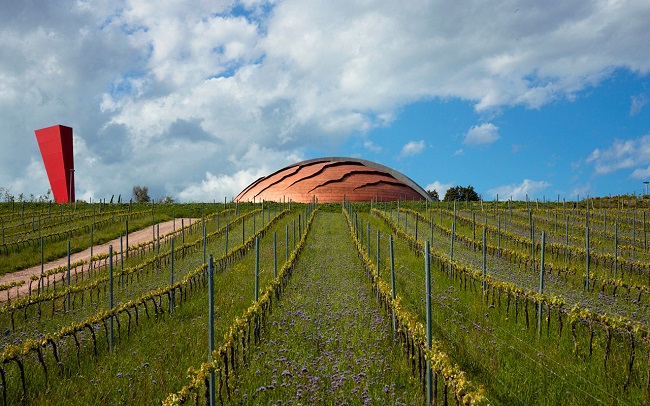 Within Umbria's pastoral landscape of olives and cypresses, discreet yet important wineries either fit into the landscape or contrast with it through interesting architecture. Here are some of the wineries I would recommend visiting:
Tenuta Castelbuono, Bevagna: A truly unique structure, part sculpture, part futuristic architecture which in all respects resembles an enormous tortoise resting on a vineyard. This impressive building was designed by Arnaldo Pomodoro in the rare form of architect. His patron: Gino Punelli, former representative of Ferrari wineries; after making all those bubbles, the Lunelli family built its own business here at the Castelbuono Estate dedicated to the production of Montefalco Sangrantino, with excellent results.
Lungarotti: For decades this cellar has been an undisputable leader in the wine scene, not only in Umbria, but also throughout Central Italy. Their unforgetable wines are matched by the beauty of their estate in the heart of Montefalco, where they produce their Sagrantino.
Arnaldo Caprai: successful textile entrepenuer Arnaldo Caprai acquired this 150 hectare Montefalco estate in 1971 with the idea of cultivating and enhancing the native variety of Sagrantino. Tradition and innovation are key at Caprai; they are not afraid of experimentation, whether in the cellar or in the field.
What to eat in Umbria
Umbria may be a small region but it's a treasure chest of culinary jewels. The area's diverse culinary traditions are interconnected by the development of extra virign olive oil and lard. They make five DOP EVOOs: Colli Orvietani, Colli Martani, Colli Amerini, Colli di Assist-Spoleto, and Colli del Trasimeno. Meals revolve around seasonal products (mushrooms, wild asparagus), and spontaneous ones (such as the Norcian truffle, found in many appetizers) and some legumes and cereals protected under the DOP or IGP classification, like spelt, Cannara onions, and the Black Celery of Trevi. Meat is mainly sheep, pork and game, cooked on a skewer or processed as cold cuts. Among the typical primi of Umbrian cuisine, do taste strangozzi with black truffle stuns: this is the name given to a pasta in this area that other regions may call pici, bigoli, cordelle or strozzapreti.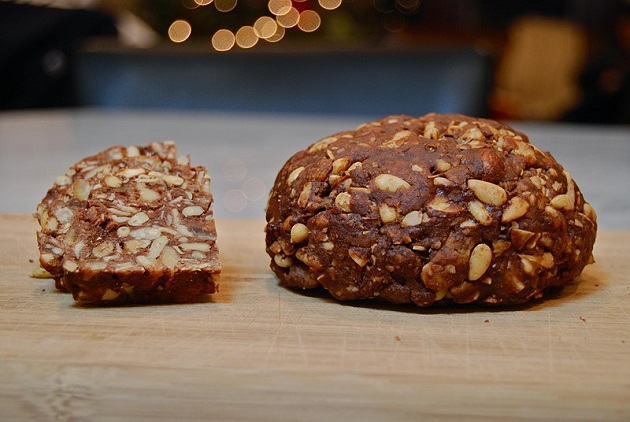 Among the main courses of note, go for the wild pigeon cooked on a skewer, so called the "drunk" hen because it is cooked in wine. Norcia is of course famous for sausages (this area gave birth to the word "norcino" which specifies any producer and seller of cold cuts): you'll find salami made of wild boar, IGP Norcian ham, and even Ciausculo, spreadable cold cuts made with the shoulder, belly and fat of a pig finely ground three times. Among the cheeses, the Pecorino Umbro, fresh or aged (sometimes in grottoes), is the most famous. Then there are sweets made with almonds, spices and candied fruits, like the Torcolo of San Costanzo, the panpepato of Perugia, the ciaramicola (a typical Easter sweet of Perugia), and the rocciata of Assisi.
Where To Sleep in Umbria
Le 3 Vaselle Resorts and Spas: Near Perugia, within the medieval village of Torgiano, the Lungarotti winemaking family offers hospitality in an old noble residence in the Resort. Rooms and suites (about 50 in total) are decorated with vintage furniture and equipped with every comfort. Among the first centers dedicated to wine therapy throughout Italy, the spa offers wine therapy treatments: wine wraps, baths in Sangiovese, and massages with grape oil.
Altarocca Wine Resort: Strategically located a short distance from the historic center of Orvieto with a view of the magnificant tuff cliff, Altarocca Wine Resort is an ideal place for an immersive stay in Uhe umbrian countryside. Amidst this pastoral oasis, the Wine Resort offers 4 villas with large suites, modern apartments and comfortable rooms connected by walkways that smell of fragrant herbs. Furthermore, there are three pools, a spa, and Michelin rated restaraunt.
Roccafiore: In the hills near Todi, Roccafiore brings together a Wine Resort, a holistic spa with hammam rituals, a gourmet restaurant and a cellar producing organic wines. Off-road safaris are available to explore their hectares of native wine varieties, olive trees, legumes and grains.
Enter the scents and Mediterranean magic of Umbria and follow our suggestions for the perfect tour on the Sagrantino way.
Main image by ©JFL Photography / Adobe Stock