Tuscany's beaches are among the most beautiful in Italy; from the unspoiled Maremma to the popular Versilia, each beach has its own characteristics. Some may be more family-friendly, others hard to reach and perfect to bring your own bottle of rosé, and others still are famous for their bars, making them ideal to sip a mojito in good company. Here's our choice of the best beaches in Tuscany for every taste, in order from south to north.
Tuscany beaches in Maremma
Castiglione della Pescaia is a particularly chic beach town that develops uphill; dining in town is sophisticated, while on the beach there are some swanky bars that offer beach service and good drinks menus. Further north (the area called Pinetina Nord) tends towards the family-oriented, with full-service beaches and childrens' activities.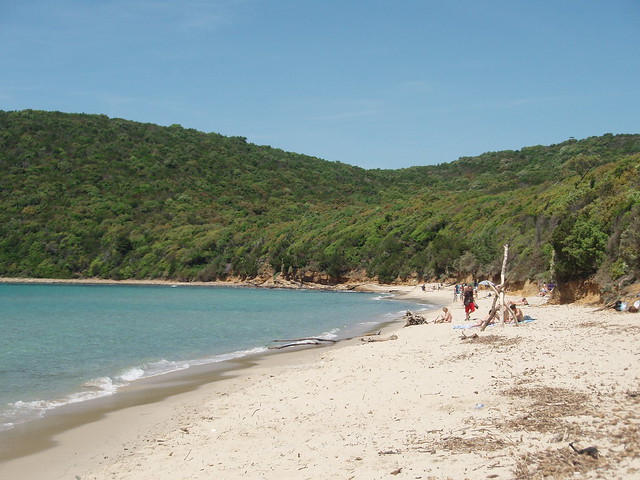 Cala Violina is one of the most popular beaches of this area because a local legend says that the sand emits a sound like that of a violin. This particular sound is actually caused by the quartz crystals contained in the sand, but we have to say we prefer the poetic answer! Cala Violina is a public (free) beach with crystal-clear water and green forest behind it – it is only accessible by foot, but you can ride a small piece of the picturesque path by bike.
Working our way down the coast, Cala Piccola is literally a piece of heaven on Monte Argentario. It is a rocky cove with a small pebble beach and clear (very clear!) blue water. Half of the beach is reserved for the guests of a hotel located on a nearby hill, while the other portion is public and very family friendly. Opposite the beach there is a coral cliff area popular for scuba diving. Cala Piccola is reachable by boat or by walking downhill along the road that leads you to the private beach club entrance.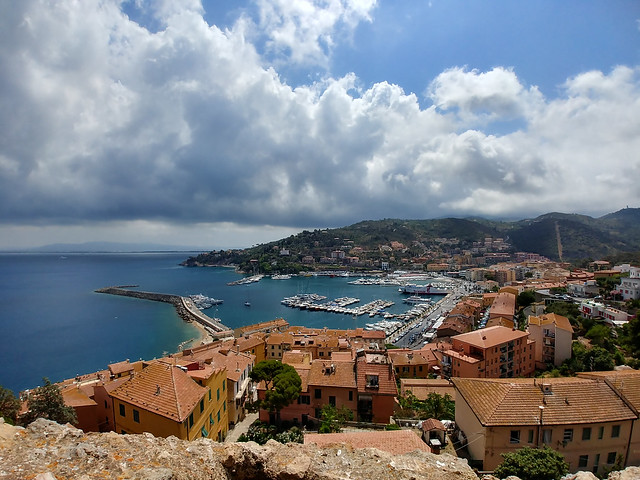 In the same area, if you're looking for a more accessible solution, particularly if you have kids, Porto Santo Stefano has a couple of fully-equipped bathing establishments and lots of free beaches like Cala del Bove and Cala Del Gesso. It is the perfect choice if you are planning to soaking in the sun by day and walk along the seafront eating an ice cream in the evening.
Tuscany beaches on the Etruscan Coast
The Etruscan Coast is a stretch of coastline that extends from the wild blue Tyrrehenian sea below Livorno down to Piombino. This coastal area was home to the ancient civilization of the Etruscans, whose worlds are now excavated and whose objects fill local museums, attracting history-loving visitors from around the world. An ideal way to explore this area is to follow the Aurelia, one of the oldest roads in Europe that runs down the coast; built in 241 BCE it's one that generated the expression "all roads lead to Rome". Make stops to visit the most characteristic places; the Etruscan Coast is very long and I suggest you to take enough time if you want to visit without rushing from one place to another. If you are a social media addicted, then you should stop at the La California sign (yup, it's actually a town – we have our very own Cali!) to take a picture for your Instagram stories!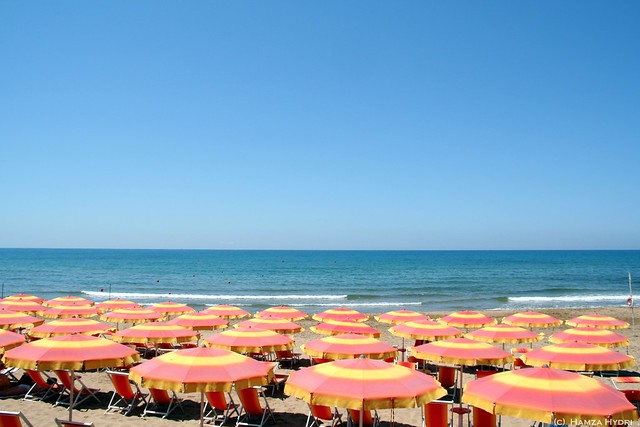 San Vincenzo has ten kilometers of soft sandy beaches (a bit of a rarity here) with crystal waters and backed by woods and native scrub. It is very family-friendly and offers a wide selection of restaurants, shops and clubs to enjoy a night al fresco.
Rimigliano Beach is one of the most popular, in particular because it promotes a sustainability program against water and plastic waste. Right next door there is The Dog Beach – a fully equipped area where all four-legged friends are welcome.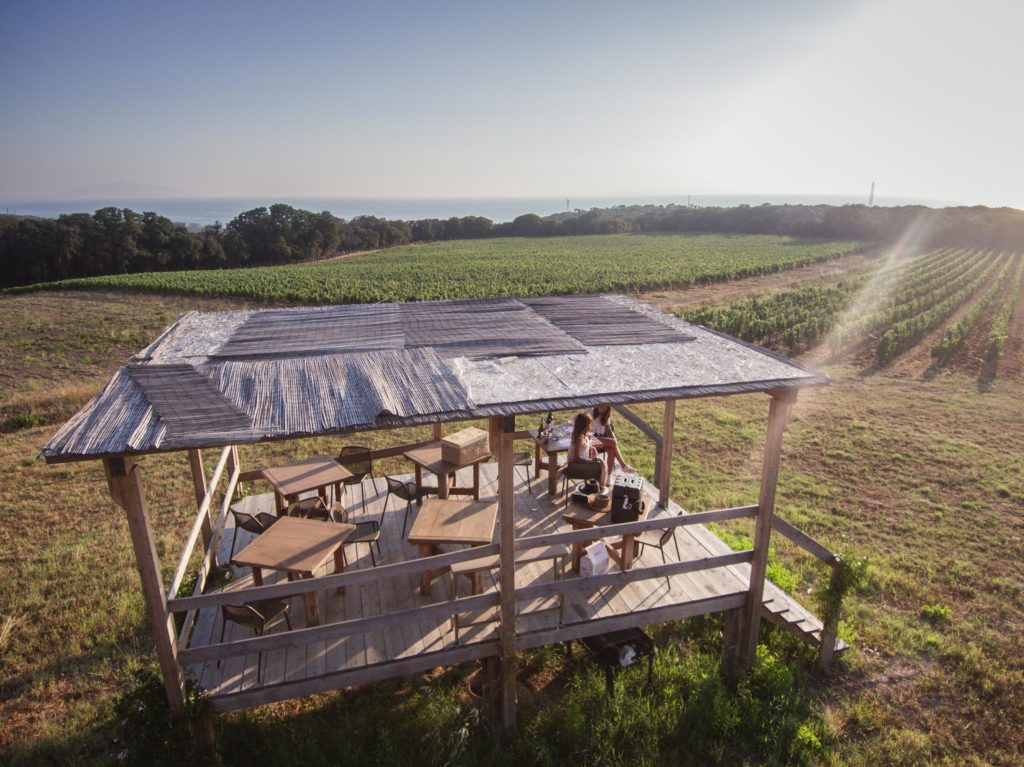 The inland town of Bolgheri is located just a few kilometers away (read more about what it's famous for and what to do in the area here). Along the via Aurelia in the municipality of Donoratico, in the shade of the town of Castagneto Carducci, Dievole has two wineries: Tenuta Le Colonne is very close to the sea, its vines are caressed by the salty wind and the warm sunshine. Tenuta Meraviglia offers a view where you can see the hills as they meet the blue sea. Our Bolgheri wine tours are the perfect complement to a day at the beach in Tuscany: here you can experience wine tasting and wine tours to discover the beauty of this territory. From a romantic aperitivo on the beach at sunset (we'll give you some in-person tips of the best beaches nearby) where you can have a bottle of rosé with your significant other to an adventurous "wine safari" on a suspended platform, these tours are perfect to understand how Bolgheri become famous all over the world. If you are looking for a more casual or "wild" option, then you try the Parco della Sterpaia just below Piombino. Hectares of untouched nature (it is actually a nature reserve) will lead you to Nano Verde, a casual bathing establishment frequented by good-looking millennials, mostly Florentines and locals, attracted by friendly known by the locals its signature Mojito. Happy hour starts at 4.30 pm here, often followed by live music until late night. It tends to be very crowded on weekends, so arrive early to reserve your spot on the beach (entrance to the beach is free).
Tuscany beaches in Versilia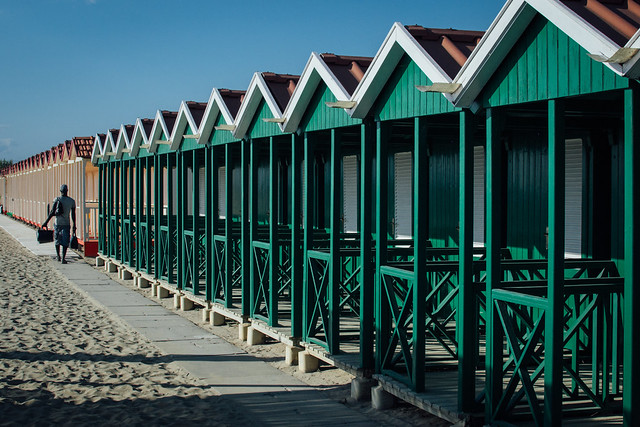 Versilia is located on the north west-side of Tuscany and it is known for the blend of day-time beach relaxation and lively nightlife. Forte dei Marmi is one of the most popular destinations among VIPs, sportspersons and showbusiness figures. It has plenty of fancy bathing establishments that become nightclubs after 6 pm with happy hour and famous DJs from all over the world. In addition to this very "shiny" side, Forte dei Marmi is actually a lovely town. Its name come from the small defensive fort located in the city centre and the old town features churches and historic palazzi. Of course, even here there is no lack of luxury with haute-couture shops, fancy restaurants and clubs but, unlike the coastal part, it retains a more "human" dimension. You can actually see locals hanging around, which is not the case in its beach clubs. Forte dei Marmi is also famous for the Wednesday market that features designer clothing and cashmere at steep bargains.
Not far away is Torre del Lago where Giacomo Puccini lived and composed his iconic operas that represent Italy worldwide. A summer festival is held here in his honor. Today Torre del Lago is very popular among families for its white sand beaches and blue water, and also the LGBTQI+ community for the iconic nightclubs such as Mama Mia, Buddy and Boca TDL.
Beloved by Gabriele D'Annunzio and the love of his life Eleonora Duse, Lido di Camaiore has everything you need for a relaxing beach vacation. Although there are almost no free beaches (the few remaining are very small and uber-crowded), there is a wide choice of well-equipped bathing establishments. It also has a beautiful promenade with shops boutiques, restaurants and bars.
Tuscany beaches in Versilia
Viareggio is famous for the Carnevale di Viareggio, which attracts a million of visitors every February, but in the summer attention turns to its full-service beaches and lively nightlife. Of the fully equipped beach clubs, Bagno Irene and Excelsior Beach Club are one of the most famous. Here you can relax under your personal gazebo while sipping a glass of cool rosé and crunching on fruits and veggies.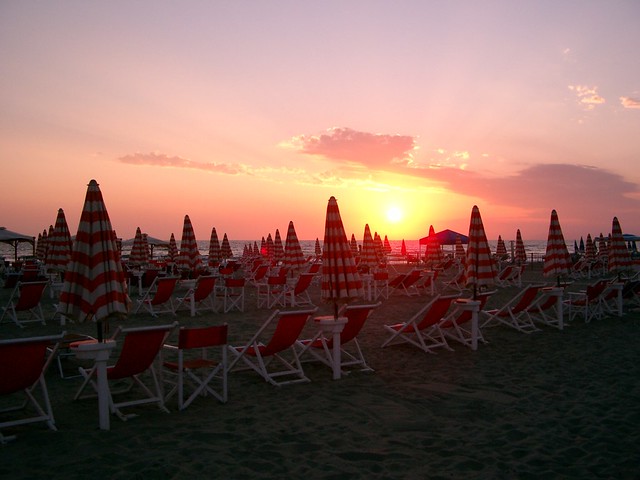 There are a little over 11 kms of sandy beaches in Viareggio between private and public areas, though one of the most famous places here is La Lecciona. It takes a little effort to get there, but it's totally worth it. Park at Viale dei Tigli and walk through the pine wood path until the dunes that open onto this long stretch of pristine "Blue Flag" rated seashore. The beach is free here, but you need to bring everything with you. Even in the high season it's never very crowded since the area is very large… the perfect choice if you want to spend a few hours far from urban chaos. If you like the sea but can't stand the idea of having the sand in your suit, try La Darsena, a rocky beach.
Tuscany beaches near Pisa
Pisa is known for the leaning tower and the stunning architecture, but if you want to add a pinch of seaside fun to your art-filled trip in Tuscany, go to one of the nearest beaches along the coast. Marina di Pisa is closest to the cultural centre and is frequented by families. Beaches are both sandy and with pebbles with a fair mix between free areas and bathing establishments. During the summer months (June to September) the promenade is animated with clubs, food stands and restaurants where you can have delicious local seafood. Particularly popular is the Bocca d'Arno – the area at the mouth of the Arno River – where you can see the fishing nets, called "retoni" piled up by local fishermen. On the opposite side, the Natural Park of Rimigliano, San Rossore and Massaciuoli is entirely walkable and offers great views of the area and pristine nature.
Marina di Vecchiano is lesser known but very similar to Marina di Pisa. Sandy beaches are the main attraction here together with more quiet and private beaches where you can just relax and let time go. Tirrenia is known for its beaches and its nightlife with beach clubs and locals inspired by their more famous counterparts in Versilia. Finally, Calambrone is known for its particular exposure to winds which makes it the perfect place for windsurfers.
With this in-depth guide to Tuscany beaches, there are no more secrets. All you have to do is pack your beach-bag with the essentials: bathing suits, sunscreen, flip-flops and a bottle of rosé!