You might be surprised that Tuscany has islands! Elba, Capraia, Giglio, Giannutri, Pianosa, Gorgona and Montecristo are all part of the Tuscan Archipelago. Let's explore them together.
Tuscany conjures images of winding white roads nestled lined with cypress trees, within a breath-taking hillside, so it may surprise you that this region also happens to be home to a stunning series of islands called the Tuscan Archipelago! Legend has it that the islands originated from a jewel that slipped off the neck of Venus (or Aphrodite in Greek mytholody) – the goddess of beauty and love – and fell into the Tyrrhenian Sea. The islands in question are Elba (the largest), Pianosa, Giannutri, Montecristo, Giglio, Gorgona and Capraia; these are all part of the Parco Nazionale Arcipelago Toscano, a protected marine area in Europe that lies between Corsica and the Tuscan coast.
All of the islands in the Tuscan Archipelago are fairly easy to reach, but not all of them can be visited by the public so it pays to read up in advance and plan your trip. Be your visit by private boat or big ferry, we can assure you that these marvellous islands are a true coastal paradise, ideal for those looking to relax on secluded beaches and hike in untouched natural paradises.
Elba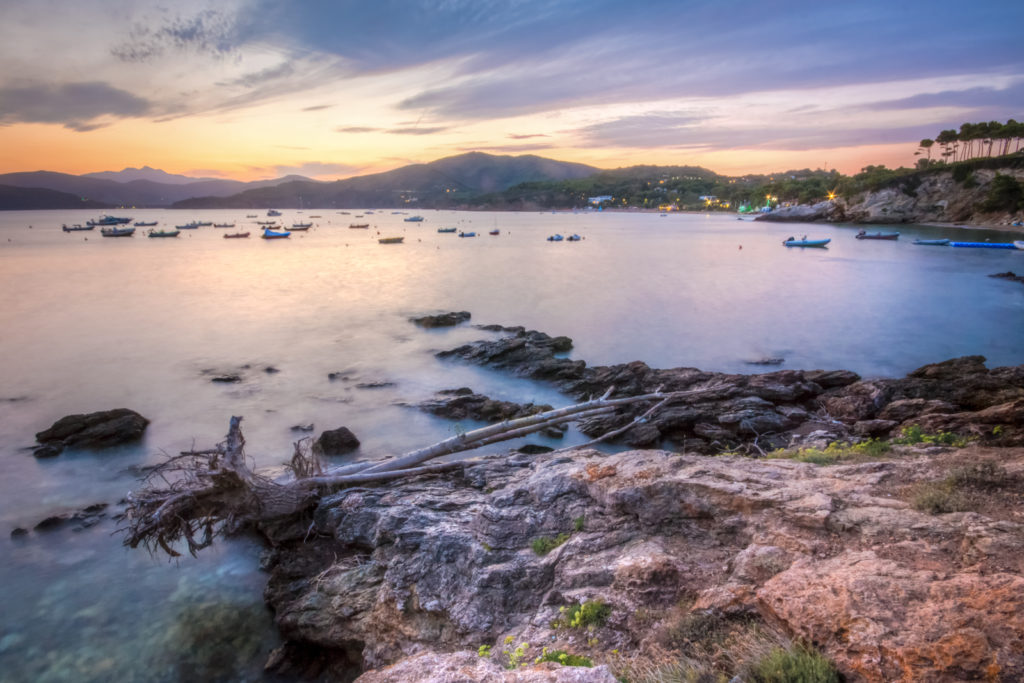 Elba is the largest island in the Tuscan Archipelago and is famously known as the place where Corsican native Napoleon was exiled for a brief period between May 3rd, 1814 and February 26, 1815. It is the most visited of all of the islands and is known for its beautiful beaches, charming towns and villas left by Napoleon, like Palazzina dei Mulini and Villa di San Martino), both of which are well worth a visit. Elba is home to over 80 beautiful beaches offering both sand and rocky swimming spots. My personal favorites are Cavoli, Sansone, Fetovaia, Sant'Andrea, Lanconella, Barbarca, Le Ghiaie, Pareti and Biodola. Besides beaches, you can visit an old iron mine museum and park called the "Parco Minerario dell'Isola D'Elba" – like all the islands of the Tuscan Archipelago, Elba is rich in mineral deposits. Also, make sure to pick up a bottle of the island's sweet dessert wine, Elba Aleatico Passito, which holds the prestigious DOCG classification. Another excellent souvenir is Acqua dell'Elba fragrance, which are made with local ingredients and will have you remembering your trip to Elba for years to come!
How to visit: Catch the ferry from Piombino on Tuscany's southern coastline and the trip only takes one hour. As the island is bigger than you might think, renting a car (or taking the ferry with your vehicle) is recommended, although they do have a bus system that covers the island. You can also reach the island by air with flights to Elba's Marina di Campo airport.
Giglio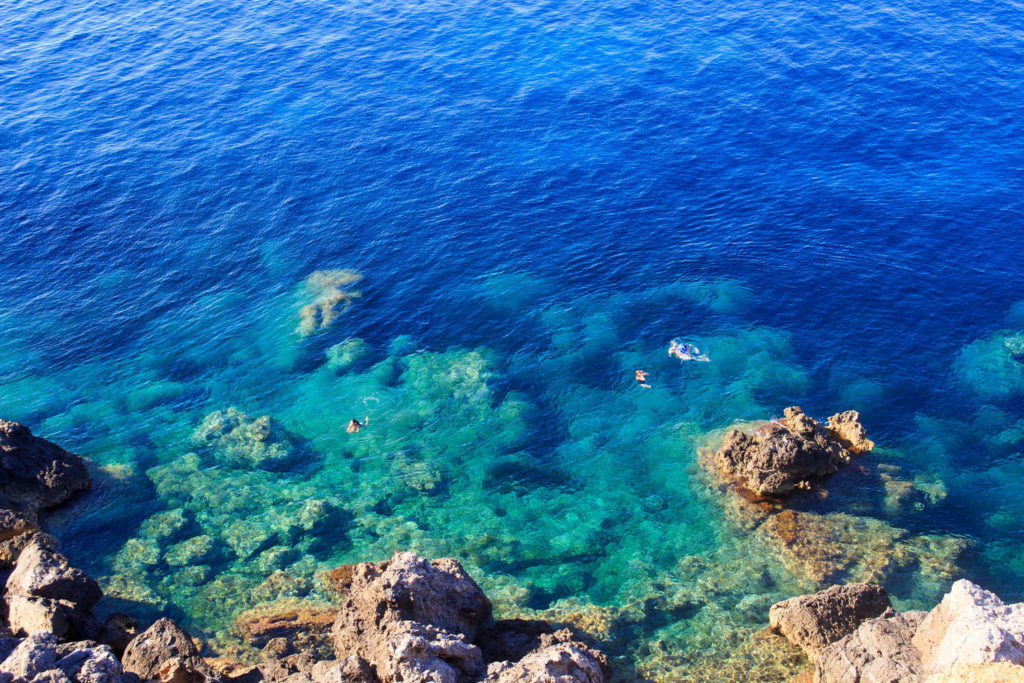 Giglio might be smaller than Elba but it certainly isn't any less spectacular. It's a popular stop for Tuscan coast day-trippers who appreciate the crystal-clear water and great snorkelling opportunities. In fact, you could even argue that this peaceful place with secluded cloves and lovely beaches is even more of a paradise as Elba's population swells during the summer months. The harbour, Giglio Porto, was once a Roman settlement and offers a colourful arrival to anyone first laying eyes here. There is a beach here called Scalettino but we personally prefer walking to La Cannelle (this will take you around 20 minutes) or heading to the largest sandy beach at Giglio Campese on the island's western side. For sportier souls, climb up Giglio Castello, a medieval walled fortress, for sweeping views of both the sea and the island. We recommend staying for lunch (Ristorante da Maria is a great option) and trying the island-grown Ansonaco white wine.
How to visit: To get to Giglio, you will need to take the ferry from Monte Argentario's Porto Santo Stefano to Giglio Porto.
Pianosa
This island was a penal colony for over 150 years; after its closure in 1998, the island was opened up for visitors but only with guided tours. Hard to spot from the skyline due to it being almost entirely flat, it is one of the smallest islands in the archipelago yet remains a popular spot for diving enthusiasts due to the variety of marine life and underwater vegetation. One of the highlights of Pianosa is Cala San Giovanni, a striking white sandy beach where you can visit the remains of a Roman villa.
How to visit: Only 350 people per day are allowed to visit Pianosa and there is a cost to enter the marine park (8€), more info on visiting can be found here.
Montecristo
You probably recognize this island's name from the epic novel "Count of Montecristo" by Alexandre Dumas who was indeed inspired by this place, but it was also once the hunting grounds for the Savoy family. Nowadays it is a protected nature reserve that is open only for research and while it is possible to visit, the waiting lists are very long and the itineraries can be quite tiring.
How to visit: This is the only island of the archipelago that you actually can't visit, it is used as a nature reserve by the Italian government and open only to researchers. More info can be found here.
Giannutri
This small island lies close to Giglio with three peaks named Capel Rosso, Monte Mario and Poggio Cannone dominating its beautiful skyline. This isn't as well developed as Elba or Giglio but remains nicely preserved in terms of its nature and is a paradise for divers (at Punta Scaletta you can even find the remains of an intact Roman boat.) It was once called 'Artemisia' by the Greeks and 'Diana' by the Romans and you'll find a number of archaeological sites including an impressive Roman villa dating back to the 2nd century that belonged to the Domitii Enobarbi family, descendants of Nero.
How to visit: To reach Giannutri, purchase a 4-euro ticket, paid directly to the boat taking you to the island. From Porto Santo Stefano there is a regular ferry service (1-2 times a day in high season) and the crossing takes about an hour. Guided tours are required to explore the island.
Gorgona
The smallest pearl in the Tuscan archipelago, this mountainous island almost entirely covered in Mediterranean shrub was once thought to have been inhabited by Etruscans, followed by the Romans. Nowadays it is home to a penal colony (one of the last in Italy) and there is only one small village and two ancient fortifications, Torre Vecchia and Torre Nova, plus a fortified church dedicated to St. Gregory. The prisoners are able to move freely about the island and even tend to a vineyard owned by the Frescobaldi family, which has been producing wine in Tuscany for over 700 years. Exploring Gorgona was severely limited before 2016; only in the past few years they have decided to open up the island for visitors with a local guide (maximum 75 visitors per day) divided into three groups of 25 people. Swimming and photography are absolutely not permitted.
How to visit: Gorgogna is an hour and a half's ferry ride from the port of Livorno and the trip plus guided visit costs €45. Reserve your spot, click here.
Capraia
Once settled by the Phonecians and then the Greeks, this volcanic mass offers pristine beaches and only one harbour but is the third biggest island in the archipelago (and also the furthest from the coast!). A true destination where you feel "away from it all" it's a favourite of migratory birds stopping here on their way from Europe to Africa. It is home to two tiny settlements (one is at the harbour) and a population of around 300 people. Both villages overlook a beautiful bay facing east with the oldest settlement protected by the fortress of San Giorgio. The easiest way to get around is by boat due to the total lack of roads on the island and it remains a great place for hikers – preferably in Spring or early Summer when temperatures are more merciful.
How to visit: To reach Capraia you'll need to hop on the ferry from Livorno and the journey will take around 3 hours. Since the island is protected, you won't be able to bring a car.
Are you ready for a trip to the Tuscan Archipelago? Which island inspires you the most?
Featured image by Antonio Cinotti @antoncino