Truffle hunting is a superb Fall activity, and something that is quite unique to Italy's Piedmont, Umbria and Tuscany regions. It's possible to go truffle hunting in Tuscany with Italy's largest truffle trader, Savini Tartufi. In their half-day experience, you'll find the famous earthen tuber and enjoy it prepared by their chef. But whether you hunt for it yourself or you buy your truffles, the luxurious scent of Tuscany's famous truffles make them fun to find, cook and pair with wine!
Truffle hunting in Tuscany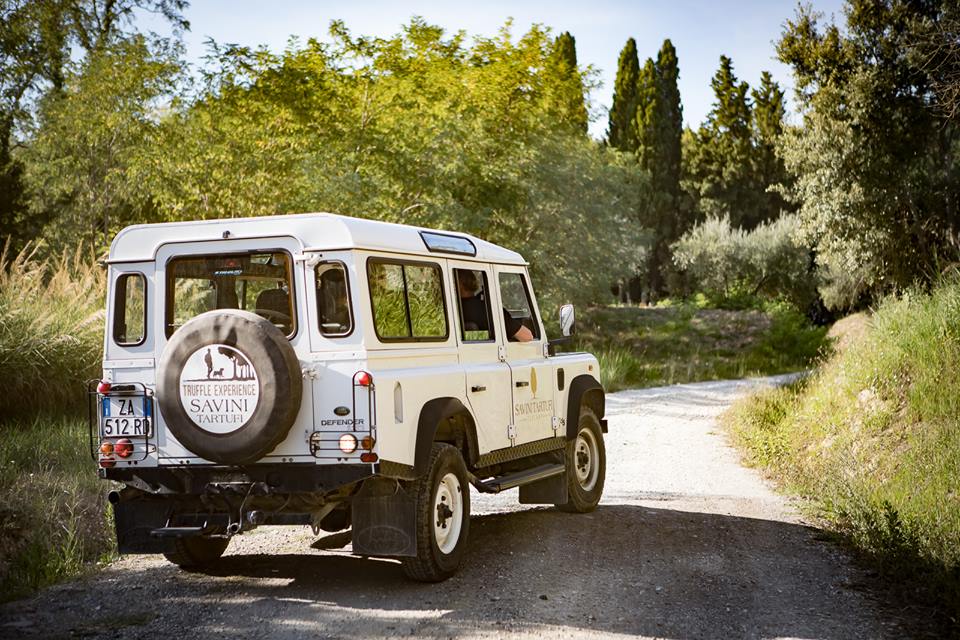 Truffles are in fact one of the most expensive edibles money can buy, and have the distinctive feature of being almost impossible to cultivate – with the exception of black scorzone, in limited amounts – hence their price remains high. This explains why professional truffle hunters tend to be rather secretive about where they find their tubers. But some companies have opened up to "truffle tourism" so you can find out at least some of the secrets of this animal-friendly form of hunting.
If you have an image of a pig finding tartufo, think again – the pigs turned out to be rather hard to train, namely they like to eat the tubers too much. Dogs, however, can be trained to enjoy the hunt, give up the tuber and accept a dog treat as reward. Some breeds of dogs seem better disposed than others, so you'll often see the friendly, usually muddy, curly-haired Lagotto Romagnolo in this role.
We met up with our friends at Savini Tartufo, whose home base is in the Pisan Valdera in a town called Forcoli, to try their "Tartufo Experience" package. They have a small museum that explains what truffles are, as well as the history of this fourth-generation family-run company. We then drove to our "hunting ground" in a land rover with two excited dogs.
Truffle hunting in Tuscany means a beautiful walk in the woods, a pleasant activity on a cold autumn day; we were led by Savini's dog Giotto Junior, who ran ahead, sniffing excitedly. A few false alarms rang before Giotto picked up the scent of a Tuber Melanosporum buried quite far into the ground. He kicked up a lot of dirt, burying his nose in to extract the truffle, a job that our guide finished for him. Wagging his tail, Giotto was happy to give up the precious tuber while he got a dog treat. Having worked up an appetite, we headed back to our home base, ready for lunch!
Cooking with truffles – some common recipes
It's easy to cook with truffles because, due to their strong flavour, you only need to prepare a simple base that will exalt it. The freshest truffles, like the ones we found today, are simply sliced on top of something like pasta, rice or eggs, whose heat diffuse the smell and flavour. Some truffles are destined to be preserved in formats like truffle sauce, salt, oil and more.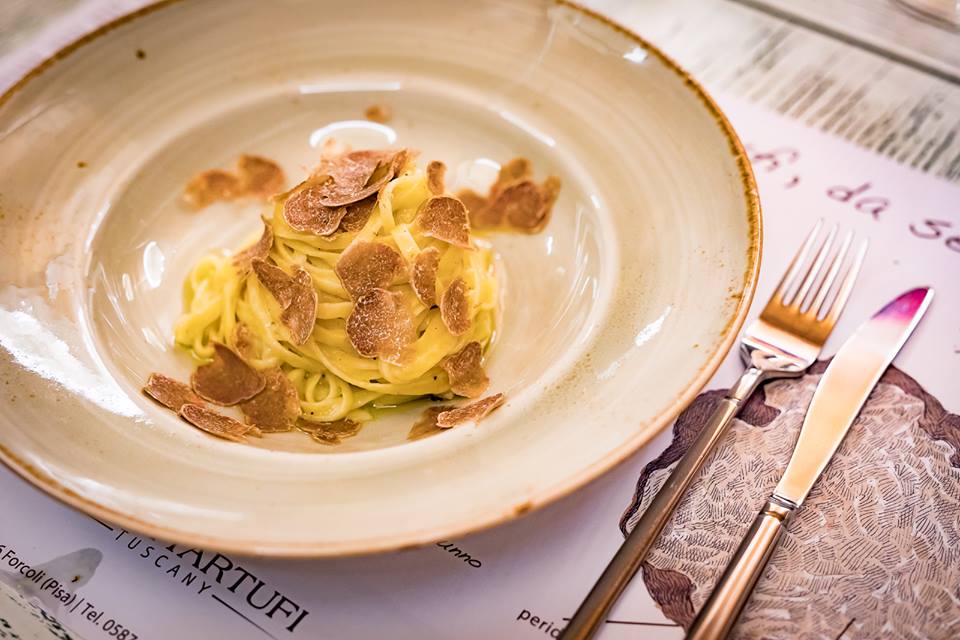 The classic, easy to make dish is fresh egg-based pasta with truffles. A quick boil in ample salted water, and then pasta is tossed with butter and a bit of truffle butter, truffle sauce or truffle oil, and then fresh white or black truffles are grated on top. Yum!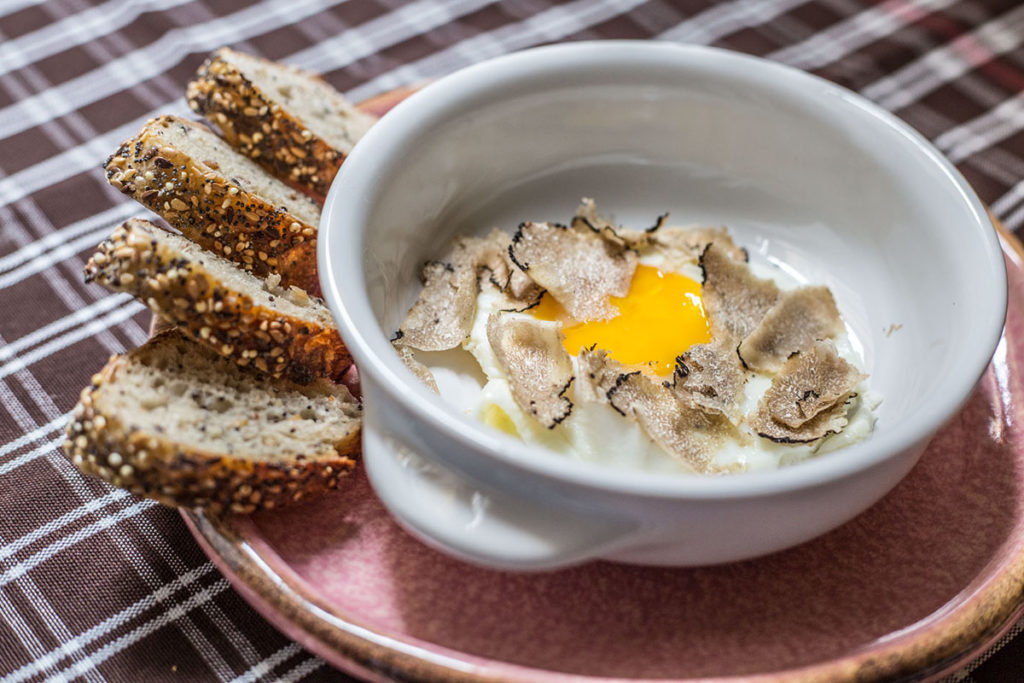 The simplest "secondo" is the truffle egg, which again exalts the flavour of fresh truffle and is a complete delicacy. Use the freshest eggs you can find for best results. Heat an oven-safe frying pan or terracotta dish in a very hot oven at 250 degrees celcius for about 15 minutes. Carefully extract the container(s), put some butter in the bottom and crack an egg into it, and then return it to cook in the oven for 2 minutes. Take it out and just before serving, sprinkle with truffle salt and shave fresh truffle on top.
Pairing wine with truffles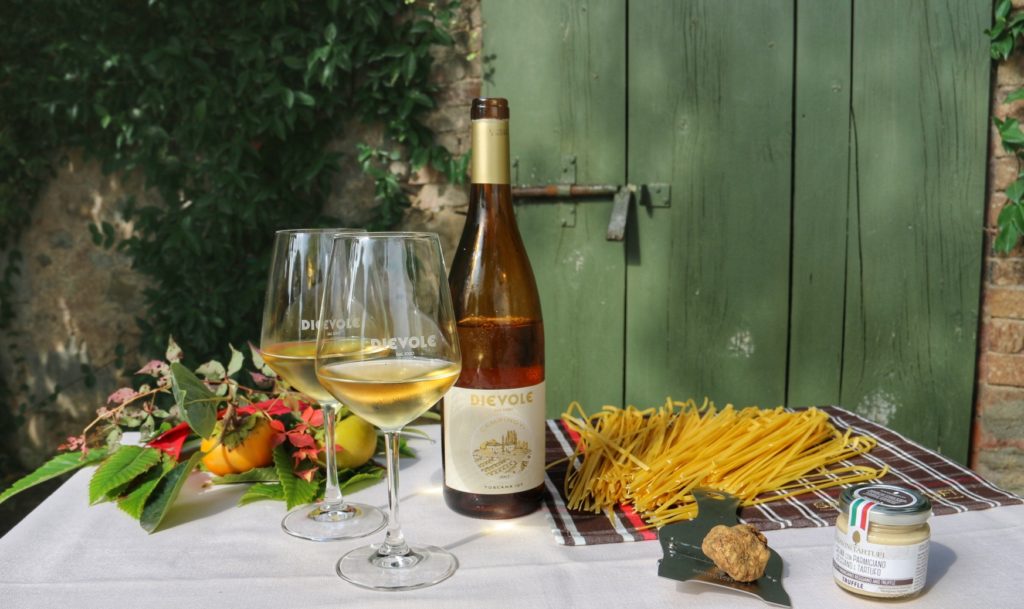 What wine should you pair with your truffle dishes? Some wines need to be excluded at the get-go: a light, neutral white wine won't stand up to the strong aromas of the truffle, while an aromatic white's floral flavours may overpower it. Similarly, a young and simple – or powerful – red wine will overwhelm the truffle dish.
As a rule, with the dishes illustrated here, like truffle pasta, rice or eggs, the best pairing is a creamy, aged white wine. From our repertoire, we can recommend Dievole's Campinovi Bianco Toscana IGT, a 100% Trebbiano Toscano that is barrel aged for 12 months.
If you're preparing a red meat dish with truffles, such as a tagliata al tartufo, look for a red wine with earthy, mushroomy characteristics that will stand up to the dish's intense flavours while its tannins and acidity balance out the meat.