Extra virgin olive oil is a precious ingredient in desserts, making it possible to eliminate milk products as we'll see in this vinsanto-flavoured cake!
Picture, in your mind's eye, a delicious and fragrant cake made with extra virgin olive oil… citrus scented and perfect for the upcoming winter, delicious for breakfast or as a snack, or for dessert with a glass of Vin Santo. Nothing could be easier to make, especially if we start from the basic recipe for pound cake.
Our cake with extra virgin olive oil starts from a basic pound cake
Pound cake is one of the most basic recipes in baking. It is essentially made of four major ingredients: eggs, sugar, flour and fat (technically lard) – that are used in equal amounts. From here comes the name of "pound" – a pound of this, a pound of that.
To get started, you'll need a scale to weigh the eggs, shell and all. The weight of the eggs will dictate the amounts of sugar, flour and fat that you need to use.
Add a little yeast, some flavors and a pinch of salt and you're done: you can create endless combinations, all starting from the same incredibly reliable recipe. All you have to do is making small or large variations to each category of ingredients
We start with sugar: you can reduce the amount a bit, especially if you add fresh fruit to the dough: apple pie made from pound cake is excellent, for example.
You can use white sugar, but also whole cane sugar or muscovado, depending on your taste.
Regarding flour, you can use a white flour, but also a whole or stone-ground flour. You can try spelt flour, or replace small amounts of flour with almond or chestnut flour.
If you want to make a chocolate cake, take away two or three spoonfuls of flour and add unsweetened cocoa powder instead.
Cake with extra virgin olive oil: how much oil?
The fun part comes when one begins to speak of fats. Initially made with lard, today the pound cake is normally made with butter. But you can replace the butter with ricotta, fresh cream, sour cream, whole yogurt, greek yogurt, mascarpone… always in equal amounts. Each time you get a different consistency, so you need to test combinations until you get the right one.
What happens if one wants to replace the butter with oil? In this case I prefer to not use the same amount because the result would be a cake that is too greasy and dry.
Butter, in fact, is made from 83% fat and the rest is water. Extra virgin olive oil, on the other hand, is 99% fat. What the oil is missing to make the cake soft is water. To simplify, I use two thirds extra virgin olive oil to one third water, orange or tangerine juice, or sweet wine such as Vin Santo. This ensures that my cake will have the right amount of fats and moisture, and above all, it allows makes a delicious and soft cake that lasts well, made without milk or derivatives.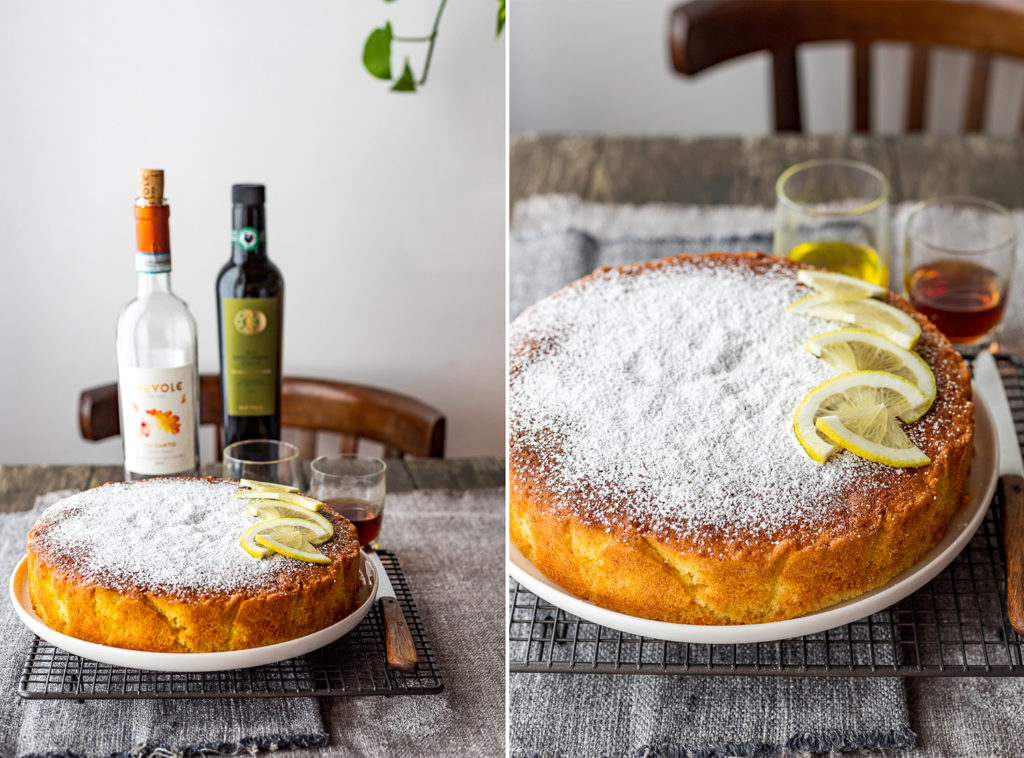 The recipe for cake with extra virgin olive oil and Vin Santo
So, here's the recipe with the amounts of every ingredient, measured to start with three eggs.
If you want, you can garnish the cake with pine nuts, raisins or thinly sliced apples, or make a delicious chocolate version by replacing 30 grams of flour with 30 grams of unsweetened cocoa and adding dark chocolate drops.
Ingredients
3 eggs, about 180 grams
180 grams of sugar
120 grams of Dievole Chianti Classico extra virgin olive oil
60 grams of Dievole Vin Santo
Rind of 1 untreated lemon
Rind of 1 untreated tangerine
180 grams of type 0 flour
8 grams of baking powder
1 pinch of salt
Icing sugar and some lemon slices for decoration
Instructions
Pre-heat oven to 180°C
Whisk the eggs and sugar until they are light and fluffy
Add olive oil and Vin Santo
Sift together flour, baking powder and salt and combine them with the wet mixture. Add the grated lemon and tangerine rinds.
Grease a 22 centimeters-wide round baking pan and cover it with parchment paper. Fold the paper so that it sticks to the sides of the baking pan.
Pour the mixture into the baking pan.
Cook the cake for about 35 minutes, test that it's cooked by inserting a toothpick that should come out clean.
Leave it to cool completely before sprinkling it with icing sugar or decorating it with the lemon slices.
Serve this delicious olive-oil cake for breakfast (Italian style!), as a snack with a hot tea, or for dessert with a glass of Vin Santo.