Think cocktails and a quaint piazza in Italy… what could possibly more ideal than partaking in the local pastime of imbibing before or after dinner with one of Italy's most iconic drinks? Preferably with good company and a story to tell, like those that Italian cocktails tend to coax out as the night goes on. Well here's a fact: Italian cities each have their aperitivo traditions since they are known to have invented or perfected certain drink, so why not drink the right cocktail for each town? So here is a fun roundup of Italian cocktails from the cities and areas where they were born!
Just a note before I begin: In case you got caught up in the recent heated discussion about the summer-favorite Aperol spritz kicked off by this New York Times article, I just want to assure you that you'll get no overstepped judgement about what you drink from me! It is my personal belief that there is nothing quite as cool as just being yourself and ordering what you like.
Milan – Negroni Sbagliato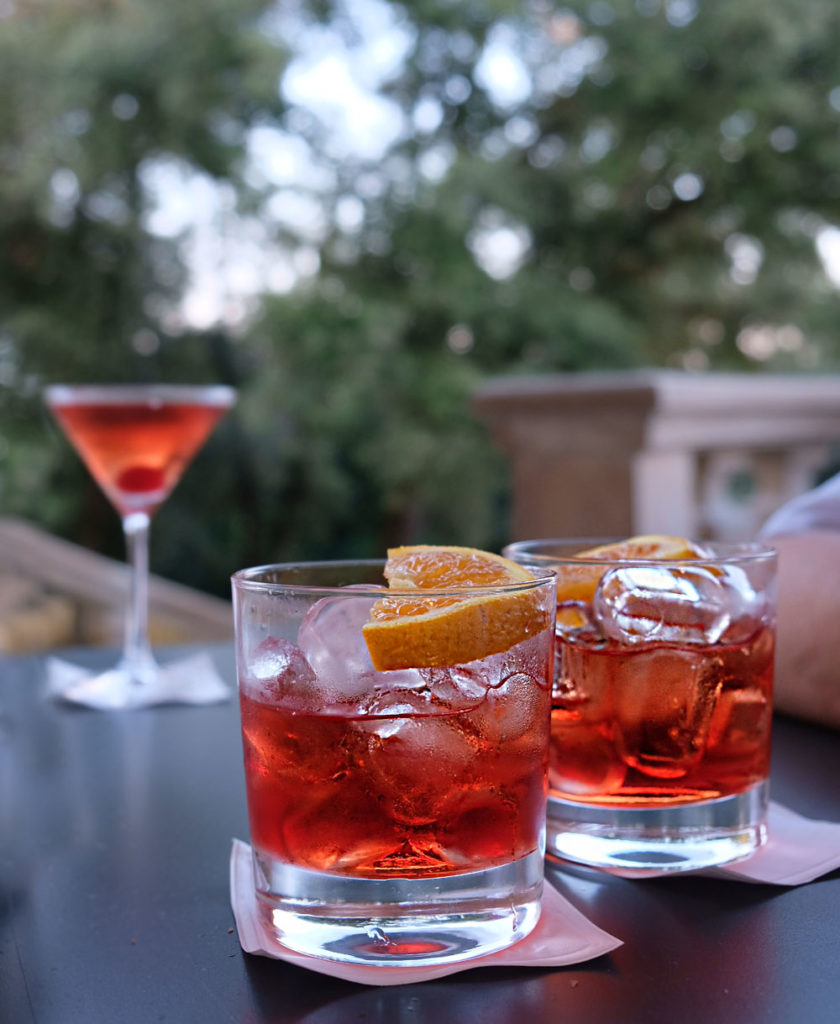 Naturally Lombardy's capital comes to mind when it comes to the art of the cocktail, as Milan is often considered the birthplace of the best habit known to man (or at least – this woman) aperitivo or Italian happy hour. From the vibrant bars lining the Navagli neighborhood to old school favorites in Porta Romana, you will find plenty of great mixologists and — but for a true Milan favorite try a 'negroni sbagliato' (this literally means a negroni cocktail gone wrong) from historic Bar Basso.
Normally a negroni consists of one part gin, one part vermouth rosso, and one part Campari however in Milan one of the owners of the aforementioned bar swapped gin for prosecco and voila, a star was born – this may be one of Italy's favourite wine-based cocktails! Additionally, the Americano cocktail, brainchild of illustrious liquor genius Gaspare Campari is a Milan-invented favorite made with 1.5 oz. Campari, 1.5 oz. sweet vermouth and club soda.
Brescia – Pirlo
The beautiful town of Brescia is overlooked by most tourists, but this Lombardy favorite happens to have a special drink for those in the know, called "Pirlo" — a lovely aperitivo containing white wine Campari (or Aperol) and seltzer. It is said to have been named for the circular movement Campari makes when you pour it in the white wine and served garnished with a slice of orange. The drink was even deemed cool enough to garner a notable mention in the New York Times as part of the author's joy of aperitivo which she claims is "among the most civilized drinking traditions I've ever witnessed. There is no pressure, no pretension: It's all unhurried, unforced pleasure." I couldn't agree more.
Turin – Vermouth
Elegant Turin is home to stately palazzi, lovely parks and a liquor called vermouth. This aromatized wine is enhanced with botanicals, sugar and spirits. This ingredient has become a fixture on cocktails lists around Italy but is often served on its own as a perfect aperitif with plenty of ice and a twist of lemon should you so fancy. I would personally go for the iconic Milano-Torino (named for the A4 Highway that connects Milan to Turin) made with Campari and Vermouth (such as Punt e Mes), served over ice.
Lombardy – Warming up with a Bombardino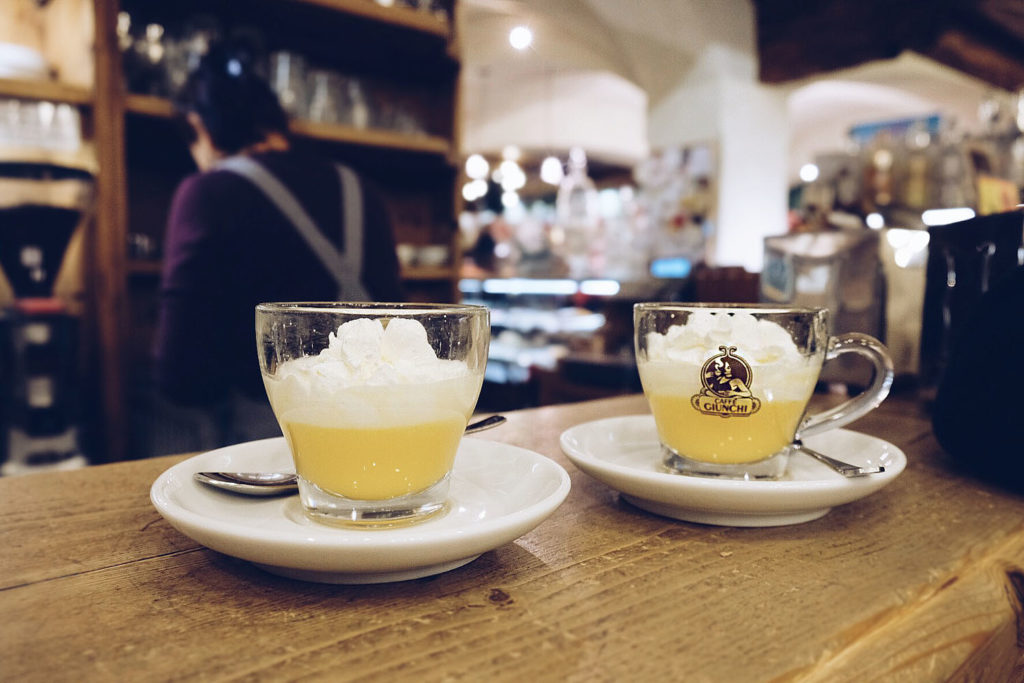 Moving away from Campari, let's head up the mountains of Lombardy, close to the town of Livigno where legend has it that a young man from Genoa moved to the mountains and, after many years working as an Alpine trooper, was assigned to run a Mottolino hut. On a cold winter day, four friends sitting at the bar were discussing possible combinations to come up with a drink that would warm them up. They opted for milk, whisky and zabaglione, which would then be heated. A client tried it and exclaimed: "Wow…it's a bombarda!" (it's like a bomb). The Genoese man then decided to call the drink "bombardino".
You can find this powerful drink all around the Dolomites and mountainous north and for me this is the Italy answer to eggnog!
Venice – Beautiful Bellini
The city that floats also happens to be home to one of my favorite summer drinks, the beautiful Bellini, made with prosecco and pureed white peach juice (when in season – but the key to this is use real fruit and not fruit juice). It was created in 1948 by Giuseppe Cipriani, the owner of Harry's Bar in Venice, where you can still go for a bellini today in style! (See main photo for what this pretty pink drink looks like).
Florence – Negroni
Naturally, one could not make a cocktail list about cities and their drinks without mentioning my own city's beverage of choice, the negroni! It was said that Count Camillo Negroni asked a local bartender to make a variation of another drink a bit stronger and thus we have the negroni cocktail today (easy to make – what counts is the quality of the ingredients, 3cl Gin, 3cl Campari, 3cl Red Vermouth).
Rome – Cardinale
The eternal city comes with many visual interpretations; the Colosseum, the fountain of Trevi and of course who could forget the Vatican City. It is Rome where the Cardinale cocktail was born supposedly during the 50's, a potent combination of dry gin, vermouth and Contratto Bitter (very similar to a negroni)
Uniting North and South with Garibaldi
It might come as a surprise for those who don't know much about Italy's history as a united country. The truth is that the Italy we love today became a nation-state during the Risorgimento on March 17, 1861. What does this have to do with cocktails? Let me explain: One of the central figures during unification was a man named Giuseppe Garibaldi, an Italian general and nationalist, and thus his namesake cocktail combines Campari, which hails from the north, with oranges, from the south, like Sicily.
We can't think of a better way to celebrate a country's coming together with a cool (and very easy to make) Italian cocktail that is best enjoyed in an airy piazza!
All photos by Georgette Jupe.