Think ahead this year to avoid the stress of choosing Christmas gifts: try handmade edible gifts like these traditional sweets from Tuscany.
Siennese Christmas sweets as handmade gifts
Christmas cookies are always a big hit, and I propose traditional Sienese ones to give this season as handmade gifts.
Cavallucci are not elegant or beautiful cookies, they're not colourful, glazed or sugar coated, nor in any shape that reminds one of Christmas. They're round, rustic, slightly squashed, and dusted with flour… slightly off-putting to look at, really, but with the first bite you'll feel all the warmth of the spices and the richness of walnuts and candied fruits that just scream December.
Ricciarelli are rather more attractive than Cavallucci – a cookie made of sugar, egg whites and almond flour. The flavour is of declicate but slightly bitter almonds, orange flavour and vanilla. Typical of the Siennese Christmas, sometimes you'll find them in their chocolate-covered version.
Then there's panforte, the most traditional Siennese Christmas cake, full of spices, candied fruit and almonds. Make a big one and cut it into pieces or make them bite-sized and wrap them up like bonbons.
Then there's the typical Tuscan cantucci (aka biscotti), handy as the keep for a long time so you can make them in advance. The recipe can be changed to fit any taste, using almonds or pistachios and white chocolate, walnuts, raisins, dark chocolate etc. Best paired with… vinsanto, of course!
Seasonal handmade gifts: jams etc.
If you love working with seasonal ingredients and are very organized, when Christmas comes along you'll already have a cupboard full of jams, marmellades and preserves that make ready and appreciated gifts.
Every season has those moments when fruits are at their most ripe and also least expensive, which is when it's time to make cauldrons full of whatever it is, bring out the jars and spend a few hours at the stove and sink, washing, peeling, shopping, weighing and cooking.
Your cupboard is a rainbow of flavours. Come Christmas, all you need is some ribbon and seasonal labels and ta-da, gift is ready. To make a gift basket, mix your jams with tea and cookies, or whatever the recipient will most appreciate.
What about the vegetables?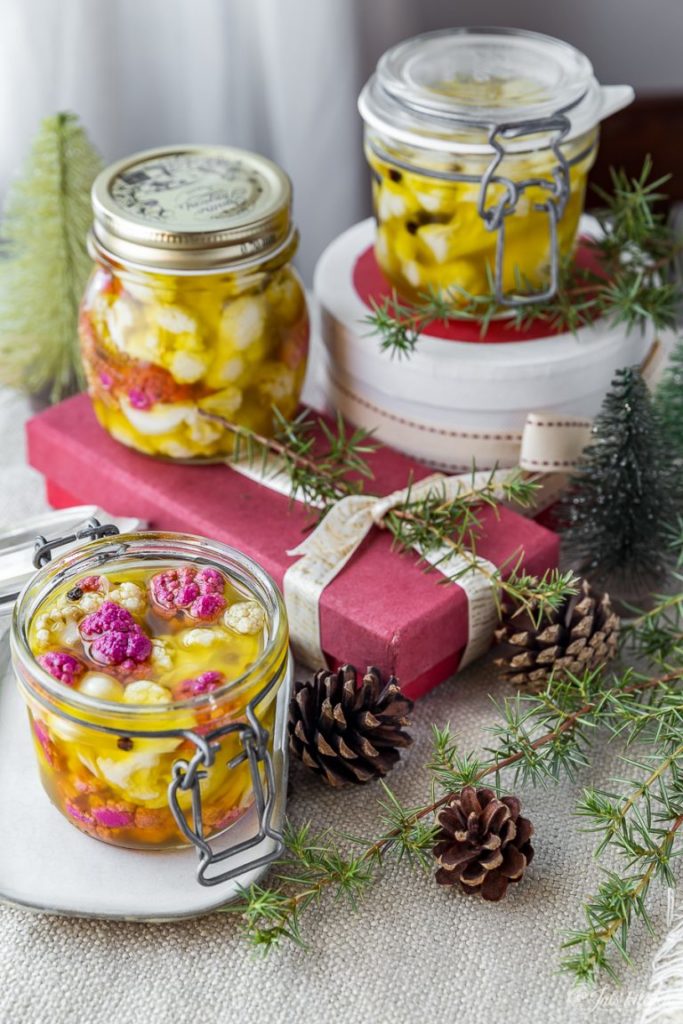 So far we've dealt with gifts for sweet-tooths – and the jams take some advance planning. But here in Italy we also have a vegetable preserve called "La giardiniera", literally the gardener, basically a vegetable garden in a jam jar! To make this, you take the most seasonal vegetables, blanch them in boiling water with vinegar, sugar and salt, and then conserve them in oil. Choose from mixed vegetables or just one – in this blog post I provide a recipe for a giardiniera made of three types of cauliflower.
Important trick: cut everything before you start blanching it because the cooking is the shortest part.
Remember that the most important thing in this recipe is to use a good quality extra virgin olive oil because this gives the flavour to your vegetables. I recommend Dievole's IGP Toscana evoo.
Leave the finished vegetable product in a dark dry location for a few weeks before eating.
Home-made Nutella with olive oil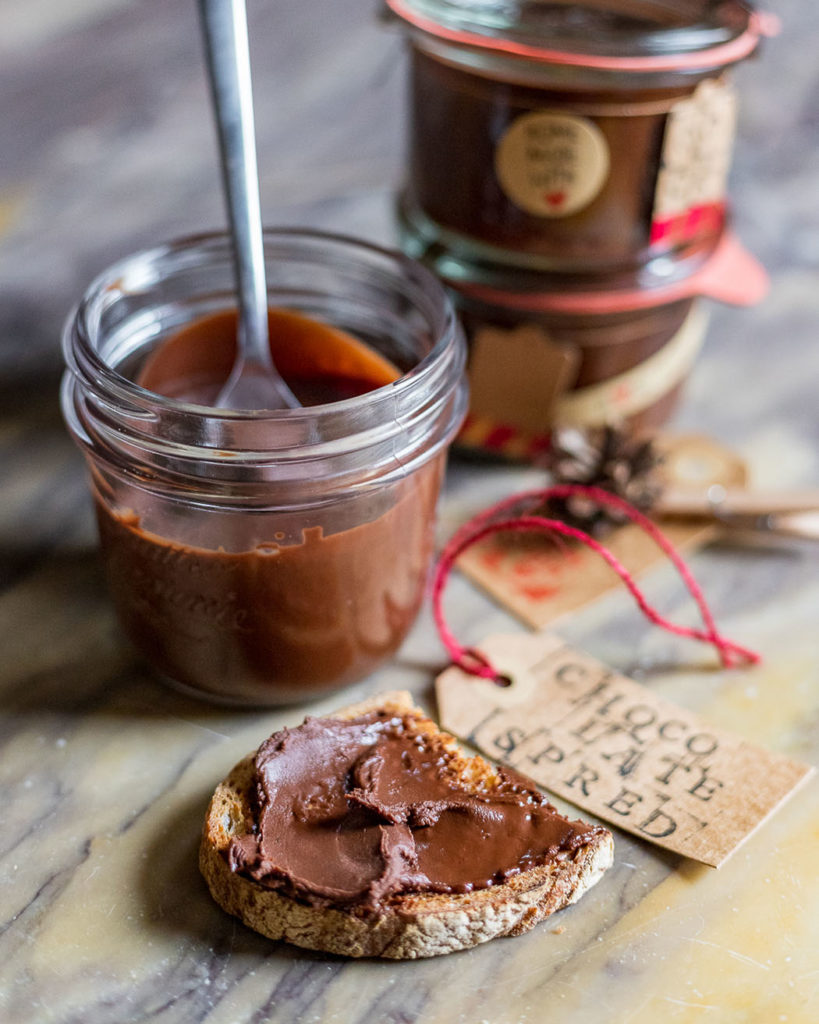 If your friends are real sweet-tooths or you know they love Nutella or chocolate in general, here's a recipe for a most amazing homemade chocolate spread with just a few simple ingredients: hazelnuts, dark chocolate, and olive oil. This can also be customized with flavours like orange, ginger, salt or liquor. Here's my recipe that will turn your hand-made Christmas gifts into the most appreciated things under the tree.
Chocolate cream: ingredients for three jars
200 g dark chocolate – 70% cocoa
200 g di hazelnut butter
100 g extra virgin olive oil such as Dievole 100% Italiano
40 g bitter cocoa powder, sifted
the zest of one organic orange
Chop the dark chocolate into small pieces, all about the same size, using a good knife.
Melt the chocolate using the bain-marie method (making sure the bowl containing your chocolate does not touch the water underneath) until it reaches 45 degrees Celcius, mix often with a silicone spatula.
Remove the bowl from your bain-marie and add all remaining ingredients with a whisk – make sure to sift the cocoa to remove balls.
With an electric hand mixer, blend the cream until the temperature goes down to 23°C, then fill the jars. If you don't have a hand mixer, you can do this by hand with a whisk until room temperature.
There's no question that with these handmade gifts you'll be ready to take on the festive season and be the most appreciated guest at every party!