The Dolomites are the winter destination of many Italians, not only for the winter sports, but also for the excellent wine produced in nearby regions. The magic of this mountainous area and its blend of cultures has always beckoned those who enjoy blistery, winter landscapes that seem straight out of a fantasy novel. Its craggy rock formations have been conquered by climbers, its slopes some of the most popular around the world for winter sports of every type and fashion and for those with less of an athletic edge, not to worry. Between modern spas, interesting museums, and the delicious food and wine of Italy's scenic north, there is plenty enough to do in this magical area. Save our tips for visiting the Dolomites, a favoured winter destination of many Italians.
Where/what/who are the Dolomites?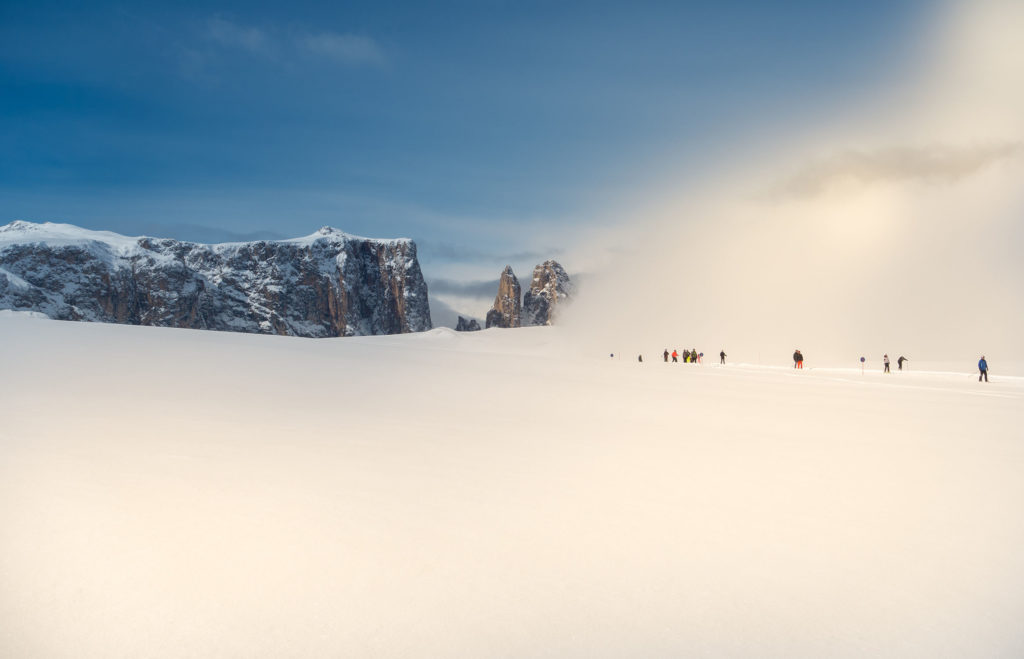 Today's UNESCO-recognized Dolomites stretches across the border of Austria between the two Italian provinces of Trentino and Alto Adige, an area home to vertical walls, sheer cliffs and a high density of narrow, deep and long valleys. Its 18 peaks rise to above 3,000 metres with majestic landscapes that have long bewitched those who have visited throughout centuries.
Something to keep in mind about this place is that much of the region was Austrian until annexation by Italy after World War I. This resulted in a fascinating blend of cultures mixing German with Italian and the wholly unique Ladin, all reflected in translated street signs in its small villages. You can even learn more about this language at the museum dedicated to Ladin north of Corvara in San Martino.
Some of the prettiest towns include Bressanone / Brixen, the oldest town in Tyrol, Vipiteno/Sterzing, Ortisei/St. Ulrich, Corvara, Merano,and San Candido.
Move it! Winter Sport Fun Up North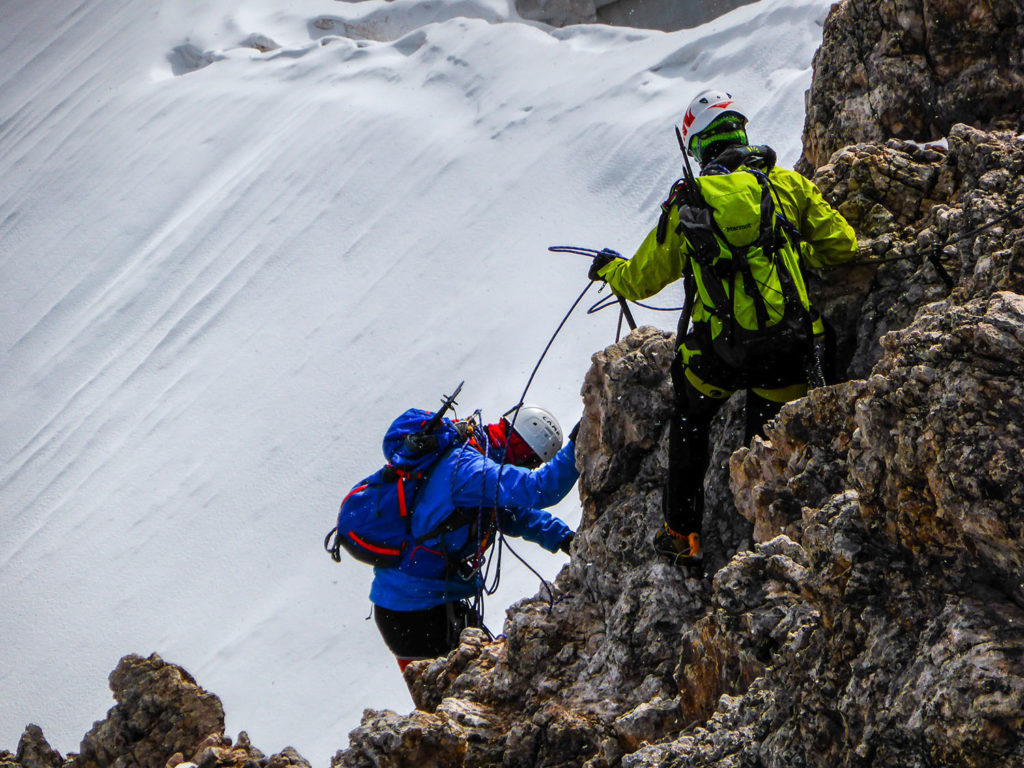 Skiing in the Dolomites is wonderful for families, beginners, and champions alike but unless you purchase a packaged tour, keep in mind that is pays to do your research in advance. Many ski-lovers tend to base around the chic town of Cortina (well known because it hosted the Winter Olympics in 1956) or Campitello di Fassa, close to the Belvedere-Col Rodella-Pordoi Pass, and families will enjoy Kronplatz or Madonna di Campiglio and San Cassiano. Canazei is a great destination as well due to its proximity to near three famous mountain passes, Pordoi, Sella and Fedaia.
You can purchase a Dolomiti Superski pass that allows skiers access to 12 valleys (includes Cortina d'Ampezzo, Alta Badia, and Plan de Corones) with 800 miles of terrain serviced by 450 lifts with one card.
Keep in mind that in Italy the difficultly of ski slopes are classified by a color-coded system: blue stands for easy, red for intermediate and black for experts. For those seeking a true thrill don't miss a chance to ski at Forcella Rossa, set beneath the Tofane Range, this pista was even featured in the Bond film For Your Eyes Only.
For those seeking another type of thrill, it is even possible to rent a toboggan, a simple sled to hurl yourself down the mountain from various resorts. Other fun activities include hiking with snowshoes, cross-country skiing and even ice climbing.
Visiting one of the lakes for a walk is a must. Top choices include the magically turquoise Sorapis Lake, the famous Lago di Braies in Alta Pusteria and Lake Misurina in the province of Belluno.
Hate sports? Not to worry: There's more to do in the Dolomites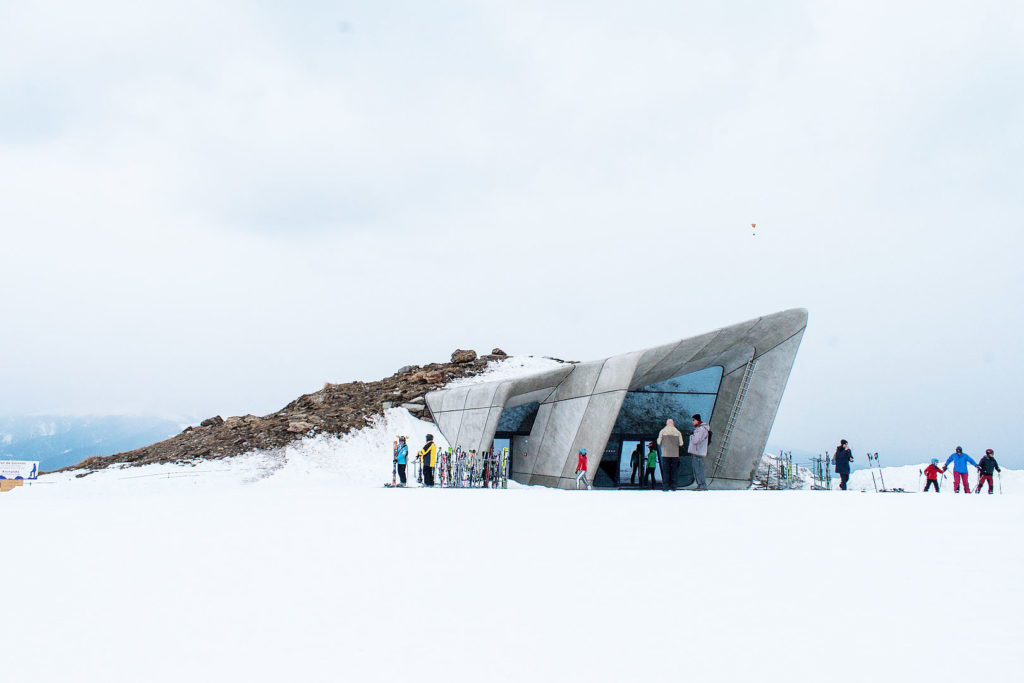 For those who love the mountain atmosphere but would rather pass on the sports on offer, there is still plenty to do.
Keep an eye out for local museums, including the Messner Mountain Museums with the heart of the entire museum project, the MMM Firmian, located at Castle Sigmundskron near Bolzano offering an introduction to the history and art of mountaineering. If you want to broaden your fascination with mountaineering with the magic of castles and palaces in South Tyrol, visit the Messner Mountain Museum Ripa at Castle Buneck in the Puster Valley, here's a list of all the ones you can find up north.
But for something truly special make some time to soak in some of the area resorts hot tubs, besotted by the view of beautiful ice-shrouded peaks. A lot of the spa hotels, especially in South Tyrol, offer a beautifully modern relaxation experience with amenities such as whirlpool bathtubs, saunas, emotional showers, tea rooms. Two of the most highly acclaimed are the Adler Mountain Lodge and San Luis spa resort.
Food and wine, what to eat in the Dolomites
From village to village you are apt to spot plenty of speck, sauerkraut, knödel and strudel on the menu but it especially a treat when eaten at one of the many rifugi—traditional cozy mountain huts that are a warm haven after a day of skiing.
The must-have dish is the Tris di Canederli, three different kinds of dumplings and all hearty enough to fill the hungriest of souls after a day's skiing. Polenta, a versatile dish made from yellow maize (corn) can be served any number of ways; grilled, fried, creamy with mushrooms or topped with cheese and you'll find plenty of game on any menu.
After lunch or a dinner, a welcome shot of grappa is something quite nice to try in your coffee. For this girl, a must during any Dolomites trip is the delicious bombardino – Italy's superb answer to eggnog.
When it comes to wine, we do believe in "tasting local". The Italian Dolomites span the Trentino and Alto-Adige provinces and wine-producing areas. In just the Alto-Adige, the number of varieties grown is mind-boggling: Chardonnay, Teroldego, Lagrein, Merlot, Riesling, Sauvignon, Gewurztraminer, Pinot Bianco, Pinot Grigio, Pinot Nero, Cabernet Sauvignon, Cabernet Franc, Kerner, Traminer, Müller Thurgau, Moscato Giallo and Schiava are the main ones. For a lovely dessert wine, try Vino Santo del Tretino DOC, made with Nosiola grapes.
When to go to the Dolimites
Winter is when people flock to the Dolomites for ski and the beloved après ski but don't forget about summer in this incredible place. We might be biased but we would definitely give this area a chance anytime between June and September.
For winter visitors keep in mind that settimana bianca – literally "white week" – when Italian families take a week-long ski holiday is very popular, and so it definitely pays to plan your vacation in advance if you plan on visiting between late January and early March. Do check when school breaks take place, both in Italy and in nearby Germany and Austria, as these weeks fill up with families.
Photos: all images creative commons from Pixaby.com