Siena is a heaven for all those who seek to find high-quality artwork. There are many antique workshops where weavers, ceramists and sculptors create masterpieces day by day using techniques that have been inherited from generation to generation. When you visit Siena, one of the best ways to immerse yourself in the history and culture of this medieval town is to visit some of the artisan workshops of the city. Although Siena is filled with prestigious artisans and the selection is almost unlimited, we would like to take you on our guided craft tour to discover together some of the best artisans in town.
Vetrate Artistiche Toscane. Via della Galluzza 5, Siena
One of the main highlights of Tuscan artisanship in Siena is the production of stained glass. This is a tradition that began in the 12th century and great masters have kept it alive. One of the well-regarded workshops that carry on this tradition is Vetrate Artistiche Toscane founded by two brothers, Gianni and Massimo Bracciali, in 1987. For three decades they have dedicated their effort to the creation of both stained glass and mosaics. In their portfolio you can find artworks created for both religious and secular purposes. The Bracciali brothers completed several important projects both in Italy and abroad, and their studio is a must-see spot in any craft tour around Siena. In addition, they devote a lot of energy to the education of their craftsmanship. They organize local workshops, offer apprenticeships and provide studio tours for people interested in this beautiful art.
Bianco e Nero. Via dei Fusari 21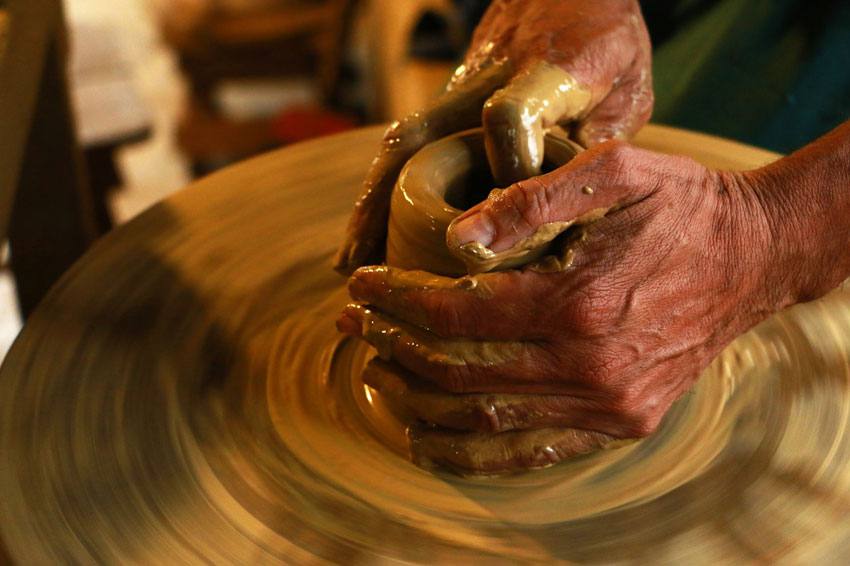 Another antique tradition in Siena is pottery, and there are several workshops where antique kilns work together with modern ovens producing magnificent pieces of pottery artwork. Bianco e Nero is one of these traditional ceramics workshops where the Staccioli family uses the highest quality material to produce masterpieces of art in traditional Sienese style. Amongst the most typical artworks you can find are the Bells of Santa Lucia, which are bells beautifully hand-painted with the colors of the Contrade (districts) of the famous horse race, the Palio di Siena. These bells are considered to serve as good luck charms and they are given to children in winter to scare off the demons from them. If you are on one a craft tour around Siena, this workshop must be included in your itinerary, since you are also allowed to visit the Bianco e Nero laboratory, where you get to experience all the magic behind these ceramics masterpieces.
Laboratorio Artistico Luca Pollai. Via S.Caterina 22, Siena
Finally, if you go on a craft tour with kids, you should not miss out on one of the workshops where the Barberi, toys used in an ancient Sienese game, are made. Another object related to the traditions of the Palio di Siena, the Barberi are little wooden balls that are hand-painted with colors of the Contrade. Children in Siena love playing with these balls, which aren't only fun but they evoke the ancient history of this town. Laboratorio Artistico Luca Pollai is one of the great workshops in town where Luca Pollai, a local artisan make these Barberi with beautiful pictorial decoration.