Coratina olive oil is undoubtedly one of Dievole's  most prized and successful extra virgin olive oils. Indomitable and creative, tasting this monocultivar is one of those experiences that one should try at least once in a lifetime. Here are five reasons why we think you should choose this specific type of 100% Italian EVOO – and if you love it there's more where that came from: the 2016 harvest is looking really good!
It's a real prize-winner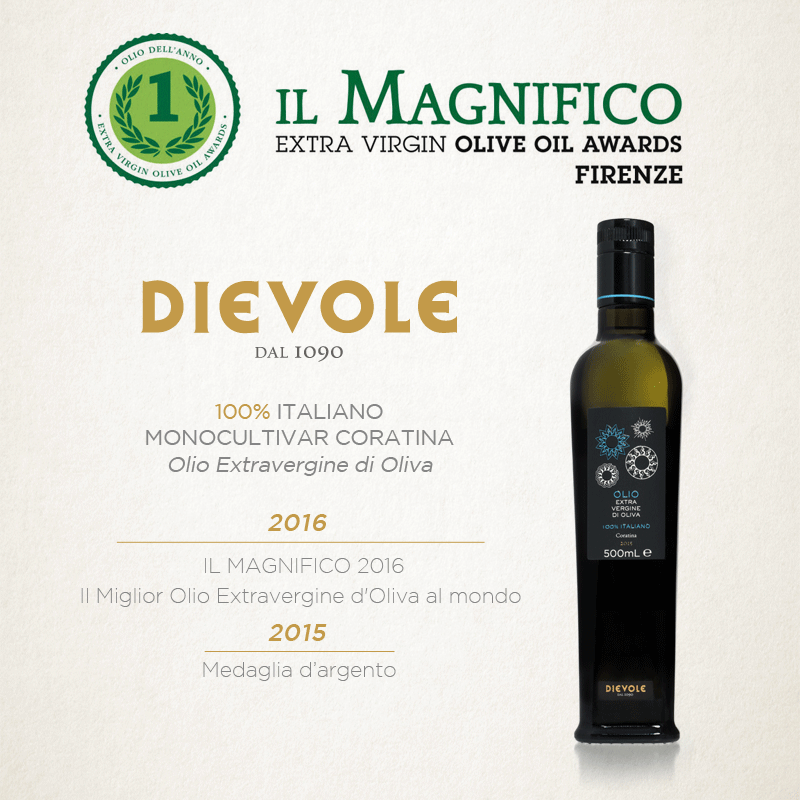 Coratina is widely appreciated among olive oil connoisseurs for its strong, persistent and spicy character. Known by many as the "purebreed" of olive oils, this cultivar has won many awards, including the "Il Magnifico" prize for the best olive oil in the world, confirming Dievole's efforts and profound dedication to the project. The very essence of coratina olive oil lies in its ability to charm and bewitch the tastebuds with its perfectly balanced piquant elegance.
It's good for your health
In the magic world of cultivars, coratina is the most nutritionally rich and long-lasting variety, since it is jam-packed with antioxidants. The mediterranean diet is renowned for its health benefits – well, coratina olive oil takes it to a whole new level. Its high polyphenol count can help prevent cardiovascular illnesses, lower blood sugar and hinder alterations caused by cell aging. Ancient Romans used this cultivar's oil as a therapeutic ointment!
Coratina has a long shelf life
Rich in antioxidants, coratina is the stablest among monocultivar olive oils. Scientifically speaking, coratina has the highest polyphenol count and its solid lipidic structure assures the highest quality. Balance and longevity are the result of Dievole's dedication and constant attention all throughout the production process. If treated properly, a bottle of coratina extra virgin olive oil can maintain its fresh and lively flavour  up to even 18 or 24 months.
Each drop instills creativity
Coratina's vegetal undertones constrast and softens the oil's bittery edges. Tasting this olive oil you will experience hints of fresh grass, rucola salad and artichoke. In the kitchen, these persisting flavours represent both a chance to go beyond your culinary confort zone, testing your horizons and experimenting with some of Tuscany's most typical dishes.  Our signature panna cotta pudding with coratina oil, for example, started off as a joke but turned into one of the staple desserts of our restaurant. In this combination of sweet and slightly peppery flavours, the result is a perfectly balanced treat suited for all. This monocultivar extra virgin olive oil pairs well with carpaccio and fish and meat tartares, vegetable soups and legumes. During the colder months, use it to enrich your hearty menus and make homemade fettunta – drizzle an ample supply of olive oil on a simple, toasted slice of unsalted Tuscan bread (you can also add a hint of garlic by rubbing it on the bread's surface). Interesting results can be obtained by pairing this monocultivar and dairy products giving way to unprecedented new nuances in flavour and consistency.
It will get you hooked!
Coratina extra virgin olive oil spurs contrasting reactions, ranging from obsessive love to repulsion. Nevertheless, one thing is sure: once you go Coratina you never go back. Coratina lovers would drizzle it everywhere – even where it doesn't belong! – and nurtures this exclusive relation a daily basis. This is a monocultivar extravirgin olive oil without compromise – you have to really get to know it, interpreting and accepting its pros and cons. So will you love it or will you hate it? Without trying, there's no knowing.