Chestnuts have always been one of the most precious resources of Tuscan mountain cuisine. Let's look at some chestnut recipes and the uses and traditions around this nut.
Chestnut flour is one of the main ingredients of Tuscan mountain cuisine, from the Garfagnana to the hills above Pistoia, from the Amiata mountains to the Mugello. When these areas were poor and isolated, like during wars, chestnuts were their salvation, supporting the local population with their versatility and calorie load. When chestnuts are made into flour, it can be transformed into numerous chestnut recipes: polenta, bread, desserts, cookies, fresch pasta, necci and more. Yet these days, it's hard to find good quality chestnut flour – it shows up for just a few weeks in select supermarkets, and it's very costly.
Now that it's Fall, we're in high chestnut season. They fall from trees in chestnut groves where the temperature and altitude is right, and are carefully gathered. They are then dried for 40 days, traditionally in a small mountain hut heated by a fire kindled by chestnut wood. The dried chestnuts are then stone ground to produce flour. The best time to buy artisan chestnut flour is thus after mid November.
Chestnut flour in the cuisine of the Lunigiana area of Tuscany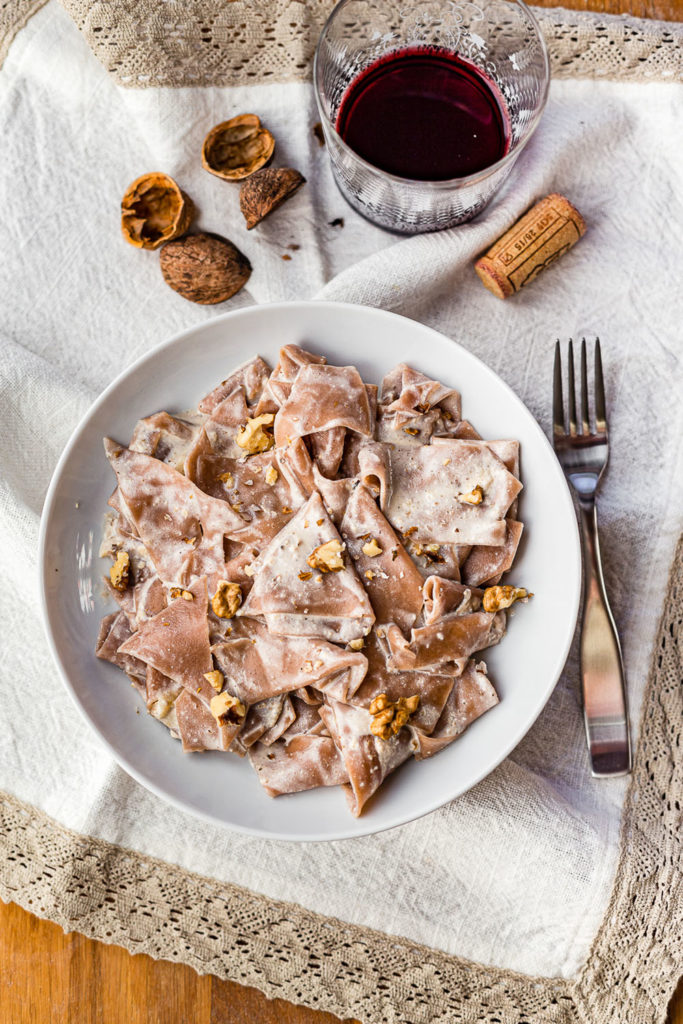 Chestnut flour is a key incredient in numerous traditional recipes of the Lunigiana area of Tuscany, from gnocchi di castagne toscani bolliti nel latte al castagnaccio (chestnut gnocchi boiled in chestnut milk) to frittelle alla marocca, a black chestnut bread. Marocca di Casola is a Slow Food listed dish; the dense yet spongey bread goes well with ricotta drizzled with chestnut honey, anchovies, lard or bacon.
Lunigiana residents also use chestnut flour to make pasta with a funny name: bastard lasagne! They are "bastard" because regular flour is "cut" with a percentage of chestnut flour, and the dough is a poor one made without eggs. The two flours stay together only with water and manual work. Once rolled out, this pasta is cut into irregular losenges that can be cooked right away or laid out to dry. They're traditionally served dressed with a cream, pecorino cheese and walnut sauce, so are not a "lasagna" at all, but "lasagne" in the sense of pasta.
Necci from the mountains above Pistoia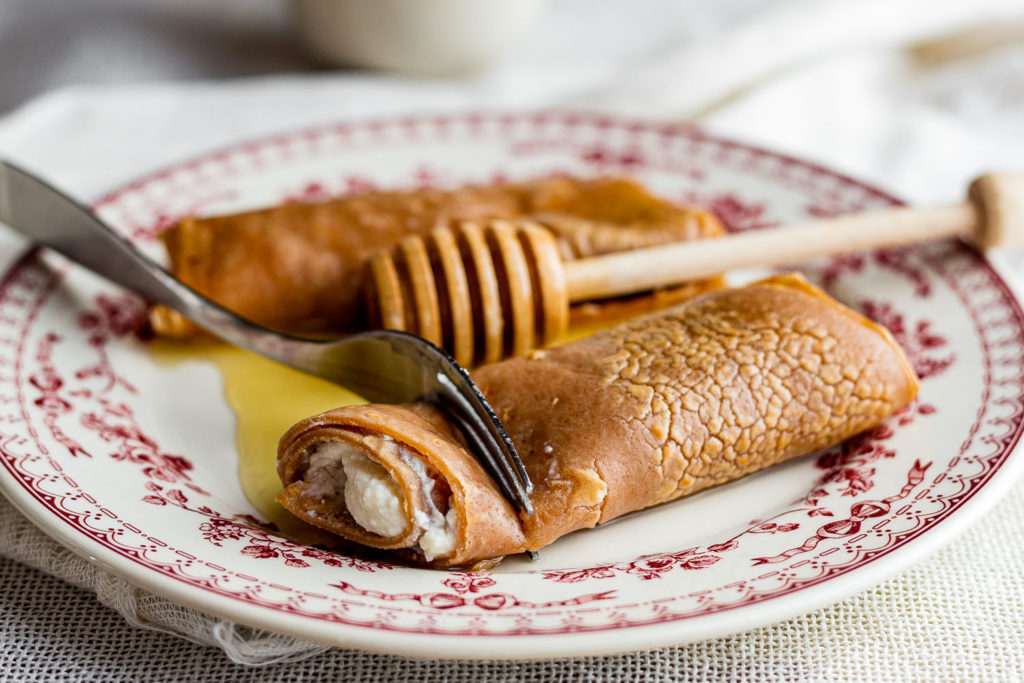 Necci are delicous, simple creapes made with chestnut flour and water, slightly crispy at the edges, and good to eat either plain or with savoury or sweet fillings – some prefer sausage or bacon, others ricotta and honey. It's interesting to learn how these are made: picture a crackling hot fire and two flat iron pans. A very liquid mixture made of water and chestnut flour is poured onto a into a hot frying pan and covered with the other pan, and cooked for a few minutes directly on the open fire. While nowadays we use olive oil or butter to grease the pan, traditionally lard was used. When cooked, the necci are piled up, separated by a chestnut leaf. If you get the chance to try these autumnal pancakes, they are super with roast sausage, a friend egg, warm bacon and a side of fried mushrooms.
Garfagnana and the castagnaccio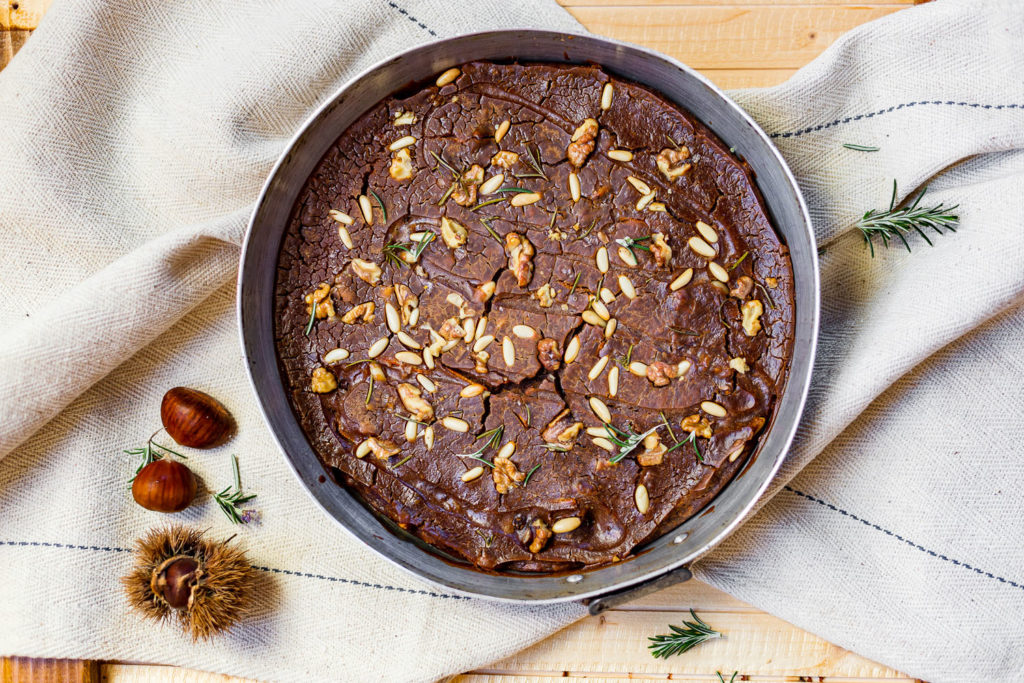 The Tuscan area of Garfagnana is known for its particularly good quality chestnut flour. Here chestnut recipes like polenta, bread, cookies, donuts, necci, and castagnaccio are common signs of Fall. The latter is probably the most famous Tuscan recipe with chestnut flour.
Castagnaccio, chestnut cake, is a rustic dessert that tells of leaner times in which ingenuous solutions were invented in the kitchen and beyond. The simplest version is made with a handful of chestnut flour mixed with water, olive oil and rosemary – and then baked. The resulting dessert has a strong, almost smoked taste, with a dense consistency like bread pudding.
Each area of Tuscany, though, has its own castagnaccio, so discussion about this autumnal dish can get heated! Some add different dried fruits or nuts, and all have their own particular flavour. In my area, in the Val d'Elsa, we use pine nuts and raisins, while in the Garfagnana you may find it with walnuts and orange rind, adding a citrus note that transforms it into a surprising dessert with flavours reminiscent of Christmas.
The Mugello, the Amiata mountains and chestnuts in the Tuscan kitchen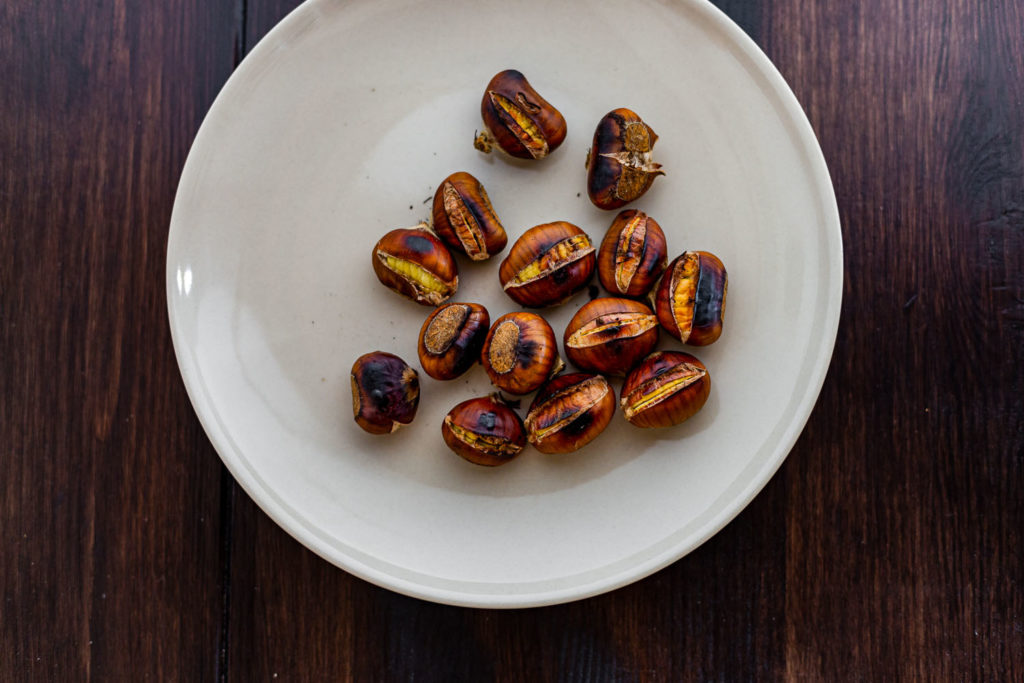 The mountains of the Mugello and Amiata are home to many chestnut trees and producers. Just the name of the Amiata town Piancastagnaio foreshadows what you will find there – they make a rich chestnut polenta served with ammazzafegato, liver-killer, a local sausage that is far from light!
Mugello has practically a cult of chestnuts: in the past they were necessary to stave off starvation but there is a generally profound respect for chestnut trees here – the tree of bread.
Don't call them "chestnuts": in Marradi there is a typical product called the marron buono IGP, larger than a regular chestnut and ideal particularly for high quality marron glacé. Here, chestnuts are eaten in their purest forms – boiled in water, salt and fennel seeds – or served as caldarroste, roasted in a pan over an open fire, or even ubriache, that is "drunk" by being tossed into a glass of red wine.
Now we just have to wait for the Fall weather to grace us with a good chestnut harvest – I'll be first in line at my local market to buy chestnut flour and put into practise the many chestnut recipes of the Tuscan tradition.