Have you ever seen those picture perfect postcards of Tuscany, and wondered where they are taken? Or perhaps you've driven around the region and while you've seen beautiful things, you have yet to find those mysterious fields of poppies, undulating hills of wheat or seas of yellow sunflowers? Wonder no more; we've done the research for you. Below are six of the best picture stops in Toscana, from flowery landscapes to quaint, postcard-worthy towns.
San Gimignano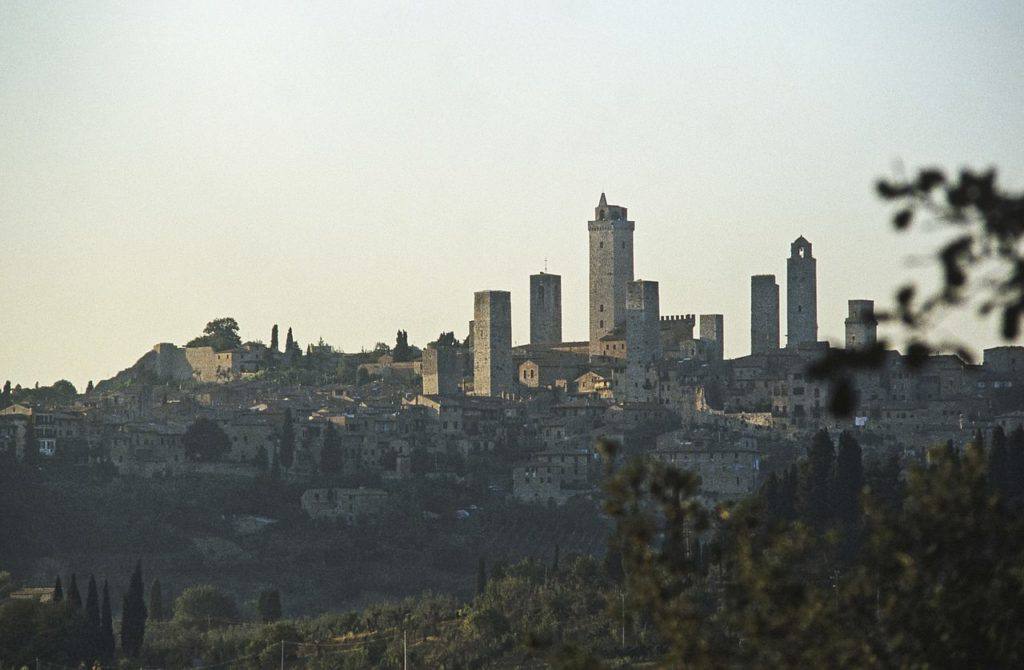 Its towers stand out in its landscape from far away. Today only around fifteen remain, but in the Middle Ages, 7 'skyscrapers' made San Gimignano one of the indispensable destinations in any given trip to Tuscany. The historic centre of this Medieval town, where we can also find narrow streets and welcoming squares, has been declared a World Heritage Site. Its high towers were once used by the ever-competing wealthy families to show their power, today they are an attraction for tourists. Climbing to the top of one of them and taking a picture of the breath-taking views is really worth it. Besides, in San Gimignano, you can visit the Torture Museum, not for the faint of heart.
La Foce
This road might be the most famous road in Tuscany. Identifiable by its winding path, with cypress trees on either side, it is found on everything from t-shirts, to posters to brochures. Located about two hours south of Florence, and an hour from Siena, getting there is half the fun. Once you leave the main highways, you will begin to take small, winding roads heading through the Val d'Orcia National Park. Taking the main road that cuts through Val d'Orcia, Strada Provinciale 146, get off at SP40 or Strada Vecchia Senese. Shortly thereafter, you will see this wonderful road, and all the other cars and people parked to admire it too.
Poppy Fields
Val d'Orcia is also home to fields of poppies, which bloom between May-June. While it is called a park, the Val d'Orcia area is not really a park in the traditional sense, but rather a protected nature area. As such, it is mainly unspoiled by mainstream tourism and modern industrialism, and therefore it is perfect place to observe wildlife. Poppies bloom in late spring, after the April rains howers and they are particularly fond of the Crete Senesi area of Val d'Orcia due to its the heavy alkaline soil. From Buonconvento take SP451 through this area to get the best views.
Sunflower Fields
Another popular flower in Tuscany is the girasole, or sunflower. While during the summer months, almost every flower market is exploding with these happy blooms, most people rightly want to see the huge yellow fields of them, popularized in TV and movies. While riding on the main highways of Italy, such as the A1, you can certainly catch a glimpse out your window, but to really experience them, you have to take a road less traveled. In particular the SR2, between Siena and San Gimignano is home to many fields of these yellow blooms. If you're not in the area around Siena, there are also large fields near Cortona to the east.
Cappella Vitaleta
One of the most famous chapels in Tuscany, this small building sits at the end of a road, lined with cypress trees, just waiting to be photographed. You can find it about 2 km from San Quirico d'Orcia. Leaving San Quirico heading to Pienza Cappella Vitaleta is about halfway between the two towns. It is not right on the road, so be sure to drive slowly and have a passenger on the look out. It is surprisingly small and easy to miss if you're not careful. Enjoy this area slowly, because nearby are many other famous picture stops to shoot maritime pines, golden wheat fields and rows of perfect cypresses.
Pienza
Considered the first urban planned city, Pienza was redesigned by Pope Pius II during the Renaissance. It was constructed to perfectly reflect the classical philosophy and principles of beauty, coupled with the influence of some of the best Renaissance architects and humanists, such as Leon Battista Alberti. Nowadays, it is famous for the Pecorino cheese and postcard quality photo opportunities. This town is quaint, off the beaten path, petite and oh-so-charming. It boasts a strategic position, sitting on a hill high above the gorgeous Val d'Orcia. Besides photographing the town itself, head to its borders and look down on the landscape below. In town, don't miss the cathedral and central square. It's impossible to get lost here, so after checking the main sights, wander through the oh-so-perfect alleyways and find yourself in another place and time.
So head out with your Cinquecento or another cute car – if necessary read these tips about driving in Tuscany – and be ready to stop by the side of the road a number of times while you get that perfect shot!