Forget city life and country dreaming, during summer in Tuscany there is only one thing you really must do if you get the chance – escape to the beach for a refreshing dip in the sea and a fabulous seafood lunch. While there are many great choices along the Tuscan coast, one of our favorite spots is only two hours from Villa Dievole, the famous Gulf of Baratti, a small circular bay.
Baratti is just a stone's throw from Piombino (where you can hope on a ferry to another Tuscan jewel, Elba Island) and is between the Tyrrhenian and Ligurian Seas. This area of the Etruscan coast combines the perfect blend of nature and surf, plus a few fun beach bars nestled in the nearby pinewoods which have been there for centuries. It's the perfect weekend escape for those looking to spend some time in an area that many Italians know and love. Plus its easy access to Piombino, San Vicenzo and other areas make it a desirable gateway to visiting a plethora of other destinations.
Sun, surf and much more!
Beach bums will adore Baratti for the sandy beaches on the larger side, perfect for those looking to catch a little sun. The water in this area is also very inviting for those who love to dive and snorkel, the water often being much clearer than other areas of Tuscany. Also with Baratti's Etruscan roots, you never know what you might find underwater. Hop on a boat for a special tour along the stunning coastline to stop at one of the stunning coves such as Le Buche delle Fate, or one of the nearby beautiful Tuscan archipelago islands.
Surfers of any skill set will delight in the waves of Baratti on a windy day, check the surf forecast before you go. You can also take wind sail lessons or rent a small boat, there is a lot on offer in this area for those looking for a little more activity than just relaxing on the beach. We imagine you will work on quite the appetite so we suggest packing a picnic lunch to enjoy in the shady pinewoods or head to a local restaurant for a fresh fish lunch.
An Etruscan Coastal Town and Open Air Museum.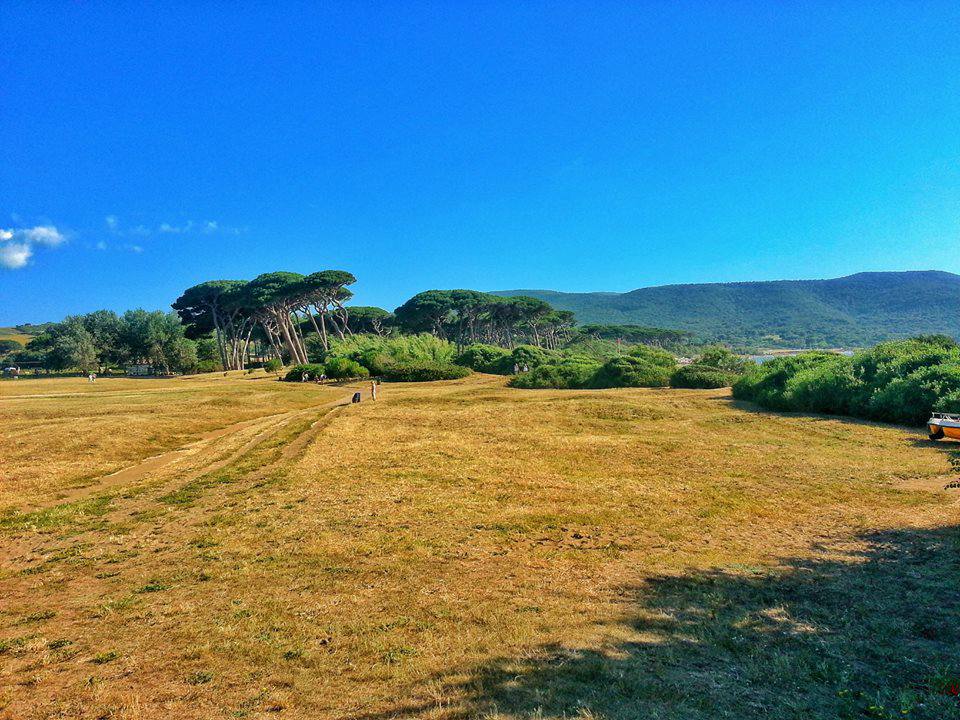 This spot also has a rich history with Etruscan roots, the nearby Archeological Park of Baratti and Populonia is a must-see for anyone passionate about archeology and looking to escape the beach for a few hours. The Etruscans once mined iron ore on Elba Island before bringing it to Baratti to smelt.
We highly recommend visiting the fascinating open-air museum that is the tombs of the necropolis of Populonia which remains impressive to this day. There are several itineraries you can follow and it's also a great place to bring kids (and happens to be pet-friendly as well). Open Tuesday- Sunday from 10am – 7pm until September, you can find more information on seasonal times and tickets here.
Also make sure to check out the impressive 15th century fortified castle commissioned by Jacopo II Appiani overlooking beautiful Baratti. This is a gorgeous area to be around sunset for stunning views over the bay. In the Palazzo Nuovo in Populonia you can also visit the Archeological Museum in Piombino where you will discover prehistoric Etruscan and Roman artefacts from Populonia, as well as Etruscan furnaces and tombs.
Beach Bar lost in the Wild
A must-visit for anyone heading to the Gulf of Baratti is one of the fun beach bars hidden in the ancient pinewoods. Our favorite is the famous Nano Verde located in the Bosco della Sterpaia pinewoods, they often have aperitivo happy hour with live music during the summer months and are known for making a memorable mojito cocktail. Just look for the funny green signs featuring a gnome pointing in the direction you need to go. If you are looking for a nice dinner spot, we suggest heading to nearby San Vicenzo to La Bella Bertolda in Piazza Della Vittoria 13.
How To Get There
Arriving to the beautiful Gulf of Baratti is easy, especially by car. Take the highway towards Livorno-Grosseto and exit at San Vincenzo or at Venturina which is the next exit. Follow directions to Piombino and the directions to Baratti are on the right. You can also take the train to the San Vincenzo or Populonia train station and take a bus or shuttle to Piombino or Baratti, just ask the bus driver if you run into some issues.