The Amalfi Coast is one of Italy's most picturesque destinations. A place where mountains plunge into the shining waters and beaches are warmed up by the sun almost year-round. This small piece of heaven on earth is also world-renowned for its delicious food and high-quality wines. Use our guide to create an itinerary that any food and wine lover will enjoy.
Amalfi Coast 101
Before starting with our wine and food itinerary, let's do some geography! The Amalfi Coast is one of Italy's most desireable destinations. This UNESCO World Heritage Site appears as a huge terrace suspended between the Tyrrhenian Sea and a succession of hills, mountains and natural depressions, covered in olive, lemon, and citrus trees, and grapevines. The entire area extends for more than 11,000 hectars divided into 15 small towns, including the famous Positano, Amalfi, Ravello, Furore and Vietri sul Mare.
How to reach the Amalfi Coast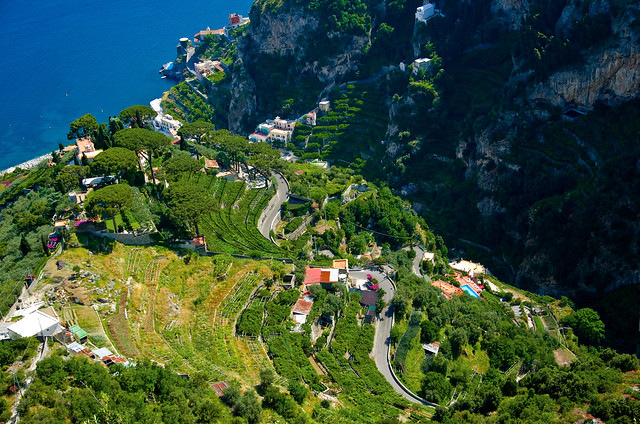 The best way to reach the Amalfi Coast from any major city in Italy is by train. You can take a high-speed train (choose between Trenitalia's Frecciarossa or Italo Treno) to reach Napoli Centrale or Salerno. Tickets may cost from 30 to 75 per person from any station in central and north Italy; the price varies by class and by when you make the reservation (the sooner, the cheaper). Once there, rent a car in order to lose yourself in the narrow sun-kissed streets. The entire coastline is crossed by the "Amalfi Drive," one of the most scenic coastal roads in the world. It is often jam-packed, especially during the summer, so plan your movements wisely and prepare yourself to spend some coins for parking (it's totally worth it, though!) since only residents can park for free in reserved areas. If you're on a budget, local buses leave from Salerno and stop in each of the 15 villages of the coastline, a single ticket cost approx 10 euros. If you're thinking about jumping on a ferry boat to sail your way to the Amalfi Coast, you should know that ferry options do not connect all 15 towns, although the service is quite regular during the summer.
Things to do in the Amalfi Coast
There's a lot to see and do in the Amalfi Coast! The three towns you should definitely not miss are: Positano, Amalfi and Ravello.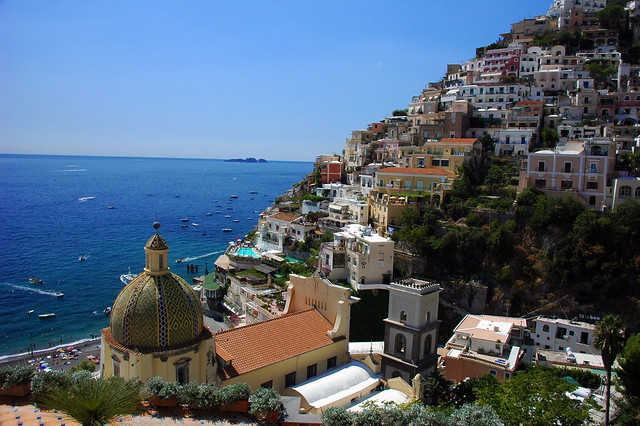 Positano is probably the most popular town of the costiera. Start your day here with an early morning hike on the Sentiero degli Dei (Path of the Gods). This trail connects Agerola to Nocelle, a fraction of Positano; it crosses a spectacular gorge and passes through vineyards and caves. The whole path takes about 5 hours and has some difficult sections, but the breathtaking views and the uncontaminated nature makes it all worth it – of course one can also do a small part and turn back. You'll have quickly worked up an appetite so it's time for a typical Neapolitan breakfast: coffee and sfogiatella, a pastry made with ricotta cheese, candied citrus peels and spices. There are two types of this delicious treat: choose the "riccia" if you like genuine flavours, while you should opt for the "frolla" if you don't mind having some extra sugar to delight your palate. There are two main beaches in Positano: Marina Grande and Fornillo: they're both fully equipped and prices are relatively affordable, but I suggest you to go to Arienzo because is where the sun sets later thanks to its particular position towards south-east… you just need to walk down 300 steps to reach it!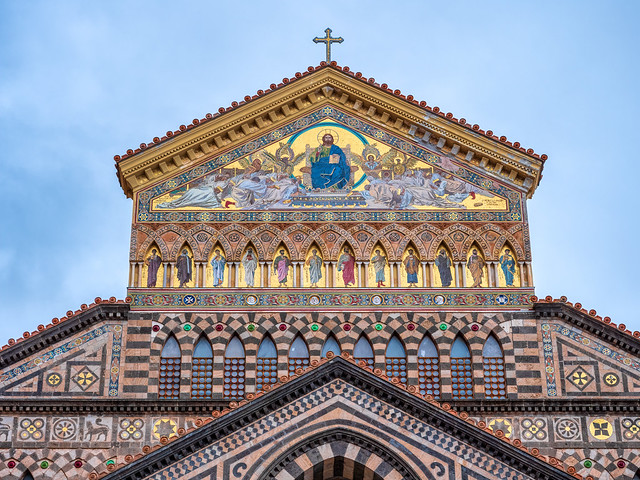 Amalfi has a glorious history as a maritime republic, playing the role of bridge between the Byzantine and the rest of the world for centuries. That's why the entire coastal area takes its name. It is now a graceful town where stunning hills meet the crystal waters and the blue sky. Start your second day here with an early-morning walk through the picturesque historic centre, the city develops horizontally rather than vertically like some of the other famous destinations on the coast, so it will be a bit easier to walk around here. Make sure to pay a visit at The Duomo. Besides the incredible Gothic and Romantic architecture, the cathedral hosts the remains of St. Andrew the Apostle which where brought here from Costantinople during the Crusades. Although Amalfi has two very beautiful beaches, I suggest you invest some money to rent a mini-boat and head to Spiaggia Santa Croce. Reachable only by boat, here you can have all the sun, sea and relax you need – without the crowds. There are two small fish restaurants where you can taste fresh local products like the cuoppo di mare. It's basically the Neapolitan version of fish and chips, made with fresh fried calamari, anchovies and a mixture of vegetables and potatoes. Amalfi is also great for nightlife: its "corso principale" or main street is full of bars and clubs that stay open until very late.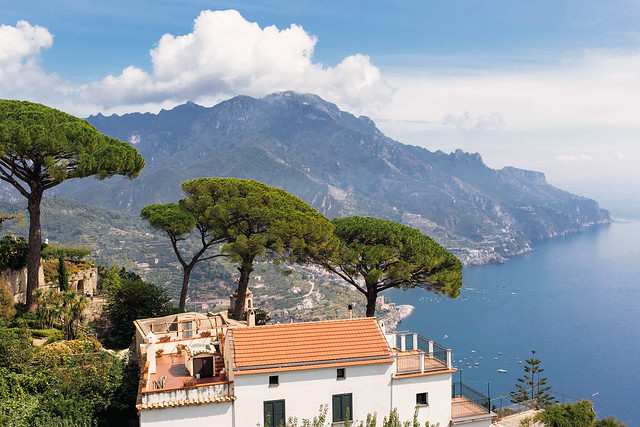 The truth is that you would need a least a week to fully explore the Amalfi Coast, but if your time is limited and you need to make a choice, then I suggest you to go next to Ravello. It's one of my favorite places on the Amalfi Coast because it has managed to maintain a charming vibe of slowing down to enjoy the moment… everything rest can wait. Visit the gardens of Villa Cimbrone, a magnificent example of an English garden that contains a wealth of marvelous flowers and it is decorated with beautiful nymphaeas, fountains, sculptures and pavilions. It also has a very famous "Infinity Terrace" where you can admire a breathtaking view of the Tyrrenhian sea. Ravello is also known for the International Festival of Music, dedicated to Richard Wagner who used to love this little piece of heaven. It is definitely the place to visit if you love nature, history and you don't mind to wait until late afternoon for one last swim, followed by a wine and limoncello (a delicious liquor made with lemon, sugar and water) tasting.
What to eat on the Amalfi Coast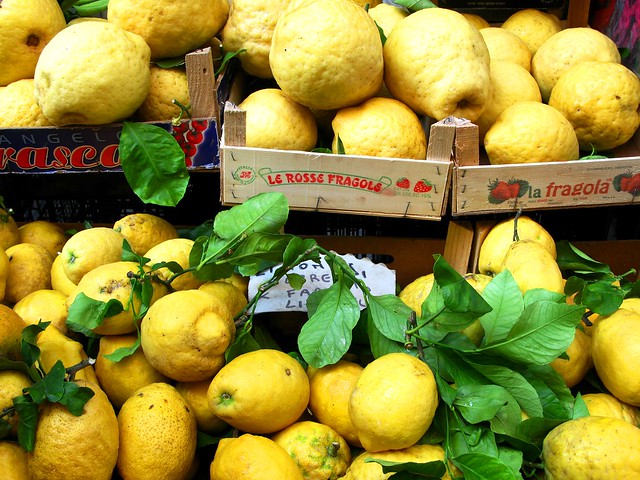 Amalfi Coast's cuisine is abundant in fish, seafood, fruit and vegetables. Besides the sfogliatella (god bless!), the cuoppo di mare and the signature limoncello, there are a lot of local products you should definitely try if you want to learn more about the culinary traditions of this beautiful land. Lemons are the cultural symbol of the Amalfi Coast and they are used for a number of local recipes, from the limoncello to the Dolce d'Amalfi – a teacake made with fresh lemon, almonds and butter. The fishing village of Cetara is known for the Colatura D'Alici – a particular anchovy sauce that the Romans used as dressing for their food. The heads and the bones of the anchovies are marinated in salt before being pressed and filtered into glass jars and then exposed to the sun in order to obtain its characteristic yellow colour and intese aroma. Nduderi are a type of gnocchi pasta that UNESCO has declared to be one of the oldest types of pasta in the world. They're usually prepared with fresh ricotta and herbs and topped with extra virgin olive oil. I recommend going to one of the small trattorias in the area and asking for nduderi with ragù di pesce (fish ragù). Finally, you can't really say you've been to Campania and the Amalfi Coast without eating the Pastiera. It is a heavy cake made with cooked wheat, eggs, ricotta cheese and orange flower extract; alongside sfogliatella, it is one of the most iconic sweets of Neapolitan culture.
Amalfi Coast Wine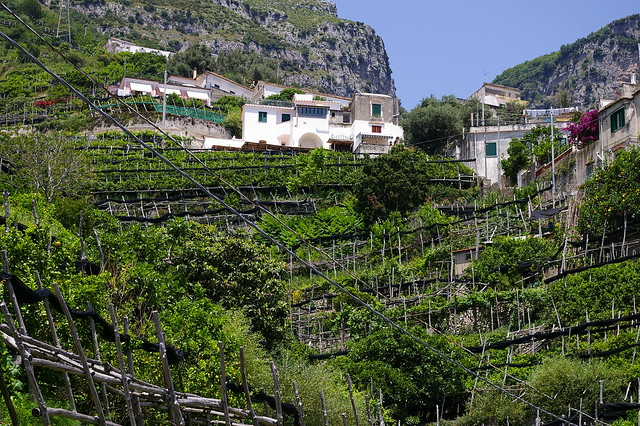 Costa d'Amalfi DOC includes red, white and rosé wines produced along the Amalfi Coast. Given the very steep hills and the strong winds off the sea, this area is one of the few places in Europe where the winemaking is referred to as "heroic viticulture". Vines are located on small tufa stone terraces with an average width of no more than five meters, making access by tractors impossible, so everything is done by hand. Each terrace has an irregular profile and hosts an average of four rows of vines aligned on geometrical laid out pergolas or chestnut poles. Vines are exposed to the sun and the fresh sea breeze, as well as to the altitude and the strong temperature excursion between day and night.
Wine is mainly produced in three areas: Furore, Ravello and Tramonti. Costa d'Amalfi Rosso is based on Campanian red varieties Aglianico and Piedirosso. These grapes tend to produce ruby-red wines with soft tannins and hints of tobacco. The white Costa d'Amalfi Bianco is produced with Falanghina and Biancolella under their very particular local names: Biancazita and Biancatenera. There is also a small production of mostly berry-scented of rosé wine. The Costa d'Amalfi DOC produces about 250,000 bottles a year – a low yield due to the heroic viticulture and a high number of old vines, which makes these wines extremely valuable.

Featured Image by Raphaël Chekroun on Flickr