Whether you're invited to dinner, it's someone's birthday or you're celebrating an anniversary, wine often makes for a good gift. People often ask, "What is the best Italian wine for a gift?" and the answer to that question is: "it depends on the situation!". Let's take a look at a few occasions and what the best wine for a gift is in each case.
Best wine if you're invited to a casual dinner
If a friend or colleague has invited you for dinner, perhaps a casual meal in his garden, you don't want to overdo it by bringing a $200 bottle of age-worthy wine. Rather, aim for something like a light fruity white, which you can bring chilled and propose to drink together at the meal. The Italian region from which said wine ought to come will depend on what is being served, so try to ask ahead if you can. Dievole's Bianco Le Due Arbie IGT Toscana, for example, is a well balanced mineral white, with very fruity flavours of yellow peach and passion fruit, so it goes well with appetizers or fish. If dinner will be pasta or a barbeque, you might try something from the Alto-Adige/Sud Tirol region, maybe a more complex Müller-Thurgau that will hold its own with the food.
Best wine for an important birthday
If someone's celebrating an important birthday, like a 40th or 50th, why not give them something to store and look forward to in a few years? Universally recognized as one of Italy's great wines, a bottle of Brunello di Montalcino will surely be appreciated. A bottle like Podere Brizio's Brunello di Montalcino Riserva 2010 – which was an exceptional vintage – will be good now but great in 10-12 years.
Best wine for an anniversary or graduation
If you're attending an anniversary or graduation, bubbly is generally in order. French Champagne is unquestionably the standard gift, but if you're looking for a good Italian alternative, the country makes numerous varieties of spumante (sparkling wine). A Franciacorta DOCG from Lombardy is something of a quality guarantee, made of Chardonnay, Pinot nero and Pinot bianco grapes. If you want to spend a bit more and impress with your knowledge, look instead for a Metodo Classico, made like French Champagne but in Italy, where it's warmer – making for a wine with greater body. While the North of the country is more famous for bubbles (particularly Lombardy), some Tuscan producers have recently come up with excellent metodo classico vintages.
Best wine for someone who has a "library" in the house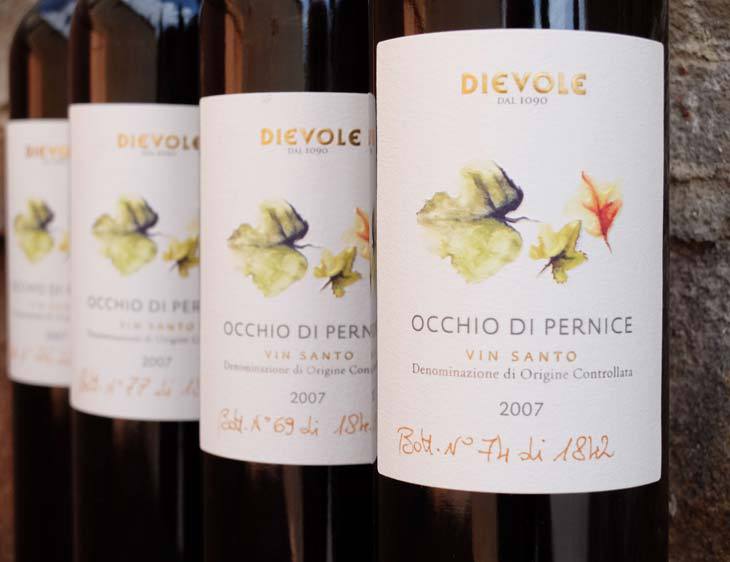 If you're invited to the home of a scholar or anyone whose house might contain a room called a "library", play up their intellect by offering a meditation wine. This term usually refers to either a dessert wine or very aged reds. A brilliant passito comes in limited batches due to the way they are made – hung to dry for a few months, the yield is very low, and then many years are necessary for ageing (depending on the denomination in question). Blow your host's socks off with an Amarone della Valpolicella – which they might have heard of – or surprise their taste buds with a refined Occhio di Pernice, like the one made by Dievole from 100% Sangiovese grapes. A one-off from 2007, there were only 1842 bottles made: they'll be torn between drinking it and saving it.
Best all-round occasion wine
You can pretty much never go wrong with a bottle of Chianti Classico: even if your host doesn't know anything about wine, they will have heard about this beautiful area of Tuscany! Chianti Classico wines vary between producers, years, and types (annata vs. riserva), but generally they have in common the presence of 80% or more Sangiovese grapes, and being pretty tannic, they tend to pair best with steak. There are plenty of exceptions to the rule, though, depending on how well balanced the vintage is – Dievole's Chianti Classico 2014 is brilliant with risotto, for example, and is a good all-round wine that will be happily accepted as a gift.